In my Workshop series I bring you behind the scenes of V.I.A., sharing stories of how we operate and also offering my take on other local media outlets. My aim is to pull back the curtain and show you how the sausage is made and tell stories that might not otherwise be told. Some are less awesome than others, but it's all part of our journey and I hope to bring you along on it.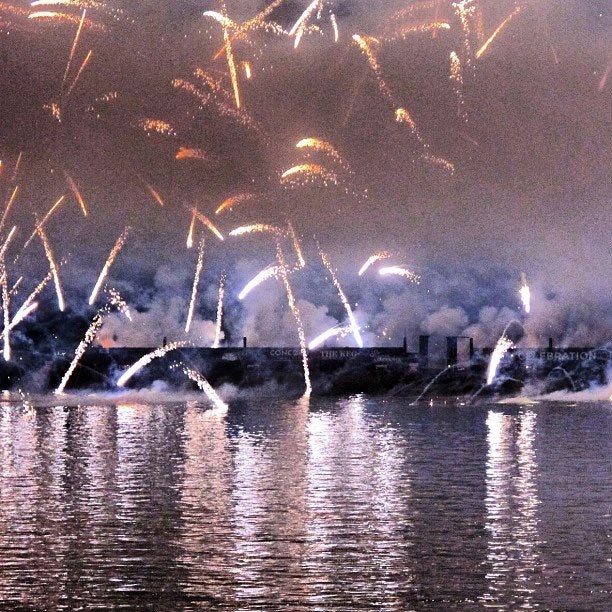 It's been a few weeks since I received a call from the head Celebration of Light fireworks producer telling me that V.I.A. was being dumped as a sponsor. She left me a voicemail saying she wanted to talk about our sponsorship this year and when I called her back I expected we'd be discussing the details of our support as we had done in years previous. As an ongoing sponsor over six years we had ramped things up over the past couple: in 2015 we gave the festival thousands of dollars worth of promotional value on our website and social channels promoting the series of free events and all of the awesomeness surrounding it. We partnered on a couple of contests sending a winner overseas on KLM airlines, and had put in tons of work getting the word out through our channels as well as others. I'd done my best not only maintaining our sponsorship (keeping the festival's cash sponsors like KLM happy) but also as a volunteer judge over the previous six years, attending every night of the fireworks and helping decide the winning show. I often spoke on the radio and TV about how great the fireworks events are and why everyone should get out and see them. On this phone call I fully thought we'd be discussing the nuts and bolts of what we were able to offer them this year.
My first reaction when she told me we were out as a sponsor was obviously surprise, and my second was understanding. She didn't even have to tell me that Vancity Buzz (now The Daily Hive) was taking our place as they are the second largest digital media outlet in the city (behind Global, who is already a sponsor), and I jokingly asked her why it took them so long to wise up and drop us for the larger outlet. It was a quick phone call; clearly it wasn't her decision and I wasn't going to shoot the messenger, plus I don't see much of a point in getting mad at people over the phone (except for that time I yelled at David Beers of The Tyee for publishing what I thought to be a defamatory article about me).
There was (and still is) a part of me that felt relief. I had become second-in-command on the fireworks jury (here is how we decided on a winner), and even though I had developed a great camaraderie with my fellow judges and the producers of the fireworks I had secretly wished that I didn't have to be in town for the last weekend of July to brave those crowds and judge. Each night of the fireworks we'd be there from 6pm until almost everyone had left the beach. We had the best seats in the house and we were treated like royalty, it was certainly one of the best volunteer gigs I've had, but it was a major commitment.
I spent some time thinking about it - decompressing, feeling relieved, but conflicted - and finally turned to wondering who ultimately made the decision and why they hadn't contacted me about sponsoring/judging this year. The Celebration of Light is a product of the 26-year-old Vancouver Fireworks Festival Society non-profit and is produced by a company called brandLIVE. I reached out to the messenger who had originally called me and asked if I might get some insight into their decision. Why were we not asked to pitch for the sponsorship? Was there something we did? Something we didn't do? I wanted to learn from this, to inform future partnerships and sponsorships and to personally get some closure.
My messenger got Rob Hollingsworth, Director of Partnerships at brandLIVE, to give me a call. He told me there was no bidding process, which I knew. They don't put a public (or private) call out to media companies asking what they can do for them as sponsors but I figured that after such a long time supporting the festival there would be a conversation leading up to our not working together. I was wrong. Rob let me know that they were leaning towards exclusive media partnerships going forward, and that The Daily Hive had been a great partner on other events they recently produced. I asked if he was concerned that by implementing exclusives (and boxing out non-exclusive partnerships) it might preclude other media from giving them more exposure - specifically I told him that we weren't doing anything on the festival this year. He said "no", they weren't concerned. They now have an exclusive partner for contests, promotions and editorials and other media will pick up the story, and the primary metric they were looking at when choosing them was eyeballs. Overall reach. I totally get that.
I had a ton of fun being on the jury and maintaining our sponsorship of the festival over the years. I made some good friends and a number of business connections, learned a lot about fireworks, and sat with my jaw agape on many nights in a great seat next to the other judges. One of the main lessons I learned from my experience is that despite years of commitment, service and loyalty, at the end of the day business is business. Numbers are numbers. With all of our partnerships and sponsorships I try to leave my ego at the door and make it about setting up a mutually beneficial deal, but I let this one get really close to my heart. Moving forward with brandLIVE, if we ever work with them again I'll keep business front of mind and go in fully aware that loyalty is not a metric they track.
I stand by my statement that the Celebration of Light is the best free event of the summer in Vancouver. You should absolutely head down to English Bay on July 23, 27 and 30th and take it in. If you want to learn how and why you can head over to The Daily Hive and be kept up to speed.