In 2012 one of our former editors moved back to his hometown of Toronto from Vancouver, taking with him the license to launch a new site under the Is Awesome banner: Toronto Is Awesome. We'd had a site running in Calgary for almost as long as Vancouver had been live and the idea of expanding to every major city in Canada had always been percolating. I had bought the domain names for [every-major-city-in-Canada]IsAwesome.com back in 2008 as a sort of insurance policy for the brand and it seemed like a good idea to have someone who had worked with us run a new site out East. The licensing agreement was that we'd own the brand and the intellectual property around it and he would run the site and manage it all on his own. He wrangled contributors, built up the social following, wrote blog posts, did the odd ad sale and managed his own books as a separate business entity. I had my head buried in our Vancouver site and to be honest I rarely even looked at T.I.A., and was never able to offer the sort of mentorship to him that I wish I could have in order to build on the lessons I had learned in our market.

The loose verbal agreement we had was that he could generate a certain amount of revenue before he had to start paying us a royalty fee; this was for the use of "Is Awesome" and being included in our network which supplied him with not only a familiar and trusted brand, but also web traffic from being included in the navigation of all of our sites, and cross-promotion that we did. The 15% royalty fee was supposed to kick in after he made $25,000 of ad sales on his own. Any sales that we sent to him to place on the site, we'd take 50% from. He could also send ad sales back our way, with an identical 50/50 split. However he never got above the $25,000 threshold, so aside from a couple sales he sent our way the small amount of money our network made off of it was on our own sales that we sent to him. Think clients who wanted to advertise in Vancouver and Toronto; we'd make a sale or two for Toronto while securing advertisements for our site.
I speak from experience when I say it's not an easy go trying to do everything yourself and successfully make a blog your job. When I ran this site on my own I was so overworked that I was diagnosed with a stress-induced eye disease (which I spoke about in my Creative Mornings lecture), and it's now only 8 years later that I am finally able to make the same amount of money that I would if I was to go and work for someone else. I'm an entrepreneur and I love the challenge but damn it can be a rollercoaster, especially when you've got a family to feed.
So we got a little over 3 years in with Toronto Is Awesome and took a step back to look at what was working, and what wasn't. It became clear pretty quickly that we weren't making much (if any) money off of it month-to-month and the licensee certainly hadn't carved out a living for himself in that time. His average monthly advertising sales were $1,470 and generally he would sell one ad set to a single client per month, sometimes two. That's why you'll see on the chart below that in some months he didn't make any money at all.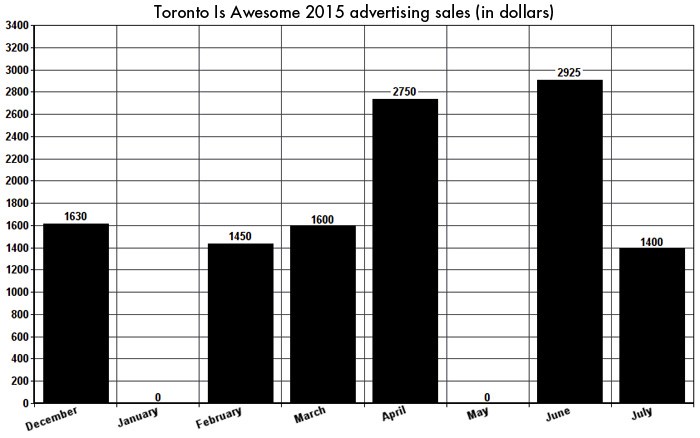 Aside from a couple spikes in traffic when the site had a scoop on a Justin Bieber photo (I believe that's the largest spike pictured below) and one really popular post about a knitting club (the smaller spike before it, I think) the site's traffic languished at around 20,000 page impressions per month. There are a ton of other blogs out in Toronto, ones that have been around for a decade and longer run by the legacy media companies who produce the dailies, so the competition for readers is fierce. However it didn't make sense that our traffic in Vancouver should be almost 20 times what theirs was, with an average of 350,000 page views per month, 500,000 on a really good month. Sure we'd been in the market longer but the guy had built up a relatively decent social following in a city with a much larger population yet his traffic had flatlined, sales were weak, and he wasn't getting numbers that would justify keeping the thing in business.

The decision was made to bring operations for Toronto Is Awesome in-house here in Vancouver and really help make it a success. We'd put our sales department on the case and generate some revenue, we'd handle all of the design and maintenance of the site that he had previously been tasked with, we'd bring on a dedicated specialist to manage the social media accounts and we'd get him working on what he did best: generating those Bieber and knitting stories, and working on a lot more of them that would carve out a niche and get Torontonians coming back to enjoy the awesomeness of their city. We decided we wouldn't continue the licensing agreement and would simply bring him on as a contractor, offering him more money than he was making on his own to concentrate on the "fun stuff", and take a bunch of other tasks off his plate.
Way back in 2012 he had told me "I feel like you should start consolidating everything before the network gets too big", so based on that sentiment I thought he'd be keen on the idea of us making it easier for him. But he wasn't. Oh boy was he not into it. In the time between the above statement and me presenting the idea to him some confusion had developed in his mind as to who owned the brand itself. He figured since he had gone out and registered a business under the name "Toronto Is Awesome" and had been running the blog that he owned the brand wholly, when it was clearly laid out from the beginning - on paper, although we had no official contract - that he was licensing it from us. In the end he saw it for what it was (ours), and we worked out an agreement where he walked away with the social media followings he had built up on Facebook and Twitter, and we kept the brand. We signed release documents; his penned by my lawyer saying that we owned the thing all along, and mine penned by his lawyer saying that we weren't going to sue him, and that he could take his social media following that he had built up. He walked away and started another website, renamed the social accounts, brought all of his old writers with him, and that was that. I truly hope he can make a go of it without our hindering him, and that maybe he gleaned a thing or two while working with us that'll help his endeavour.
So that left us with nobody heading up Toronto. We put an ad out for a managing editor to take his place, as well as an ad for one in Calgary and Montreal so we could bring on a full timer in Alberta (the person heading it up had been part time, and had recently taken a full time job at the Huffington Post) as well as open the doors on a new site in Quebec. We switched over the design of the Toronto site to use a new Wordpress theme (as the previous one was "owned" by the previous licensee) and after some technical difficulties combined with some serious soul searching, at the last minute I decided the expansion wasn't worth it.
I'm quite happy to run this media company of mine as a sort of mom-and-pop shop in Vancouver and Calgary for now. I make a decent living off of it, and while I have a great team that does Vancouver really well we'd require a lot more manpower and experience to take this thing national. In the end I looked at the risk involved to my family if I was to take the step of opening up new markets where the network would have employees and become a much bigger fish, and it just wasn't worth it to throw the dice. So I shut down Toronto completely for the time being, with no immediate plans to relaunch. Its future is unknown, though I personally don't have much of an interest in being involved in it.
This all happened a couple of months back, and I had actually put it behind me when the popular media website/podcast Canadaland came knocking. They asked if I might be able to answer some questions for a profile on us, which I was baffled by. If you're familiar with them then you know they're not known for doing flattering pieces about other media companies. Their whole thing is to critique the media in Canada and hold people to account. They broke the Jian Ghomeshi story, and they often publish sizzling accounts of people committing sins against journalism and the people of Canada as a whole.
The person who is researching for the piece seems to be a junior reporter, and she "came into the story late", and I'm not sure what that means. I asked what the angle of the piece was going to be and was told that they wanted to focus on our growth and expansion, so I answered a bunch of questions about where V.I.A. came from (a community blog) and where it is now (an actual media company that does sponsored posts etc), about Toronto and what we're doing (not doing) there. I asked if there was something she really wanted to ask me, and told her that if they wanted to hold my feet to the fire that I'd be happy to answer any and all questions.
After a series of emails back and forth answering a bunch of questions I got on the phone with her for a final interview. I thought maybe they had some questions about the Olympic Village series we did with Rennie Marketing Systems some years back, the one that the Globe and Mail celebrated after Business in Vancouver painted it with a controversial brush a few months earlier. Nope. No questions about that.
She asked a lot about sponsored content, which I tried to answer as best I could. Some questions were a little too close to trade secrets, like when she asked exactly which agencies we work with to introduce us to sponsored content clients, but I answered them. When she asked about the Toronto site and why we're not pursuing it, it was hard for me to articulate over the phone without slandering the guy (whom I have yet to name here, in case you didn't notice) so I told her I had signed a legal document with him, like a non-disclosure agreement, and that I couldn't really talk about it (looking back on it, there's nothing that says I can't discuss it, so that's why I talked about it above). She asked "Is there a gag order on it?" to which I laughed. A gag order? As if there was some court case that... that... and then it dawned on me: the frivolous lawsuit that had been taken out during the last civic election that the leader of an upstart political party took out against the mayor, which included us. I figured that must be what has piqued their interest, because it's a pretty crazy story. Like put-on-a-tinfoil-hat-and-buckle-in crazy.
During the last municipal election in Vancouver there was a new political party called The Cedar Party which got a lot of press when they filed a lawsuit saying that tech giant Hootsuite got a sweetheart deal on the lease of their city-owned building because of a conflict of interest with the mayor. You probably never heard of the next lawsuit that same party filed because it was purely for political gain, and only a couple of outlets gave it any press. Boiled down it was 171 pages of why Vancouver Is Awesome is a "front company" set up as a conduit to funnel money from real estate developers to Mayor Gregor Robertson and Vision Vancouver city councillors. Oh wow. I think this goes without saying but nothing could be further from the truth; if you've been reading V.I.A. for even as short as a few weeks (or 8 years, since we launched) then you understand what we do and what we are.
The Cedar party has actually filed three lawsuits against Mayor Gregor and Vision Vancouver, one of them being dismissed by the B.C. Supreme Court as an abuse of process, and which they were ordered to pay Robertson's legal costs for. The other one was that Hootsuite one, which was dismissed last year with the judge saying "I am satisfied that the petition in this case is an abuse of the Court's process on the basis that it is without foundation and can serve no useful purpose. I therefore order that the petition herein is dismissed". The third one involves V.I.A. (and a collection of photos of me!) and contains a hodge-podge of information that connects the dots between us, a former investor of ours, and the rezoning of Oakridge Mall. In this scheme they've cooked up I operate a cloak and dagger operation wherein I am one of the most powerful people in Vancouver and I have the ability to sway the mayor and city council into approving a multi-billion dollar development project. It's quite fantastical.
The reality is that we have openly supported Gregor Robertson in the past on this blog. We were friendly with him, and when I say "we" I mean "I". I would sometimes write articles about things he was doing, and initiatives of his that I thought were "Awesome". Seeing as we're not an outlet that's known for critiquing policy but simply cheerleading things we like, even if you're wearing a tinfoil hat I don't see how you could arrive at the half-baked conclusion that I had set up a shell company 8 years ago with the intention of funnelling money from land developers to a political party (this is what the lawsuit explicitly states). Perhaps V.I.A. sponsored a Vision Vancouver networking event for young professionals (called Vision: Next) not because I liked the mayor and was promised I'd be able to promote a V.I.A. book there (below is an actual exhibit from the lawsuit of me doing just that), but because I had some sinister plan that involved greasing the wheels for a multi-billion dollar shopping complex. Oh man.
Another reality is that we brought on Gary Pooni as an investor around the same time. He runs a city planning and public consultancy agency, and he helps facilitate dialogue around rezonings, and he did a lot of the work on the Oakridge mall rezoning with his business, Brook Pooni Associates. He also happens to be a pretty decent businessman. We got to know each other as friends in 2011 and I brought him on as an investor, to help provide structure for the business and to move into a new office space. He helped properly set up the back end of this thing and took a lot of administrative weight off of me by implementing new systems, freeing me up to do the stuff I'm good at. He was hands off with the operation after that, yet the lawsuit suggests he controlled everything and was the "mastermind" pulling the strings. Not to be an egomaniac but the only person who has ever pulled the strings around here is me. I'm proud of where I've brought this company, and I am confident in my role as a media professional with 19 years of experience in online publishing. For better or for worse, I have always controlled this thing.
The last reality is that we have accepted advertising from Oakridge (like we've done for Park Royal and other malls, because that's what we do). So all of the dots were there to connect, but at best it was a poorly constructed conspiracy theory cooked up by someone with too much time on their hands. At worst it was (and is; the case hasn't been heard in court, now almost 2 years later) a blatant abuse of the judicial system as a way to try and garner votes during an election, in the process falsely incriminating a community-building blogger who has been working on showcasing the city (small "c") and its better sides for almost a decade. I've spent thousands of dollars on advice from my lawyers in this case even though I'm not specifically named as a defendant in the suit but am mentioned throughout. And the stress-induced eye disease that I recovered from? It came back. Being falsely accused is perhaps the worst kind of stress imaginable. Way worse than bootstrapping a small media company.
At my request I bought Pooni out of his investment in the summer of 2014 as - to be blunt - it wasn't serving the business to have him involved anymore. He had done a great job of helping when he first came on board but beyond that he wasn't crucial to the future of this operation.
All of this, this entire article, is a long way of saying that I wonder what the story looks like from Toronto. And I wonder if it's cynical of me to not think that Canadaland might simply be working on a piece that talks about the trials and tribulations we've had turning a hobby blog into a business. We'll see, if and when their piece comes out. And we'll see how the judge rules when the third and final Cedar Party lawsuit is finally heard in court. So far they're batting 2 for 2 getting cases thrown out.
This is part of an ongoing series where our founder is taking you behind the scenes of our business as well as looking at other media companies in Vancouver. With 19 years experience in online publishing, he's lifting the veil to give you a better understanding of the business of it. Read Here's what the Sponsored Content on our site supports and Vancity Buzz Has No Competition for more.