In the season seven finale of HBO's Curb Your Enthusiasm, Larry David, playing the (debatably) fictional version of himself, is accused by Julia Louis-Dreyfus (you know her as Seinfeld's Elaine Marie Benes) of leaving a ring stain on an antique table in her house.  As a result, Julia asks Larry for $500 to repair the table, which Larry adamantly denies having anything to do with because, quite simply, he "respects wood".  Determined to exonerate himself and find out whodunit, Larry starts grilling the improvised comedy's usual suspects: "Do you respect wood, Susie?"
Besides making sure there's something to soak up the perspiration of my especially sweaty drinks and not inviting (fictional) Larry David to a house party if ever the opportunity were occasioned for fear of him not doing the same (although in fairness, the last few minutes of the episode reveal it was not in fact Larry, but his wife, Cheryl David), I can't think of more ways I respect wood.  Wait, yes I can: the first, I take my kicks off whenever I'm on hardwood floors because I think the wood feels used enough being walked all over, it doesn't need to be scratched unnecessarily too.  The second, I make a concerted effort to print double-sided so as to save trees because I really like living among them.  The third (and related to the second), I get tremendously indignant when anything is one-sided and there's no reason for it, the air thereafter prone to my childlike kicks as an expression of such indignance and everyone I subsequently deal with prone to getting notes and work scrawled on the back of said one sides in an almost deafeningly silent retaliation, regardless of whether they were responsible for the one-sidedness in the first place.  These, I think, constitute sufficiently sized notches on the "respecting wood" belt that I and hopefully most people wear, the larger, more elaborate belts finding shelter only on the waists of the more deserving – timber framers, fine artisan carpenters…y'know the type.
And if you don't, let me give you a perfect example.  Sam Clemens and Lenny Hopkins, the brothers and business partners behind Hobo Woodworks.  Now these two really respect wood.  What best encapsulates this fact is Hobo Woodworks' use of reclaimed material – that's right, the stuff people throw away.  Sam and Lenny are steadfast subscribers to one man's meat being another man's poison. One man's ceiling being another man's floor. More relevantly, one man's broken and forgettable chair leg being another man's trusty tool box handle – I could do this all day but to spare you, I'll just settle by stating, "and so on with the derivatives of this famous idiom".  As such, Julia Louis-Dreyfus can rest assured that Sam and Lenny would never not use a coaster on an antique table at her house.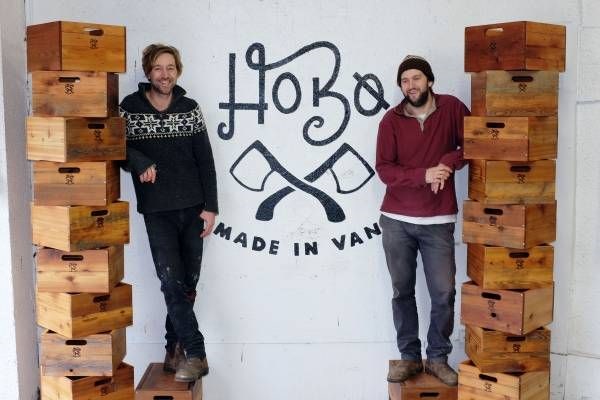 Sam Clemens (left) and Lenny Hopkins (right), the boys behind Hobo Woodworks by Take Kayo
Born and raised on the West Coast, Sam and Lenny decided to open up shop (or studio, more like) in Vancouver where they use and re-use woods indigenous to the Province of British Columbia to hand craft a variety of products from business carry-alls that fit a Macbook Air to removable bicycle crates and butcher block tables.  You name it, they've done it…or they're happy to test drive their imaginations for a custom job resulting in something that reflects the simplicity of the coast they grew up on and that elicits conversation because Hobo craftsmanship makes for looks unprecedented.  And what a time to take up this art, namely, in the wake of people fervently in search of a meaning behind where they live and what they surround themselves with, different from the stuff of a college kid starting out on his own or that of a just-out-of-college couple starting out on their own because their address doesn't accommodate much more.  Here's looking at you, blue and yellow European brand with names that contain an "o" under two peering black eyes…or the free page on Craigslist.  Not that there's anything wrong with filling your house in such fashions (hey, the recklessly young version of us all did), it's just people now are ever thirsty for a narrative or as Sam Clemens puts it, "don't want crap with dubious origins."  Clemens goes on to say, "People are fed up with mass produced junk and corporate agendas that are harming our planet, so I think this traditional craft movement, especially in Vancouver, is exciting and healthy."  This is particularly true for the boys of Hobo who say that half their time is spent on commissioned work for people who desire only the real and inspired, thereby necessitating a reading of the wood and a sharp eye for where a nail goes perfectly.  After all, that's what happens when these boys make straight from their heart.
Hobo Woodworks products by Sam Clemens
Perhaps just as important as the recycling wood thing is where the hard work begins, the salt of the Earth, rustic cabin feeling venue otherwise known as the Hobo studio.  With the company's crest, one red-bladed and another blue-bladed ax cutting into tree bark on either end, alive on all Hobo products and standing modest in the corner with some acoustic guitar seemingly afloat on a nearby wall, the Hobo studio is meant to serve as a community hub, a free and democratic space where friends convene, good times roll (as do skateboard wheels – yeah, the studio enjoys a new built-in ramp), and life inspires.  Unlike suppliers with glossy catalogues and product numbers, Hobo welcomes customers to the workplace to gander at the creative process and local wood scraps in the back of the Hobo pickup from which the next wine holder could be cut.  "It's fun to work with people," Sam Clemens notes, however he cautions gently, "there's not much room for compromising our aesthetic vision. There is an entire lifetime behind what we do and there has to be an understanding that customers are getting a Hobo piece."  So hang up your hat, have a sit, and be witness to the creative flow because what you get is just what you'd expect to come out of such a unique studio and the experienced hands at Hobo: works that are inviting, freshly original, environmentally sustainable, and look straight up cool wherever they're put.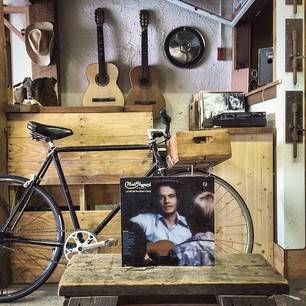 The studio by Sam Clemens
Find out more from the Hobo boys themselves.
Let's start with your roots. Where do you guys call home?
SC: North Vancouver.  Our mother and my father lived in Maplewood mudflats in the early 70's after showing up in the late 60's from southern California without knowing anyone and with no money.  They quickly became premier leather workers with the own storefront and produced festivals called renaissance pleasure fairs, which is when my father started building.  They were creating these unique quasi, medieval-inspired facades for vendors out of the old Victorian homes in the West End to make way for the high rises we see today.  They also built their homes on the mudflats out of this same salvage and, along with other hippies of the time who similarly took to the mudflats, created a vibrant artisan community on the sea.  In fact, what they were searching for is not much different than what the youth are looking for now, namely, a vibrant return to traditional craft movement.  It was a push away from mass production, large corporations, and red tape and a push towards connecting with the community, working with their hands, and making things of quality and beauty that last.  It was a simple and honest life.  They really instilled is us to tap into a creative mainline, which is when life becomes truly alive and limitless.  Our upbringing is a huge back story that deserves its own in-depth telling, but what's important is that it resonated and resulted in us doing work directly rooted in a rich history and informed by a certain aesthetic unique to this part of the world.
In a previous life, you two were both general contractors. What made you want to forge your own path as partners in a woodworking business?
For our entire working lives, we have been builders and designers.  At best, we got involved in inspired projects that allowed our particular gifts to shine; at worst, we were servants to a dream we had absolutely no alignment with.  There have been no regrets though.  For the past several years, we worked exclusively on one large multi-home estate with no time or budget constraints and were very well compensated, but it eventually became a sort of purgatory.  There was no real inspiration and we were just getting through the day.  We made the best of it, but our hearts weren't in it.  We could have gone out and hustled contracting gigs and done well, but that was not our dream.  I came to realize that I had a knack for managing projects, resource materials, and sub trades, working effectively with clients, and pushing paper whereas Lenny was focusing exclusively on becoming an expert builder with an exacting level of quality and perfection.  We saw the end coming and essentially worked ourselves out of work at our last job.
There was a lot of fear and trepidation going into something completely new that was so personal.  However, once we took the leap, things have gone amazingly well.  We wake up excited every day.  There is no work/life divide any longer, it's just the latter and it's a very good one.  For us the vision is crystal clear and always in the cross hairs.  We both have a level of commitment and trust in what we are doing.  That and there's no plan B.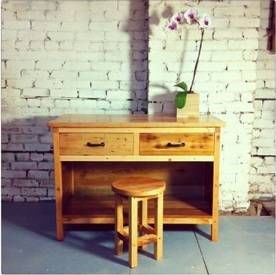 Side board with stool, all reclaimed materials including vintage hardware by Sam Clemens
Hobo Woodworks is all about recycling. Does that mean you guys dumpster dive for wood as part of your job?
Much of what we build is a hybrid of old and new materials.  We love the patina and story, not to mention the low impact on nature that comes from using reclaimed materials.  We also believe that indigenous wood freshly milled and turned into beautiful locally built handmade items has a positive long-term impact on our community and environment.
In regards to reclaimed wood, people often ask us where we get it.  The answer?  Everywhere.  British Columbia is literally made of the stuff.  There is constantly new material becoming available through renovations and demolitions, which we see everywhere because, quite simply, that's our business.  Also, the more people learn us, the more we are often tipped off by kind-hearted strangers, which has been extremely helpful.  People see the intrinsic value in old wood and don't want to see it go into the land fill.  For instance, I just watched a 90 year old house across the street from my home get pulverized and removed in bins over the course of two days.  It's not cost-effective as a business model to up cycle the wood and it's just very sad.  In danger of sounding like a West Coast flake, I truly believe wood has a spirit and a soul.  Coming from nature, it is already imbued with the majesty of the calm meditative stillness of the forest, surviving hundreds of years of powerful winter storms.  It speaks of history in its very structure…and that's worth keeping around.
What would you say is Hobo's most popular product?
Definitely the Hobo Essentials record crate.  We listen to a lot of vinyl at the studio and were motivated by the lack of quality vinyl storage.  People prize there collections just as we do and it seems the only form of music people actually spend money on these days.  We love the tactile and artistic nature of the album format and they should have a home that is their equal.  So we set out to build the best crate we could build using reclaimed cedar and hand forged style nails.  Each limited run is a bit nuanced as each lot of wood is derived from a new source, making our most popular product a truly individualized acquisition.  Of course, they double as great general storage bins, shelving units, wine rack, toy boxes, side tables, etc.  But at the end of the day, there is something wonderful about a well-built box.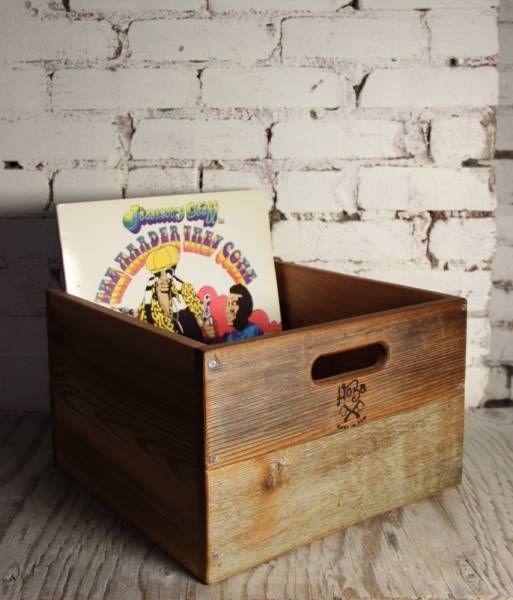 The Hobo Essentials record crate by Sam Clemens
For serious, how often do you skateboard on that ramp?
I personally have never skateboarded the ramp.  Lenny, being 10 years my junior, is the skateboard aficionado.  It was his lifelong dream to have his very own mini ramp.  The space seemed giant, so Len proceeded to build the most epic ramp of all time.  He and his friend have a lot of fun with it, but from a business point of view we really need the space now.  I like it as a sculptural element, but it's ridiculous from a working point of view.  I'm taking a short vacation soon and when I return it is magically going to be deleted or somehow made into a modular design that can be set up for the couple hours a week it gets used.  On the other hand, the archery range will never go out of style and is fun for everyone without taking up half our workshop at all times.  The ramp has definitely become the elephant in the room.  Sorry, Len's skate friends.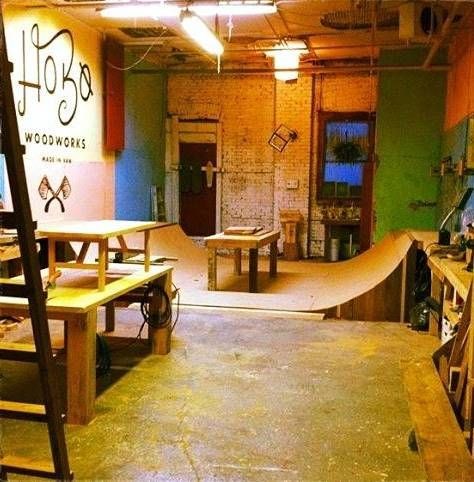 The infamouns studio ramp by Sam Clemens
Love the guitars on the wall. I myself play a wildly mediocre version of Wagon Wheel by Old Crow Medicine Show (then again, who doesn't?). What kind of jams get strummed on your six strings?
These days, the music we listen to while we work is primarily old country like Merle Haggard and Waylon Jennings.  Just good old foot-stompin' down home music.  There are lots of instruments for friends to pick up and join in and is a favourite pastime of ours.  We often joke that it's all about the music: "hey don't let work get in the way of the Hobo band, man!"  But yeah, it's just great to make music with your friends.  There is some talk about producing a Hobo instrument...keep peeled.
Will certainly do, boys.  Maybe I'll overstay my welcome at the studio and have a drink until then, though not without laying a coaster down first.
Check out Hobo Woodworks (and while you're at it, @hoboworks on Instagram) for more information or in person at the curated designer/maker pop-up market, Snug on December 13 and 14, 2014 from 12:00-5:00pm at Make is Awesome just off Main Street.