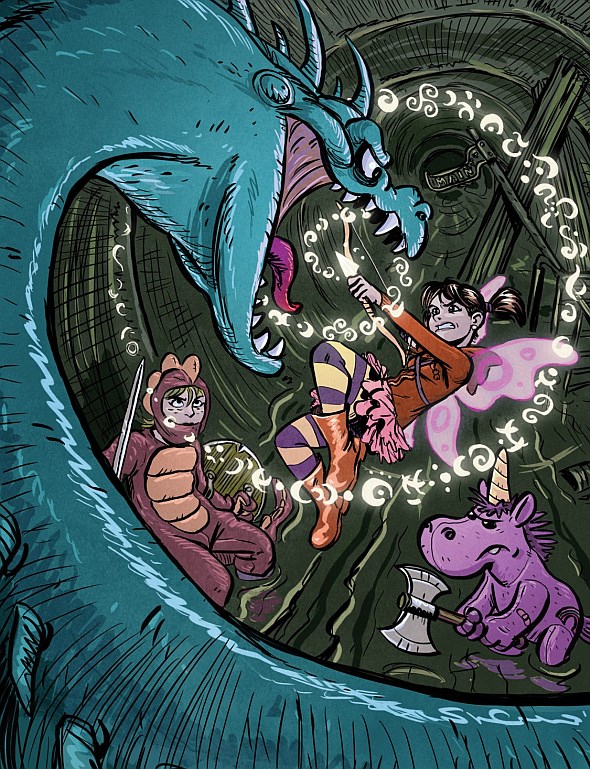 Detail of the cover design by Steve LeCouilliard for "The Giants of Main Street"
Pow! Wham! Biff! Monsters! Dragons! Giants! Announcing the latest anthology from Cloudscape Comics. The Giants of Main Street is a 150 page collection of fantasy stories set in an urban environment, from ancient civilizations to modern metropolises which might or might not resemble our own dear city. This project started out as an Indie-Go-Go campaign, and thanks to the crowdsourced support, the Cloudscape crew has once again raised the necessary funds to finance the printing of the book. This is the sixth anthology Cloudscape has produced, having released one every year for the past five years; a seventh book is already in the planning stage.
The Giants of Main Street features work from 25 local artists and writers including Edison Yan (Scribblenauts), John Christmas (Spectre of Sound), Rebecca Dart (Rabbithead, Battle Kittens), Colin Upton (Diabetes Funnies), Steve LeCouilliard (Much the Miller's Son), and Jonathon Dalton (Lords of Death and Life).
Earlier this month, the first copies of the book were sent out to those who supported the Indie-Go-Go campaign. The rest of you may have to wait a bit longer, but soon this title will be available in ebook and printed book format from the Cloudcape Comics online store; a Vancouver book launch event is also scheduled for next month. To find out more about their book launch plans and future events, follow them on Facebook, Tumblr, & Twitter. Until then, please enjoy this sketch of a "Giant of False Creek" by Kate Ebensteiner.