Those observant among you might have noticed that Illustrated Vancouver had ceased publication about a month ago. This extended hiatus was not entirely planned; it was an amalgam of factors — the convergence of the Vancouver International Film Festival, pressures of work, life, and about 6,000 other forces. For a while it seemed like no one noticed...but recently, there have been far too many noteworthy items; I've decided I cannot remain silent forever. Thanks to those who have sent in submissions; I will get to them as I am able.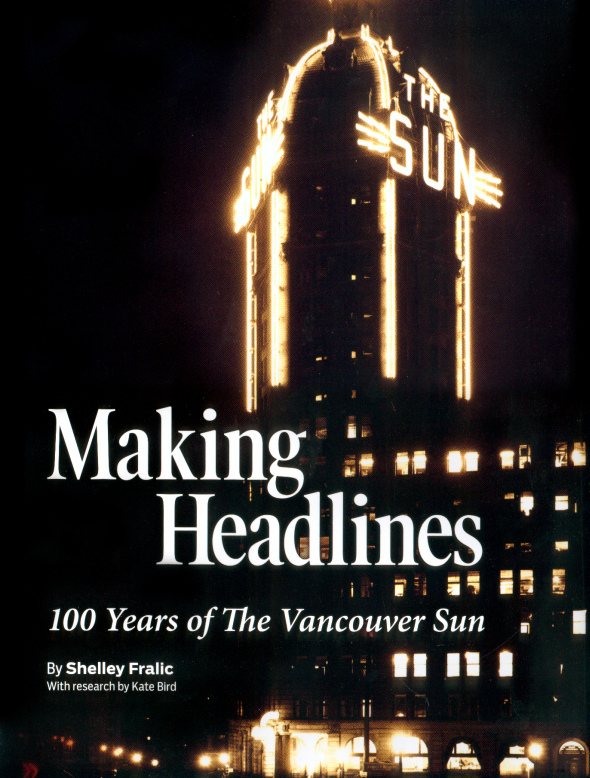 But first I would like to share some breaking news, which to be honest, already broke about a month ago. A little paper in town called The Vancouver Sun has published a hardcover account of their first 100 years in print. Making Headlines: 100 Years of The Vancouver Sun can be ordered directly from the Vancouver Sun's estore, among many other places I'm sure. The Sun are offering pickup from the lobby of 200 Granville Street, Monday through Friday 8:30AM - 4PM, ($34.95 +$1.75 tax = $36.70) or delivery right to your doorstep for an additional $8 shipping. See their estore for more details and some preview images of the book. In this column, they report overtaking the runaway cook book on Kale!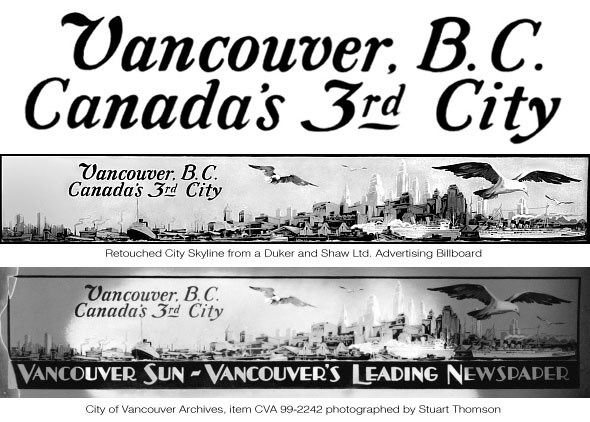 I can attest, Making Headlines is thoroughly researched and loaded with gorgeous images and photographs from various archives, including the billboard advertisement shown above, item CVA 99-2242 from the Vancouver Archives. The photograph by Stuart Thomson is dated circa 1926, and while archives notes the nitrate negative is deteriorating, they were still able to make a respectable print. I took things a step further and tried to clean up the image in Photoshop. It's not perfect, but I think it does the job.
There's a lot more we could say about this advert. The photograph of the ad was taken for the firm Duker and Shaw Ltd., and if the name Duker sounds familiar, congratulations! Ruddy-Duker Ltd. was the firm responsible for the Hayes Anderson Motor Trucks ghost sign that was uncovered a year ago! Again, I'll paraphrase Michael Kluckner, who wrote in the original edition of Vanishing Vancouver:
Harry Duker was 'king of the billboards.' Born in St. Louis in 1889, he came to Vancouver to try out as first baseman for the Vancouver Beavers. He started an outdoor advertising business with $100 in savings about 1910, sold it for $300,000 in 1930. He was involved in all sorts of clubs, associations and promotions in the city, including the Queen E. Theatre, the Aquarium, Miss Vancouver pageants, etc., as was his wife Margaret. Harry Duker died at age 96.
Now the archives doesn't give any clues who illustrated this cityscape, but I am going to stand out on a limb and say this was almost certainly created by Fraser Wilson, the Sun's genius cartoonist whom I've featured here a good number of times already. Fraser Wilson was an active cartoonist from 1917-1947, and after his cartooning career ended, he continued to work in advertising and the arts. His most famous work is the 1947 skyline mural seen in the Maritime Labour Centre, and it leads me to wonder if this early ad may have served as an inspiration.
Even more exciting news — on page 60 of Making Headlines, take note of Edith Adam's Wartime Cook Book with the great cover illustration by Fraser Wilson (also featured here before, retouched). Drumroll please...this actual artifact was donated to the Vancouver Sun by ME! Yes, Illustrated Vancouver has played a part in the retelling of the history of the Vancouver Sun! To be fair, it was one of the many treasures I've found in Bryan's secret warehouse of printed ephemera!
There is so much more I'd like to share soon — two future book projects I hope to work on, a short film set in 1916, and lots more super treasures found throughout the city. Speaking of which, there's a great panel of historians taking the stage at Chapel Arts at 4pm this afternoon as part of the Heart of the City Festival...I'm heading there next! Till next time!