This post marks a rather notable milestone in my online project known as Illustrated Vancouver. I have reached 300 posts in my quest to document 1000 works of art featuring Vancouver, British Columbia. To celebrate this, I've saved one of my absolute favourite works, an extraordinary mural produced by three legends of Vancouver's art history.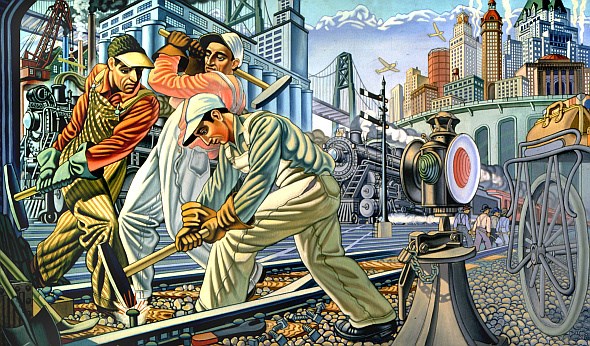 Shown above is one half of the mural titled, Industry, painted for the 1939 Golden Gate International Exposition in San Francisco. Created by Paul Goranson, E.J. Hughes, and Orville Fisher, the three were known as 'The Three Musketeers of Art' as well as 'the West Coast Brotherhood' (apparently, a hat tip to the Pre-Raphaelite Brotherhood). The mural is a romantic depiction of Vancouver's early industries, a great homage to the railway and the harbour, with a noble collection of skyscrapers of the era in the background, many of which survive today, along with the newly completed Lions Gate Bridge, which opened on November 14, 1938.
I first spotted the mural in the book Free Spirit: Stories of You, Me and BC by Gerald Truscott. Gerald mentions that a total of 15 make that 12 murals were painted, part of a project called "Art in Action", which featured the murals painted on the walls of the exhibition hall. The British Columbia exhibit makes a small cameo in this BC Tourism film, an excerpt which I've posted here. Sadly, the Expo came to a close early due to the start of WWII, and while I'm not entirely certain if the original murals are presumed destroyed, we can appreciate the beauty of these murals thanks to smaller versions which remained in BC for local exhibition, where they survive today in the BC Archives in Victoria.
I purchased the digital image above from the BC archives as a sort of birthday treat for myself, which I proceeded to retouch in an attempt to achieve the original colours and contrast. Thus, image PDP02285 (retouched) above appears here courtesy of the Royal BC Museum, BC Archives.
Goranson, Hughes, and Fisher collaborated on a number of projects in the region; their first commission in 1936 was a series of murals for the First United Church at Gore and Hastings. According to the City of Vancouver website, these murals were sadly destroyed in 1963. The recently restored Malaspina mural from 1938 has a much happier ending; it has been relocated to the Vancouver Island Conference Centre and can now be seen on the ground floor of the Shaw Auditorium, 80 Commercial Street, Nanaimo.
I've included a few more biographical notes of the three artists on the Illustrated Vancouver post, along with a couple more images of the work, so check out the post to learn more about the men behind the murals.