If you stop in on Friday at Lucky's Comics on Main Street at 7pm, you will have the opportunity to meet Luke Ramsey and pick up a copy of his latest book published via Drawn and Quarterly. Ramsey's Intelligent Sentient book is eye-bending. A visual symphony that  uses elements of chaos, overflow and excess to connect parallel universes. Feast your eyes on some of the images from this book below.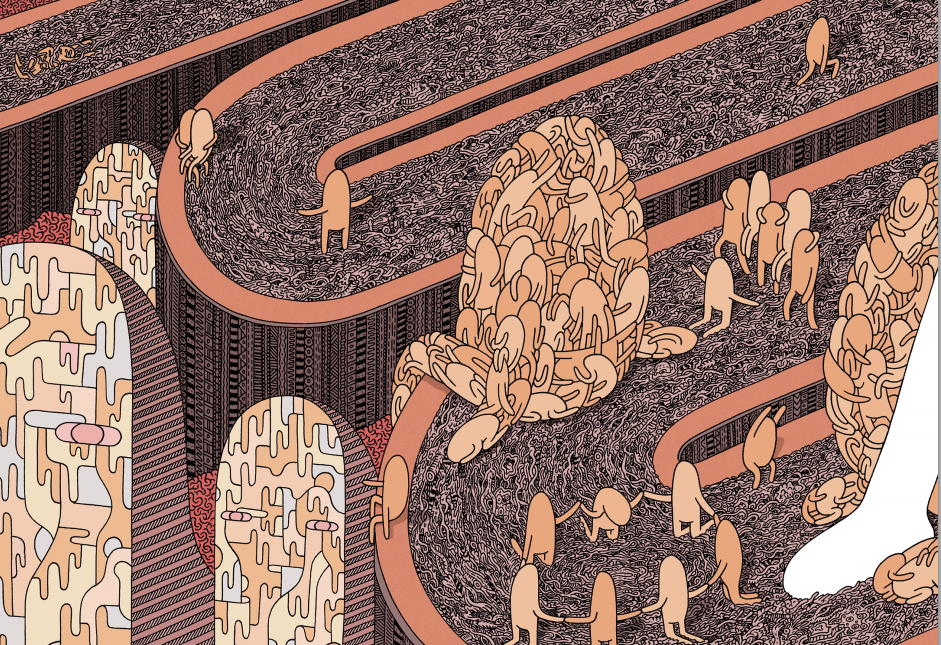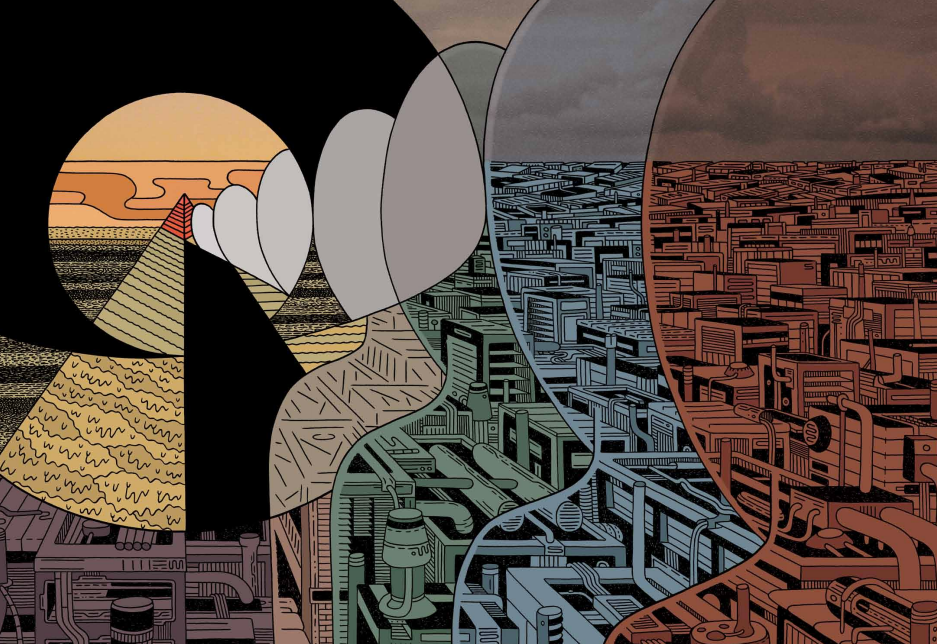 MJ and Bubbles' appearance as a derelict sculpture next to an arcade machine is a particularly brilliant combination, well played Ramsey, well played. So what is Intelligent Sentient all about?  In a nutshell, Ramsey and Drawn and Quarterly describe it as such:
Intelligent Sentient? feels like an artifact from another time: beautiful, detailed filigreed drawings fold in on themselves and blossom out at the reader as time speeds up and contracts. A loose story is told that involves a society of giant people, strange art and inexplicable scientific experiments using nonexistent technology. Factories and tree houses teem with life, and the city nestles up against a landscape filled with dinosaurs, apes, and dragonflies living peacefully side by side.  Intelligent Sentient? is a seris of images that are tied together not in a narrative but in a progressing theme, the takeaway being that everything is connected.
Head over to Lucky's Comics and pick up your copy on Friday!
Intelligent Sentient? - Luke Ramsey
Lucky's Comics - 3972 Main Street
7pm - slideshow and book signing. 
About Luke Ramsey:
Luke Ramsey co-founded the Islands Fold residency and exhibits internationally. He is also a freelance illustrator with clients that include The New York Times, The Drake Hotel, MEC, and Patagonia. Luke's practice includes collaboration, design, public art projects and detailed freehand drawing. Ramsey currently lives on the Sunshine Coast of BC.
About Drawn and Quarterly:
Over the past several decades, Drawn and Quarterly has grown from a single-issue magazine to an internationally renowned publisher of the world's best cartoonists. D+Q has published many North American luminaries of the medium including Adrian Tomine, Lynda Barry, Daniel Clowes, and Kate Beaton. It has also worked with international authors including: Tove Jansson, Astrid Lindgren and Yoshiro Tatsumi. D+Q is based in the Mile End neighbourhood of Montreal, the same neighbourhood where it was founded by Chris Oliveros in 1989.