Every week our friends at The Georgia Straight provide us with a preview of what you'll see on – and in – their paper that week. They are the source for lifestyle and entertainment in our city and along with their robust online presence they've always released a print edition, distributed everywhere each Thursday.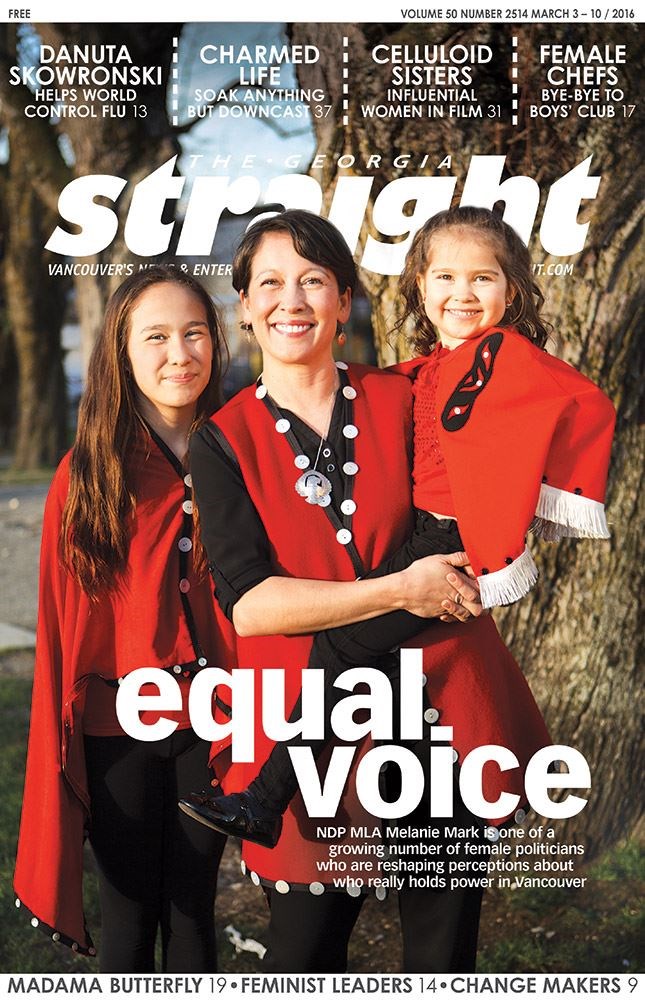 On the cover this week is International Women's Day: NDP MLA Melanie Mark is one of a growing number of female politicians who are reshaping perceptions about who really holds power in Vancouver.
Their guide to International Women's Day 2016 is HERE.
Here are some links to stories highlighted on the cover:
Vancouver's female politicians reflect on their experiences leading up to International Women's Day by Charlie Smith and Carlito Pablo.
B.C. Centre for Disease Control researchers develop system used around world to monitor flu vaccine performance by Gail Johnson
SOAK has it all sorted out by Mike Usinger
Key names return to the Vancouver International Women in Film Festival by Staff
Say goodbye to old-boys' club in Vancouver restaurant kitchens by Gail Johnson
Additional stories on International Women's Day:
21 women fighting the good fight with Vancouver nonprofits by Travis Lupick
Women take the helm at major arts groups by Janet Smith
Pick up a copy of the new Straight tomorrow!