Whether you hide them under your mattress, flip through them in the washroom or devour them during your morning coffee, there is no denying that magazines are one of life's little joys. Vancouver is home to an All-Star Team of Publications covering anything and everything: lifestyle, culture, art, health, local issues, business, bikes, dogs, poetry… ( the British Columbia Association of Magazine Publishers is home to a great roster ). With so much being published out of Terminal City it's no surprise that there are an abundance of launches and events, and the upcoming Main Street Magazine Tour is the perfect way to explore Vancouver's literary landscape.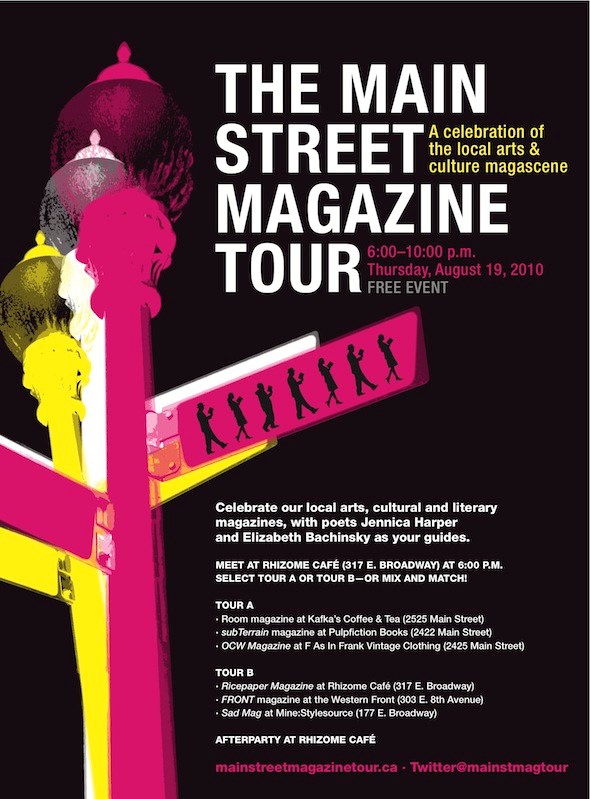 Next Thursday, August 19th, the folks from the BCAMP will be teaming up with Main Street businesses to show off our local literary, cultural and arts publications. Vancouver based poets Elizabeth Bachinsky and Jennica Harper will lead the free tour, stopping in at local haunts for 30-minute showcases to hear readings, watch improv comedy, meet a drag queen and learn more about the local "magascene". One of the fantastic organizers Heidi Waechtler says it best, "The tour makes visible the intersection of magazines with our communities and our everyday lives—how they both reflect and shape our culture."
The tour begins at 6:00 pm at the Rhizome Cafe (317 E. Broadway) and from there choose your own adventure!
TOUR A
·  Room magazine presents poetry by Casey Wolf and Elena Johnson. (Kafka's Coffee & Tea, 2525 Main St.)
·  subTerrain magazine presents readings from issue #56. (Pulpfiction Books, 2422 Main St.)
·  Slam poetry by Fernando Raguero collides with improv by members of The Exploding Sandwich, Hip Bang! and Pump Trolley, presented by the recently relaunched OCW Magazine. (F As In Frank Vintage Clothing, 2425 Main St.)
TOUR B
·  Ricepaper magazine celebrates the launch of 15.3, the Food Issue, with a reading of a tasty new play by Linda Mei, featuring Adrienne Wong and Fiona Tinwei Lam, followed by delectable poetry by Ray Hsu. (Rhizome Café, 317 E. Broadway)
·  Visit the FRONT magazine reading room and meet artist Heidi Nagtegaal, who's combed through 20 years of the magazine's archives to produce a limited number of one-of-a-kind presents for tour-goers. (The Western Front, 303 E. 8th Ave.)
·  Sad Mag presents a conversation with salon owner Jim Dreichel and Burcu Ozdemir (of Burcu's Angels) on drag culture, gay and lesbian culture, and the history of Main Street. Hosted by drag sensation Isolde N. Barron. (Mine:Stylesource, 177 E. Broadway)
And if that's not enough for you there will be a rip rorin' afterparty back at the Rhizome Café at 8:30 pm where your tour guides Elizabeth Bachinsky and Jennica Harper will give readings alongside prize giveaways, magazine sales and music. What's not to love?
This is the perfect opportunity to learn about the publication teams that produce the magazines you can't live without, support local Main Street businesses and finally talk to that cute girl you see reading Geist Magazine in the park all while experiencing your city in a whole new way, literally.