Luxury for less is in vogue and shopping at consignment stores is an excellent opportunity to pick up designer brands as well as everyday wear at a fraction of the retail cost. Unlike thrift stores where unwanted clothing is donated, consignment stores carefully choose the fashion they carry, catering to their specific clientele. Whether it's the thrill of the hunt and bragging rights for scooping up a delicious bargain or for those on a budget, here are 10 of Vancouver's best fashion consignment stores. Happy hunting.
SOUTH GRANVILLE
Turnabout's flagship store, located in chic South Granville, carries the city's biggest selection of contemporary high end designer clothing and accessories. The "Holt Renfrew" of consignment shopping, even the ladies who lunch are known to visit the store for their luxury evening wear, cocktail dresses and designer handbags. Find top designers including Prada, Chanel, Lanvin, Alexander Wang, Brunello Cucinelli and Stella McCartney as well as affordable everyday high street fashion including racks of designer jeans from Gap to J Brand. With two levels to explore, Turnabout's South Granville location is a must visit for those who love to hunt designer labels. There are now 3 other locations in the city and all are worth a visit. See website for other locations.
3135 Granville Street.
DOWNTOWN & YALETOWN
Mine and Yours is like walking into a fashion dream closet. High end designer bags take the top shelf with luxury brands including authentic Louis Vuitton, Chanel and Prada. Find current "it brands" including Theory, Alice + Olivia, Alexander Wang, Isabel Marant, Marc Jacobs as well as carefully selected retail brands including Zara and Topshop. The upstairs is dedicated to designer shoes, oh Carrie Bradshaw would swoon, with brands from Jimmy Choo to Steve Madden. This beautifully curated boutique is one of the city's best luxury and on-trend fashion consignment stores.
1060 Hornby Street.
My Sister's Closet is actually a charity thrift boutique with proceeds supporting Vancouver's Battered Women's Support Services. The store is carefully organized and there is a good selection of business suits and attire for the career women's wardrobe as well as cocktail dresses, formal gowns and even bridal dresses. Bargain hunters will delight at the everything $5.00 rack and it is worth dropping in regularly as retail fashion stores from time to time donate unsold product here. My Sister's Closet also supports women artisans and carries locally made jewellery, handbags, and pottery.
1092 Seymour Street.
There's always something to find at Timeline Boutique for twentysomethings who frequent the nightclub scene at affordable prices, along with a mix of both designer and every day contemporary street fashion styles from Forever 21 to Burberry. Find a large selection of shoes with lots of high heels as well as brand names including Nine West, Stuart Weitzman and Coach.
594 Davie Street (at Seymour Street)
CROSSTOWN (just south of Gastown)
Hunter and Hare is a beautifully curated consignment store with affordable everyday wear catering to the hip under 35 crowd working and living in Gastown. Hunter and Hare also supports local artists and carries the Lover's Tempo jewellery line, as well as soy candles and fabulous handmade Fly at Risk ties.
334 West Pender Street.
CHINATOWN
Erin Templeton is known for her beautiful new and recycled leather handbags which are handcrafted in her Chinatown studio and retail store. In 2015, Urban Outfitters partnered with Erin for an international collaboration based on one of her trademark Boho leather handbags, providing her with much deserved global recognition. Originally a vintage buyer by trade, the store includes a small selection of vintage clothes from the 1940's to current street trends from Erin's own collection. The store also carries the city's best selection of pre-loved leathers skirts starting at just $28.00. Skirts that don't sell end up being recycled into leather bags and accessories. Don't miss the legendary sample sales which are announced on the store's social media.
511 Carrall Street.
MAIN STREET
Known for their beautiful artistic window displays, Front and Company first opened in 1993 as a small vintage store and has grown into a fashion emporium. Find racks of consignment and vintage clothing carefully selected for their resale appeal to the Main street crowd, along with a small dedicated designer section with brands including The Row, Missoni and Alexander Wang. There is also an excellent selection of consignment shoes, boots and handbags where brand names like Frye, Isabel Marant, Kate Spade and Kenneth Cole can be found. Front and Company also carries new clothing, fashion samples and their next door boutique features local designer jewellery, home accessories, baby items and gifts.
3772 Main Street
The newcomer to the Main street consignment scene, The Main Exchange opened in 2014 and has already garnered approval with Vancouver's in the know fashion crowd. Catering to young twenty and thirty somethings, the store showcases hip affordable street fashion from current designers including Isabel Marant, James Perse, Rag & Bone along with Aritzia, Club Monaco and Topshop.
185 East 16th Avenue.
*The store excitedly moves to their new location at 3728 Main Street on February 1st, 2016.
KITSILANO
A hidden gem, Once Again Resale is a luxury consignment boutique located in a heritage row house on West 1st Avenue in Kitsilano. The store is anchored by a beautiful black piano along with carefully curated racks of designer clothing including Chanel, Stella McCartney, Missoni, Phillip Lim as well as high end street fashion labels. The store has an excellent selection of designer bags and footwear including Prada, Miu Miu, Louboutins and Gucci. A must visit for those who love designer labels.
#2-1874 1st Avenue West.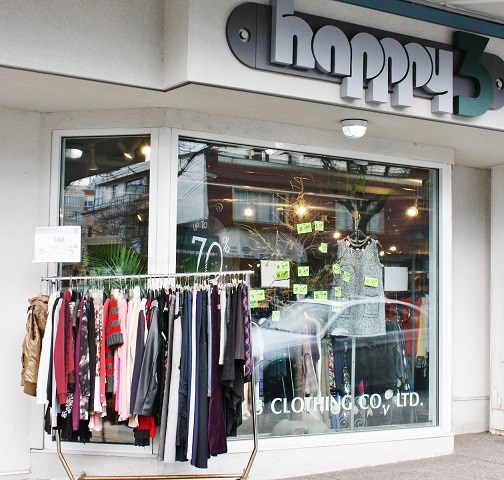 Located at the bottom of 4th Avenue at Alma Street, Happy 3 Boutique carries affordable everyday wear along with a dedicated designer rack that carries brands including Chanel, Louis Vuitton, and Burberry. The store always has a sales rack which can go as low as $5-$10 during the seasonal sales. Find a large selection of shoes and handbags including designer brands.
3629 West 4th Avenue
*The consignment store next door, HP3 which is separately owned carries similar consignment and is also a must visit when shopping this hood. Located at 3635 West 4th Avenue.