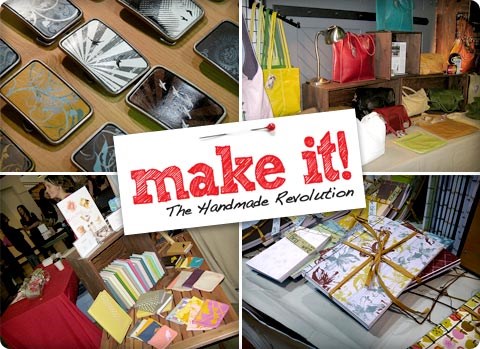 iViva la Handmade Revolucion!
You know what happens when the craft fair cartel converge for their annual holiday-inspired (Chrismakwanzakka? Hannukwanzamas?) consumer festivals?
Everybody wins!
The first of Vancity's big craft-fair expos is getting underway starting tomorrow at the Croatian Cultural Centre. Make It Vancouver is a showcase for 90 vendors - local and from across Canada! - whose handmade indie-wares are guaranteed to make you smile at their innovation and creativity, in addition to lightening the load of your wallet... because honestly, as amazing as it is to pick up your Holiday pressies at a fair like Make It, you'll end up loving whatever you buy so much that you may end up keeping it. (At least, that's how I roll.)
I've never been to Make It in the past but have heard many good things about the selection. One of the good things I have heard is that everyday, the first 25 people through the door get a swag bag. Also, there's a DJ spinning tunes.
Friday, November 19, 2010
4pm to 9pm
Saturday, November 20
11am to 6pm
Sunday, November 21
11am to 5pm
The Croatian Cultural Centre
3250 Commercial Drive, Vancouver BC
$5 at the door (kids 12 and under free!)
If you want to save $2 off the $5 price of admission, keep reading...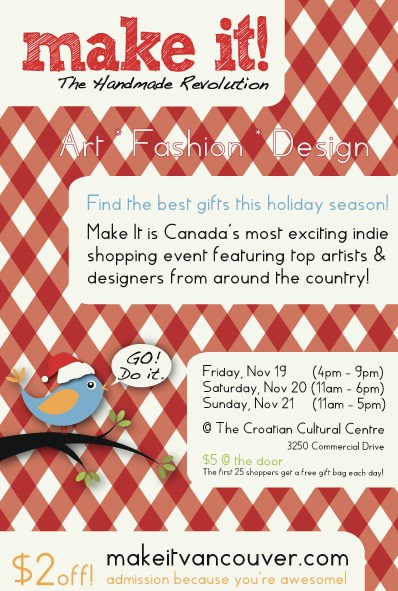 Print this puppy and save $2!