1. featuring different working methods and uses of materials
2. showcasing makers
3. promoting prototype projects
4. exploring shops and workspaces
Follow Maker Series on MakerSeries.ca
Name: Meredith Coloma
Title: Professional Luthier/Guitar Maker
Company Website: Meredith Coloma Luthiery and Vancouver Guitar Building School
Facebook: MeredithColomaLuthiery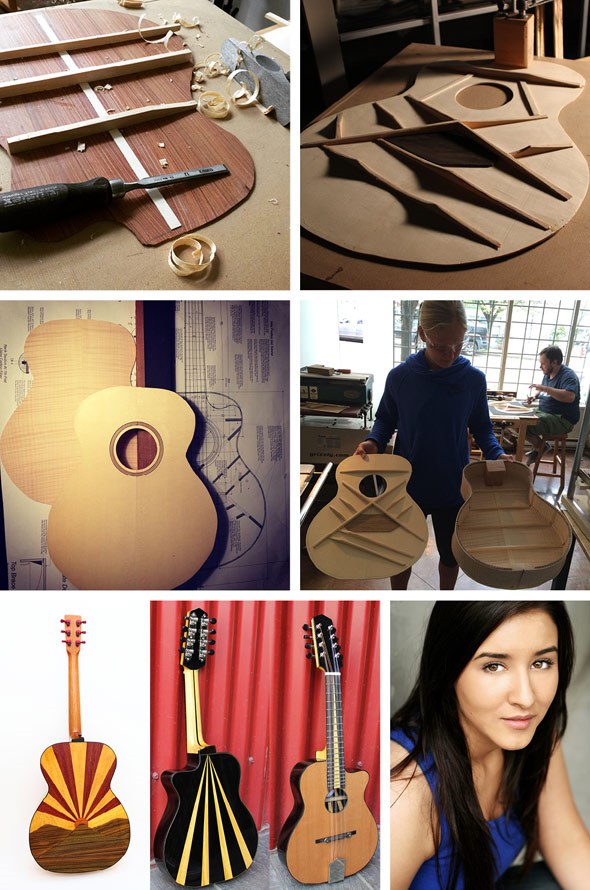 Tell us a bit about your background and how you came to be making guitar?
As I was a young professional musician I always seemed to be on the search for instruments with a perfect sound, especially tone. I never seemed to be able to find them so I decided I had to make my own instruments. I started by first attending a guitar building school and then apprenticing with two world renowned Luthiers: New York's Roger Sadowsky for electric guitar building and Vancouver's Michael Dunn for acoustic guitar building. Now I can proudly say that I have my own dream job and successful business.
What kind of guitars do you make?
I make custom guitars of all styles. I specialize in gypsy jazz guitars, short scale parlour guitars, and mandolins. I am always up for an artistic and creative challenge and have enjoyed building 8-string acoustic baritones, authentic ukuleles and guitars with two necks.
How would you describe your handcrafted guitars?
One of a kind acoustic art mandolins and guitars of my own unique design.
How do you approach each piece?
Each guitar I make is one of a kind. I like to think of the instrument as an art piece. The wood, body shape, inlay/design, and the building and finishing processes are all a part of the process. Cookies and root beer also seem to help my creativity.
Which materials do you use?
Acoustic guitars are usually soft wood like Cedar and Spruce for the top and a medium to hardwood for the back. I also like to use a lot of non-traditional wood like Satinwood, Bloodwood, and Purple Heart for their natural colors that I enjoy incorporating into my guitar designs. For the more exotic wood I like to use reclaimed pieces. One of my favorite is the mandolin built out of solid ebony back and sides.
What method/technique do you use to make your guitar?
I mostly use hand tools with the exception of a bandsaw and spindle sander. I am known for joinery, which is a technique I have learned from Michael Dunn. I have always been inspired by the art deco era and love incorporating that style into my designs.
Can you tell us more about your Guitar Building Workshops? Do you teach kids workshop as well?
Throughout the year I run both private and group lessons for electric and acoustic stringed instruments. Teaching is something I have always been passionate about. I have started a ukulele building day camp this summer where kids get to assemble, paint, and learn how to play their self-made instrument. Next year I will be doing spring break camps as well.
Where can we find your work?
You can view my work on my website (www.meredithcoloma.com) or my Facebook page and order guitars directly from me. I also go to a few select guitar shows internationally where I display my work. The next one I will be attending is the Memphis Acoustic Guitar Festival on June 5th-7th, 2015.
What's your favorite guitar that you've created?
The Sun Guitar is my favorite as it was my graduation piece from my apprenticeship with Michael Dunn. The Sun Guitar was also the first instrument that got me into well-respected magazines such as Guitar Aficionado, Acoustic Guitar Magazine, Premier Guitar, and the Fretboard Journal.
Is there anything else you would like to share about your creative process?
I love what I do. I feel very fortunate to be working in this industry.