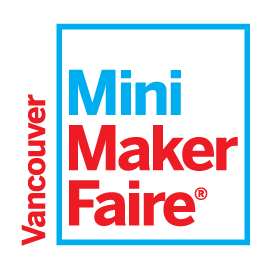 With over 100 makers, performers, speakers, and educators, Vancouver Mini Maker Faire is this city's largest show-&-tell for all ages.
Meet Make.Family.Fun, a Vancouver family of five who like to make things and want to inspire other families to dare to get a little messy. Parents, Sarah (an elementary school teacher) and Julian (a software developer) both love to create, and now with their three kids, Tristan,11, Liam, 9, and Xavier, 4, they can often be found in the middle of creations, wires and chaos. Whether it's a potato launcher, crafts or a catapult, Make.Family.Fun is always working on some kind of Maker project.
VMMF: How did you get inspired to start making with your family?
Make.Family.Fun: Julian grew up as a computer and electronics fanatic on an orchard in New Zealand, with a father who was a carpenter, and a mother who was an avid sewer and cook. Sarah grew up with do it yourself parents who sewed, canned, fixed, built and more. Sarah made kites, go karts and stop motion animations with her father, and puppets, stuffed animals, gardens and her own recipes with her mother. It was just second nature for us to start offering our own sons chances to create. We have been subscribers to Make magazine since its inception, so we have watched the Maker community grow. We are surprised how many families don't even have scissors and glue available to their children, and we would love to help other families start on a making journey.
VMMF: Why should families make, build, craft, hack or do other hands-on activities together?
Make.Family.Fun: Making is a wonderful way to get children learning. As an elementary school teacher, Sarah sees many children who are so passive in their approach to learning that they struggle to self initiate or direct their own focus even for a few minutes. Making is a wonderful way to teach focus, perseverance, research skills and to make academic skills meaningful. She has seen hard core "I hate reading" grade 7 boys suddenly excited to read when handed a book like "Backyard Ballistics" or the latest Make magazine. Making also teaches key skills like risk taking, over coming adversity and handling mistakes.
Children used to be outside more, fumbling through their own games and activities. Now, many children only do adult directed crafts or activities, and many of these are pre-cut kits designed by someone else into fool proof products. But real life is messy. Mistakes happen.
Things don't work right the first time. We wonder why our children lack perseverance but then we never give them a chance to fail. Children need to test their own ideas and to learn form their own mistakes. Making also creates spaces for family members to observe each others strengths and weaknesses. It can build trust, understanding, and the connection you only get through shared experiences.
VMMF: What sorts of projects do you like to tackle? 
Make.Family.Fun: All sorts! 3D printing a dinosaur skull for a school project, making Squishy circuits, Fridge box forts, an attempted hover craft – a second attempt coming soon – Nerf gun modifications, custom CNC machine cases, boro glass animals, potato cannons, raspberry pi computer, model rockets, chemistry, woodwork…
VMMF: What's the most rewarding part about making as a family?
Make.Family.Fun: Mom, Sarah, says, "I love seeing the learning that happens. I remember one time when my then toddler's roaring dinosaur toy broke. My then 7 year old said, "Lets take it apart Mom, and see if we can fix it!" He got a screw driver, opened it up and pointed out a wire that had come loose. I then helped him heat up the soldering iron, and he soldered it. The look on his face when we gave the fixed toy back to his brother was priceless"
Dad, Julian, can't imagine not making things–"For me, seeing some of my day dreams bought into the real world brings a great sense of peace and purpose.It reminds me of, and connects me to my forebears. It often forces me to slow down; sometimes the process is quite meditative and just as rewarding as the end result. It feeds my passion to learn.I also see the impact it has on our kids; they've shared in my successes, sympathized with my failures and taken these as permission and encouragement to launch into their own projects."
VMMF: What inspires you about Vancouver's maker community?
Make.Family.Fun: One of the joys of living in Vancouver is to have such a vibrant community of Makers. Our boys are thrilled to have seen projects like the Titanoboa and Sarah loves having access to something like Terminal City Glass Co-op. Julian has been to the 3D printer meet-up at the Vancouver Hack Space. Everyone has been so open to share and it is wonderful to have a community that is open to children participating. We live in Richmond and are starting to see similar things taking off their too, and look forward to hearing more and more people say "I made that!"
VMMF: What will you be making and/or exhibiting at this year's Faire?
Make.Family.Fun: It was Tristan, our 11 year old, who wanted to do a booth, as Maker Faire is one of his favourite weekends of the year. He says Maker Faire is better than Christmas! He will be bringing some of his Nerf modifications, as well as K'nex shooters he has made. Liam is bringing some Marshmallow shooter kits to sell and a button maker. Xavier wanted to re-create an Angry Bird Catapult we saw at a previous Maker Faire. Julian will be bringing his CNC machine 3D printers, some tools, some creations, some favourite catalogs (always an inspiration for projects) and looks forward to talking with attendees, inviting them to start making, and maybe helping them get over their initial hurdles.
The 5th annual Vancouver Mini Maker Faire takes place on June 6 and 7th at the PNE Forum.