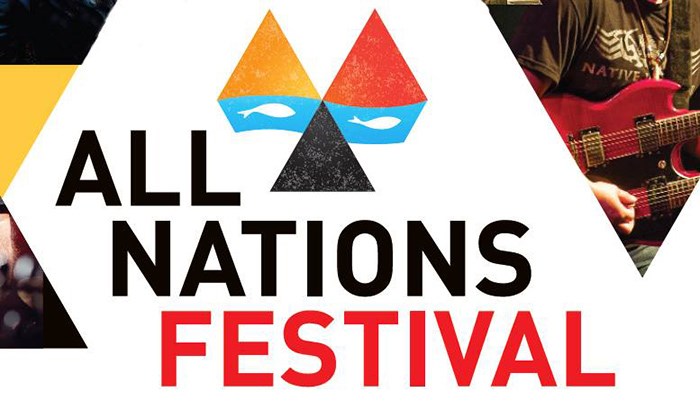 Join All Nations Festival for the largest National Aboriginal Day festivities ever held in the TriCity! Today's events conclude the festival's five-day celebration of Coast Salish storytelling, Indigenous films, literature, art and performance, all of which aims to connect ideas and issues between families, neighbors, and communities.
Tonight's event will cap off All Nations successful third-year with live music, food, art and even some virtual reality.
Expect performances by Snotty Nose Rez Kids, Wayne Lavallee, Children of Takaya and Donna Jacob, whose performances range from Indigenous EDM to traditional Lil'wat hand drumming, hip-hop and rap. There will also be a Coast Salish Plant Walk & Plant Sale, a Community Nature Wall and a Virtual Reality Tipi where CBC's first VR doc, Highway of Tears will be screened. There will also be a complimentary community feast plus extras for sale.
While the festival is intended to be celebratory, the ideas, opinions and voices expressed at All Nations are especially important in the wake of #Canada150, which has been criticized for neglecting to adequately acknowledge Aboriginal issues and histories within its events. Learn more by visiting allnationsfest.com
All Nations Festival National Aboriginal Day
Suwa'lkh School & Park (1432 Brunette @ Schoolhouse)
Music from 4:00pm – 9:00pm
Community Feast at 5:30pm
#AllNations2017