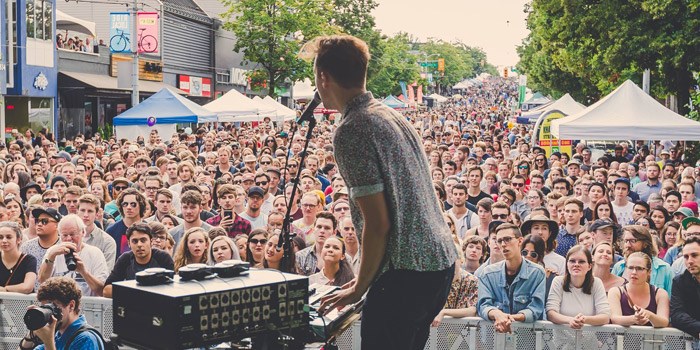 Well, summer's definitely here, let the good times roll! Keep the Canada Day good vibes going with national talent like Daniel Lanois, The Intelligence Service, and 4 local bands at The Fox's 4x4 (4 bands for $4 bucks) night. And then kick your summertime goodtimes into overdrive when Khatsahlano blocks off all of West 4th for their annual, totally free, totally all ages street party! Details below. See you there, Vancouver!
Ingrown
at 333, Tuesday July 4
There may be little known about this hardcore group from Boise, Idaho, but it really doesn't matter if what you want is to get loud and intense.

Daniel Lanois (with Twin Bandit)
at the Commodore, Wednesday July 5
Daniel Lanois ia a bit of a legend, having produced some of the best albums by U2, Bob Dylan and Peter Gabriel. Lanois is a respected musician in his own right, and we can't wait to get over the midweek hump with him.

La Luz
at The Biltmore, Thursday July 6
We love how all-female quartet La Luz blend doo wap with surf rock and can't wait to see them live in town this Thursday.

Junior Reid
at The Waldorf, Thursday July 6
Ting! has been bringing huge international talent to Vancouver for years, and this Thursday, they're doing it again by introducing Jamaican sensation Junior Reid to Vancity!

CIVILIANA (with Swim Team, Co-op, and Colby Morgan and the Catastrophes)
at 4x4 at The Fox, Thursday July 6
We totally love this concept: see 4 bands for $4 bucks. Simple. Awesome. See you at the Fox on Thursday to bounce to local alt rockers CIVILIANA and their buds!

Sail With Kings
at The Roxy, Friday July 7
Now a powerful 6-piece band, we can't wait to see & hear local artists Sail With Kings live this Friday.

FVDED in the Park
at Holland Park in Surrey, Friday and Saturday
The Lower Mainland's annual EDM party blow out. This year stars are Wiz Khalifa, The Chainsmokers, NGHTMRE, and many more.

Khatsahlano
along West 4th, Saturday July 8
Featuring an incredible lineup of local artists including Did You Die, The Written Years, The Zolas, and more. Free and all ages!

The Intelligence Service with Quintron & Miss Pussycat
at Fortune, Saturday July 8
Quintron & Miss Pussycat have a genre defying sound that will headline the night, but we're equally stoked on seeing local psychedelic garage rock band The Intelligence Service live!

Nora En Pure
at MIA, Sunday July 9
The official FVDED in the Park afterparty happens back in Vancouver at MIA in Gastown, headlined Zurich-based beatmaker Nora En Pure. Pretend it's a long weekend and party all night!

Worth heading out of town for: Bass Coast Festival
in Merritt, Friday July 7 - Monday July 10
Little Simz headlines an insane wicked lineup of artists at the 9th annual Bass Coast Festival. Good vibes, gorgeous location, unreal dance parties for 4 days.

This Week's Playlist - listen to who we're recommending!
https://open.spotify.com/user/do604/playlist/3JZh1e5yI2WQI5zTZPLZ9s
Subscribe to the playlist, or return back at the beginning of every week to hear who's the best of the best playing Vancouver.
At anytime check out our Vancouver Events calendar, powered by Do604, to see the best of what's coming to our city. Never miss another great show!