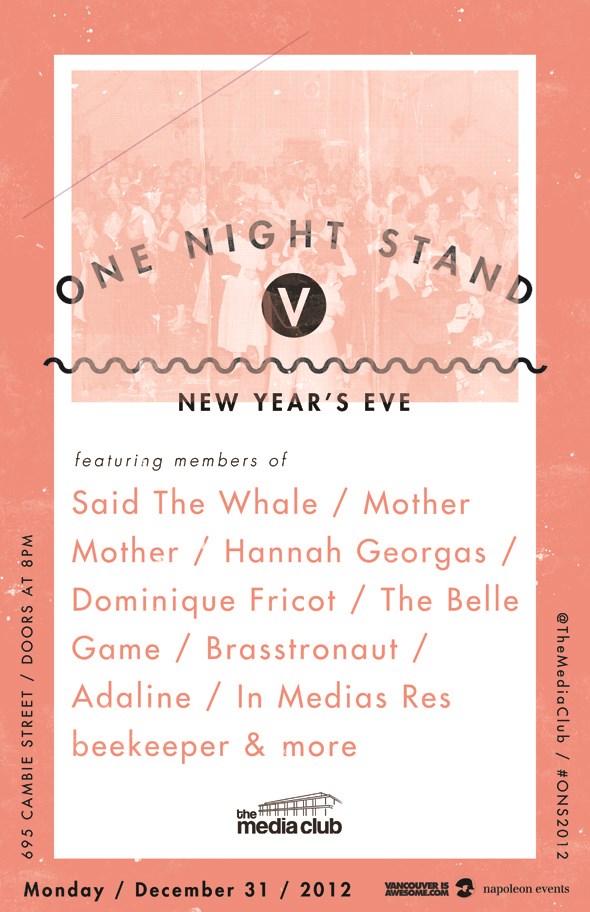 Yes, it's that time of year already! To start thinking about your New Years Eve plans! Once again, for the FIFTH year, the One Night Stand super group has been amassed and will be performing covers all night long for your pleasure.
This year's lineup includes: Jasmin Parkin of Mother Mother, Tyler Bancroft and Spencer Schoening of Said The Whale, Hannah Georgas, Dominique Fricot, Andrea Lo of The Belle Game, Tariq Hussain of Brasstronaut and CBC Radio, Adaline, Devon Lougheed of beekeeper and Justice McLellan! with Robert Tornroos of In Medias Res, Robbie Driscoll, Peter Carruthers, Andrew Rasmussen and Johnny Andrews!
VIA is sponsoring and once again I'll be running a photo booth, the drinks will be flowing, and we'll ring in the new year in style.
Early Bird tickets are only $30.00 and are on sale starting TODAY! It ALWAYS sells out, so get your tickets FAST!
To remind you of this awesomeness, check out this video from a few years back of the ladies of One Night Stand covering M.I.A.: