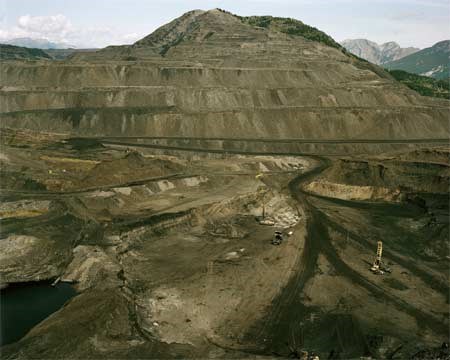 Edward Burtynsky, Westar Open Pit Coal Mine No. 19, Sparwood, British Columbia (1985), chromogenic print
GASTOWN / MAIN STREET
Elliot Louis Gallery presents Jane Adams: Floral Cuts
Opening Reception: Thursday, Feb 12, 6:30-8:30pm
Grace Gallery presents the premiere of New Circlesquare Video - Dancers
Grace Gallery presents Wrighteous Designs Gallery Launch
Grace Gallery presents The Love Letter Show
Opening Reception: Thursday, Feb 12, 8pm
Ayden Gallery presents Future Primitive
Opening Reception: Friday, Feb 13, 7-11pm
DOWNTOWN
VAG presents You Are Here: Artist in the Gallery
Lecture: Thursday, Feb 12, 7pm
Republic Gallery presents Rose Bouthillier: Keep Faith Lonely Trapper!
Opening Reception: Friday, Jan 9, 7-9pm
VAG presents Legacies of Impressionism in Canada
Performance: Sunday, Feb 15, 3pm in the Gallery
The Jennifer Kostuik Gallery Presents REECE TERRIS
Opening Reception: Thursday 12 February 6-9pm (Reece Terris in Attendance)
Access Gallery Presents: AEXCESS: Access Gallery's annual fundraising auction.
February 13th, 2009 @ 8PM
Republic Gallery is pleased to present an intriguing new series of vibrant,
large-scale landscape photographs by Jim Breukelman.
Opening reception Saturday, February 14th, 2.00-5.00pm
SOUTH GRANVILLE
Winsor Gallery presents Gabryel Harrison and Patricia Johnston
Opening Reception: Thursday, Feb 12, 5:30 - 8:30
Atelier Gallery presents Torrie Groening
Opening Reception: Saturday, Feb 14, 2-4pm
Valentine's @ Douglas Udell Gallery
Including works by Vancouver artists Michael Batty, Graeme
Berglund, John Capitano and others.
Saturday, February 14th, 2-4pm
VANCOUVER WEST
Emily Carr University presents Film does not Equal Sculpture
Opening Reception: Wednesday, Feb 11, 7pm
Lawrence Eng presents Kim Kennedy Austin: Pimp Juice
Opening Reception: Friday, Feb 13, 6-8pm
Charles H. Scott Gallery presents Vancouver Matters Book Launch
Book Launch Saturday, Feb 14, 2-4pm
FURTHER
Surrey Art Gallery presents Edward Burtynsky: An Uneasy Beauty
Lecture: Thurday, Feb 12, 7pm
UPCOMING
Vancouver Art Gallery presents FUSE
February 27, 2009
With special guest curator David Pay, artistic director of Music on Main, the Gallery presents a night of artists, musicians, performers and more, including DJ Michael Red, Call the City, Skeena Reece and Riel Hahn.
containR
February 18 – March 1, 2009, 10:00 am – 8:00 pm (closed Mondays)
Opening Reception on February 18 at 7:00 pm.
containR, presented by Springboard and Vancouver 2010 Cultural Olympiad, a sports, dance and performance film festival housed in reconditioned shipping containers.
Vancouver Public Library, North Plaza: West Georgia at Homer Street.
Source + Gallery addresses can be found at: ArtsyDartsy and Instant Coffee.