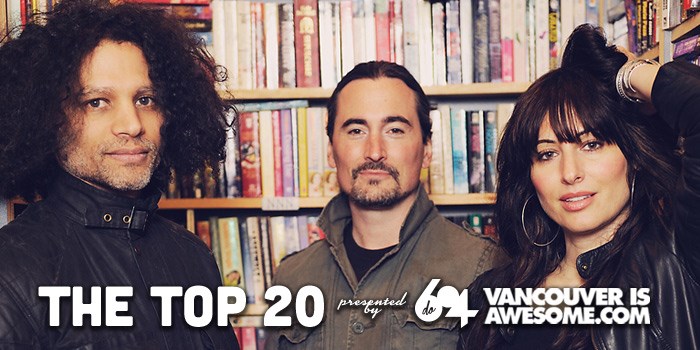 Jam out to Pacifika's rad tunes and raise funds to support charities in the DTES at the same time. You'll have a great time and feel good about it too! Here are the 20 artists you must NOT miss this week in Vancouver as picked by our city's #knowfun Selectors at Do604
https://open.spotify.com/user/do604/playlist/3JZh1e5yI2WQI5zTZPLZ9s
Subscribe to the playlist, or return back every Monday to hear who's the best of the best playing Vancouver.
The Octopus Project at The Biltmore on Mon Feb 27
Ever heard of indietronica? If not then you're in for a mind boggling treat!
Ghostface Killah at The Rickshaw on Mon Feb 27
This hiphop legend is all about loud emotional narratives with a wicked fast flow.

Vince Staples at The Vogue on Tues Feb 28
Coming from nothing, Vince Staples spits high-powered verses about the alienation of wealth and status.

Mykki Blanco at Fortune on Tues Feb 28
A multi-gendered poet, rapper, actor and author, Mykki is going to tear up the Fortune stage with their confidence and impressive flow.

Mozart's Sister at The Cobalt on Wed Mar 1
She will captivate you with her vibrant emotion and hypnotizing intensity.

Bleep Bloop at Fortune on Thurs Mar 2
Don't get too close to the stage or your face will melt off!

Reva DeVito at The Alexander on Thurs Mar 2
Get lost in her soulful and spellbinding performance.

Pacifika at Guilt & Co on Thurs Mar 2
Battle poverty, addiction and homelessness with Pacifika and their rocking internationally influenced tunes.

The Nude Riot at The Roxy on Thurs Mar 2
A wicked blend of surf and fuzz rock influences to bring you the freshest jams.

POS at Fortune on Fri Mar 3
Tight, grinding beats with rad lyrics is exactly what you need to start off the weekend.

Joey Landreth at The Fox on Fri Mar 3
Ground yourself with Joey Landreth's down to earth vocals before letting yourself go this weekend.

Cobra Ramone at The Waldorf on Fri Mar 3
Nothing better than a little greasy rock n' roll with Cobra Ramone.

Borgore at The Commodore on Sat Mar 4
Brace yourself a night of spine-chilling thrills that will last all night.

Breathe Carolina at Venue on Sat Mar 4
Straddling multiple genres to bring you the best of rockin' electronic music that will make you lose your mind.

Moon Duo at The Cobalt on Sat Mar 4
Haunting trance-like vocals weaved into funky acoustic-electro beats.

The Real McKenzies at Rickshaw on Sat Mar 4
Raise a little hell with The Real McKenzies to celebrate their 25 year anniversary!

Illy at The Rio on Sat Mar 4
This smart, idealistic hiphop storyteller will captivate you with every line.

Jay Hardway at Harbour Event Centre on Sat Mar 4
You already know it's going to be a LIT night. Why miss out when you can rsvp for free too?

Saba with Sylvan Lacue at Fortune on Sun Mar 5
Known for aggressively high energy performances, it's the perfect way to end the weekend.

Norine Braun at Lanalou's on Sun Mar 5
Jazz up your Sunday night with a little blues, rock, and roots.

At anytime check out our Vancouver Events calendar to see the best of what's coming to our city. Never miss another great show!