I did have an idea about what I was going to see. A live, cable access variety show called Talent Time hosted by some guy named Paul? It was going to be weird, wacky and probably random. And, for the most part, I was right. Before I even entered the theatre a man in a white suit with a disco ball for a head, accompanied by a man riding some sort of fake horse apparatus came up to me to give me a high five. I complied with a grin, it was definitely the tone I was expecting. What I was not prepared for was the very real emotional journey I felt I was taken on by the vulnerability of some of the performers as well as the host Paul Anthony's own incredible genuineness.
Now, I don't want to make the show out to be something it's not. It's not something you watch in pursuit of a spiritual awakening, or anything. It's silly, and sometimes stupid, and sometimes mildly inappropriate. It's a comedy show, primarily, thats goal is to make people laugh, sometimes make people dance, and always make everyone feel good. And dare I say it accomplished at least that much last night, seemingly without effort.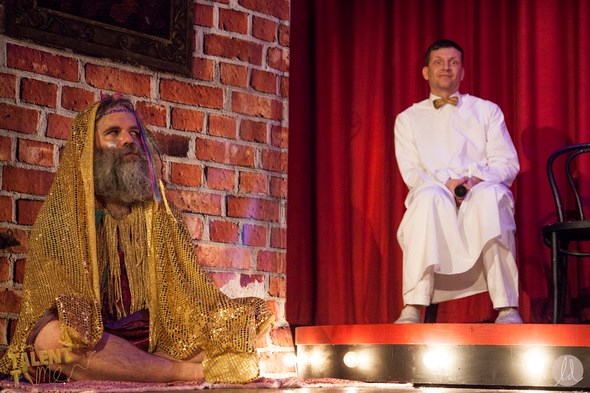 Anthony was perfectly charming on stage, even if somewhat distracted. He was joined by comedian and actor Ryan Beil who, contrary to Anthony, was absolutely on form as the offbeat, quirky sidekick. Add in a groovy house band in funny dress up clothes and an eclectic selection of guest performers to the mixing pot and you got a show you didn't necessarily understand, but were happy to have witnessed regardless.
The first thing that Anthony did upon hitting the stage was ask audience members to all sit together, filling up the empty spots near the front. The audience, myself included, was reluctant at first, but Anthony wouldn't have it. "Put up your hand if you have an empty seat next to you," he instructed, before going into the crowd and directing individuals from the back of the theatre to the vacant spots further up. I ended up by sitting in-between a large group of friends and a bearded man who was sitting at the end of the row by himself, and am very glad that I did. Sitting next to someone, even strangers, allowed me to share the experience, thus enhancing my enjoyment of it. For, it wasn't the kind of show you could just sit back and watch. You were either in it, or you weren't.
Once everyone was settled Anthony gave a monologue that, although was scattered and somewhat directionless, had a lot of great ideas. He spoke to the show's theme which, for this particular episode entitled "Summer Trip," was psychedelic drugs and their use for the purpose of expanding one's mind and allowing one to experience things in new ways. He compared "Summer Trip," to stomping on a sandcastle – sometimes after you create something you have to destroy it in order to continue creating great things. He expressed that the episode, being the last of the season, was meant to be experimental. Even he didn't know exactly how things were going to turn out! And that was the fun of it. The show then officially got underway with the banging of a gong and the audience answering the question, "What time is it?" with, "Talent Time!"
The talent portion of the show began with a shaman from Gibsons, BC, referred to as Oh Mystic One, who blessed the audience and led everyone in an exercise designed to open up one's "bliss holes," whatever that meant. From there a selection of local talent was showcased, including Amrit Bains, the singing B-line 99 bus driver from Surrey, comedian Devin Mackenzie, and East Van's rock n' roll choir The Kingsgate Chorus. The performances were nothing short of entertaining, and although awkward at times, were presented with confidence and the intention of making others smile. It wasn't until the second half that I started to feel emotional.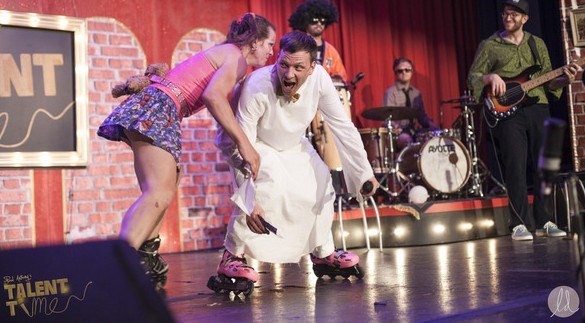 After a brief audience reactions segment, in which we all watched ourselves being filmed dancing like idiots (or just blissfully baked-out-of-our-minds people) the second half opened up the stage to Rollergirl Angela Dawson. A somewhat controversial fixture of Downtown Vancouver, Dawson is known for erratically directing traffic on her rollerblades as well as an advocate for transgender rights. She rollerbladed around the stage for a while, jumping and spinning, Anthony in tow, and when asked to sit down and talk said she was shy. However, once she did sit down with Anthony for a brief interview portion of the show what she revealed was a beautiful honesty and an underlying sadness. She spoke of how she felt bullied by police and other authorities, and how she was chronically harassed and assaulted by civilians on the street. And that's when it occurred to me.
Though the theme of the show I was watching might have been psychedelic experiences, the heart of the show was quite obviously Paul Anthony's profound passion for people. It seemed to me that the acts showcased were not picked for the quality of the talent, but to give those who had something to share a place to share it that was kind, accepting, supportive and encouraging. Anthony isn't looking for the best this, or the most impressive whatever, he's looking for people to contribute to the good time that watching his show is. The audience, in turn, showed their appreciation of this by always being gracious and never nasty toward the people on the stage, even when things did get somewhat awkward and uncomfortable.
Though the concepts of letting go of fear in favour of a good time and staying true to yourself aren't new to me it was still (dare I say it?) inspiring to not only hear those messages, but also to see them embodied by such talented entertainers. "Fear is dumb," Anthony had stated in his opening monologue, "because in 100 years… all new people." And though it was all jokes and gags, there was a very understated wisdom somewhere in there. But don't go for the wisdom. Go for the hell of it.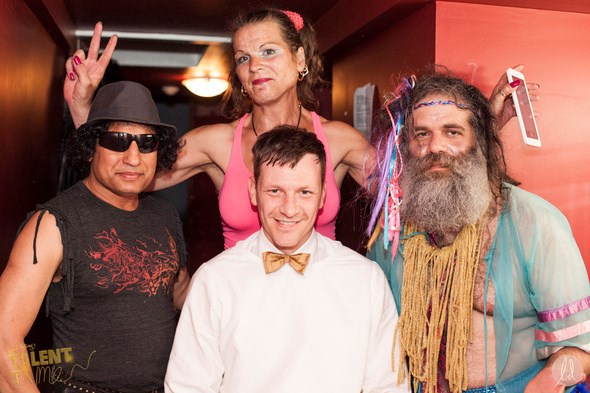 Paul Anthony's Talent Time will be returning for its eighth season on the first Thursday in September at the Rio Theatre.  Full episodes can be viewed on Shaw TV, the Novus Network and their YouTube channel.