Join us for PechaKucha Night Vol. 40 on Thursday, Sept. 8th.
We are very excited to announce that the next PechaKucha Night will be hosted at the Granville Island Stage. PechaKucha Night is a fun and informal event where people can meet, inspire and get inspired, based on a format that is fast-paced and fun. Twelve inspiring minds will be giving a unique insight into their latest work and ideas in 20 slides x 20 seconds.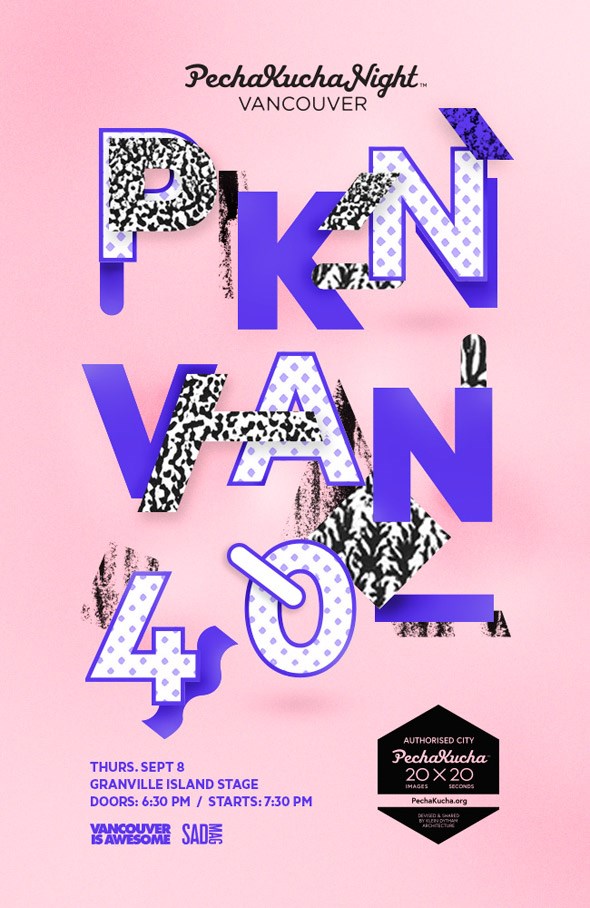 Poster Artwrok by Maria Stanciulescu
Your host is:
Marianne Amodio - Principal, marianne amodio architecture studio
Your speakers are:
Angela Fama - Photographer / Artist, angelafama.com & wabisabibutterfly.com
Ariel Swan - Co Founder, Feed the People & Slow Jam Sundays
Armin Tehrani - Founder / Doodler, Lost Boys Greeting Card & Priory
Brendan Megannety - President / Creative Director, Explorer's Press
Graham Clark and Dave Shumka - Podcasters, Stop Podcasting Yourself & Our Debut Album
Kate Duncan - Designer / Maker, Kate Duncan
Keighty Gallagher - Founder, Tight Club Athletics
Cristina Bucci, Mark Siller/ Rina Pellerin/Maiko Miyauchi/Dean Placzek/Antonio Somera - Co-Artistic Directors, OURO Collective
Paul Anthony - Creator / Host, Paul Anthony's Talent Time!
Sirish Rao - Founding Artistic Director, Indian Summer Festival
Zach Berman - Co Founder, The Juice Truck
Tickets go on sale next Thursday, Aug. 11th at 10am through picatic. Tickets will be moving quickly as this is a much smaller venue than we have had in the past. https://www.picatic.com/PKNVAN40
Don't forget to sign up for our newsletter and be the first to know about events, tickets & speaker announcements.
We hope to see you there!