Vancouver Is Awesome is co-presenting an arts initiative in Vancouver called Penny Smash! Todd Falkowsky (of Citizen Brand and The Canadian Design Resource), Scott Hawthorn (of Salt Tasting Room, Native Shoes and Picker Shack Orchard), designer Tyler Quarles and I have been working for the past few months on producing a Vancouver pilot for a project that Todd launched in Toronto a couple of years back. The idea behind PENNY SMASH is to take a souvenir penny press machine (like the ones you see inside tourist attractions - like THIS) and hijack it to produce truly affordable works of art. ALL of the proceeds go either to charity or grants to artists to launch other creative projects in the city.
The first Penny Smash Vancouver machine launches this coming Friday, November 4th at FUSE at the Vancouver Art Gallery and for just $2.01 (on top of your admission to FUSE) you'll be able purchase work from the machine by some of Vancouver's favourite visual artists including Ken Lum, Ian Grais, Jerszy Seymour and Natalie Purschwitz. First I SHOWED you Ken Lum's "Monument for East Vancouver" design, THEN Ian Grais and his "Vision Token" penny, NEXT was Natalie Purschwitz and her "Button" penny and today it's time for Jerszy Seymour and his "FLIP" design.
Note: this is the only pressed penny in Canada that is double sided. It is incredibly rare!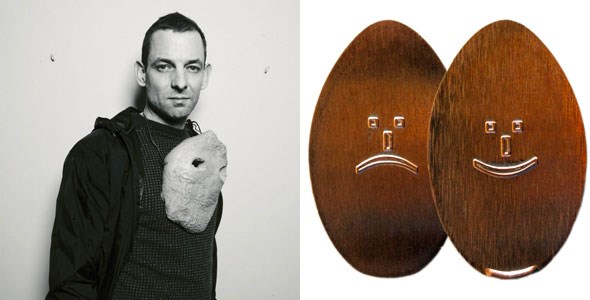 "Let fate help you decide, just flip the coin."
Long an expat in Europe, Jerszy Seymour has roots in Vancouver and is rumoured to have been named after the local Mount Seymour. Living in London, Berlin and Milan, Seymour has produced work characterized by fun, wit, humour and innovative use of materials and has exhibited at the Vitra Design Museum and Pompidou Center among others. He has designed for Swatch, Perrier, and Magis and now this PennySmash penny, which aims to help you make up your mind.
jerszyseymour.com
*This is a rare two-sided press.
DON'T MISS THE UNVEILING OF THE PENNY SMASH MACHINE IN VANCOUVER NOVEMBER 4TH!: CLICK HERE TO BUY TICKETS TO FUSE