Pollinator Week is just around the corner, starting on Sunday with a "Pollinator Party" at VanDusen Botanical Garden. There will be bee safaris, pollinator costume-making, seed paper making, hive tours and more (I know what you're thinking - I had you at bee safari, right?)

The event is being run by "the Pollinator Project" - a collective of organizations and people working with the City of Vancouver to raise awareness and action on pollinator conservation. Partners include the City, Environmental Youth Alliance, VanDusen Botanical Gardens, Hives for Humanity, university researchers, and others. Part of the catalyst for the group was the Park Board's 2014 initiatives to ban neonicotinoid pesticides on plants in the City's parks, and to increase meadow habitat areas.
As you surely know, there are many threats facing our bees, including habitat loss, pesticides, disease, and the effects of climate change. But despite the huge scale of the problem, every one of our balconies and backyards can lend a 'helping flower' to bees this summer. In return, our native bees, honey bees, and other insects help us by pollinating our veggie gardens, farm fields, and wild landscapes. For ideas on what to plant in your garden or balcony box, check out THIS handy list from the Environmental Youth Alliance (EYA).
Aaaand if you happen to live near 37th Ave, between VanDusen and Queen Elizabeth Park, you should definitely check out the EYA's awesome Nectar Trail project. With the help of EYA you can turn your patch of Vancouver into a paradise for Vancouver's 56+ native bee species.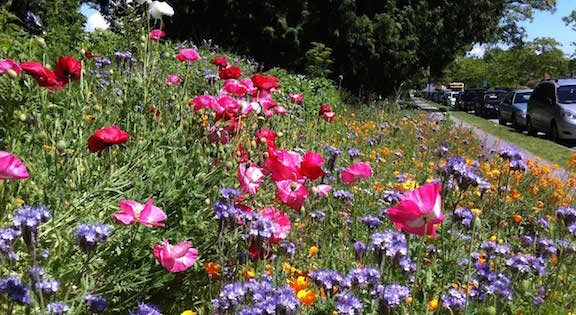 Other events happening during Pollinator Week include a pollinator booth at South Hill Library Branch on June 20th, and a youth photo contest. Check out more details about that HERE.
Use #pollinatevancouver to follow along with the festivities this week!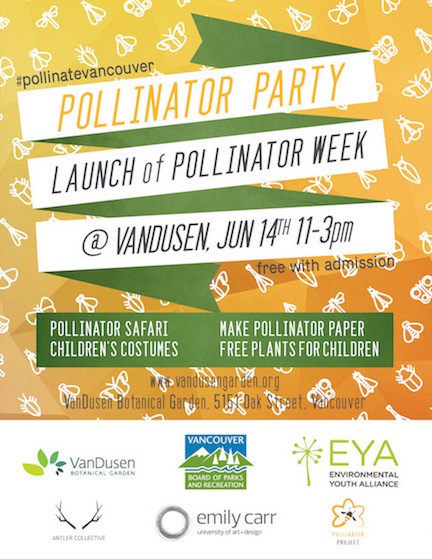 Find me on twitter for more stories about nature in the city @Nature_City