I first met Grace just after she had transitioned from a highly successful career in industrial design to making and creating her own line of hand built ceramics in her tiny Vancouver studio. It was a risky move and one that was essential to her well being, in order for her to feel fully alive it was necessary for her to get her hands into the medium of clay again. Before taking the huge step of starting a new creative path, Grace was an art director and tableware designer for many years. She travelled internationally to source inspiration and designed products for the home for major retail chains across Europe and North America. Her role as an Art Director was all encompassing as she not only designed the products but she also defined the lifestyle brand of each collection.
Grace is a renaissance woman, capable of working in many different mediums and directions. From her sublime photography to sensitive and responsive graphic design. However it's easy to see that her love of ceramics is a deep and abiding one, a devotion to form and pattern. Grace's ceramics are full of contrast, a quality we all crave, consciously or not. Delicate and sturdy,  glossy and matte, exacting and loose, patterned and plain, textured and smooth, each piece has its own unique character.  
Tammy Hudgeon, artist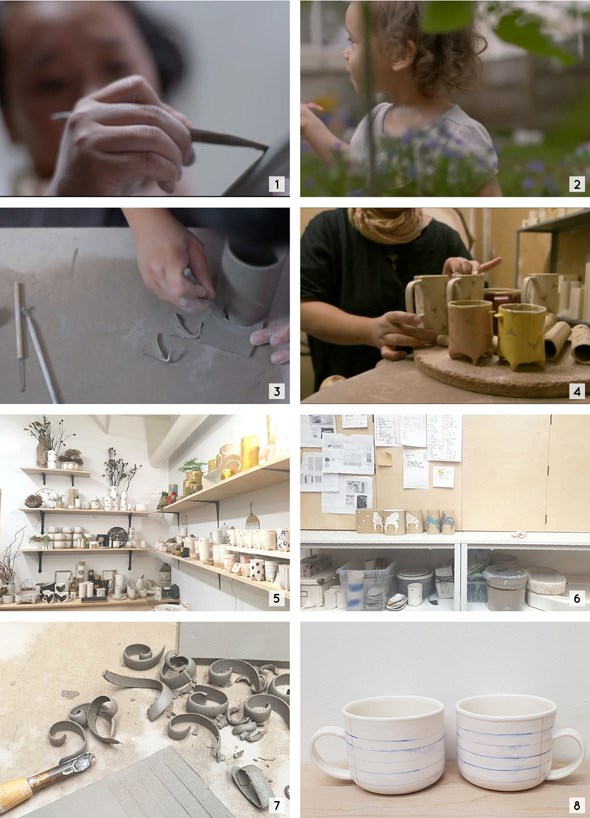 THE PROOF
1. My hands are always covered in clay (as are my clothes) and they reflect how much I am connected to this medium. Although, I use tools to bind and finish seams, my hands are my best tools I'll ever use.
2. My happy place is being in my garden with my daughter. She is very involved with planting seeds and watering and also finds such joy in harvesting her hard work; witnessing her joy has brought another level of happy to me.
3. The few tools that are vital to my process are a knife, scorer and my brand stamp which marks each and every piece that I make.
4. I spend a lot of time in the kiln room where lots of the magic happens - or the most heartache. When I unload a full kiln load of good pieces with no mishaps, I consider that a mini victory.
5. A rare moment in studio in preparation for the Eastside Culture Crawl where surfaces are clean and my work can be on display. This even brings thousands of people through the Mergatroid and it's my favourite time to connect with the public.
6. My project and order board at end of the year.
7. I'm currently working on the largest project I've been commissioned for and will debut in Toronto in early February 2018.
8. A series that I've loved from a few years back now : aged lined notebooks from grade school. I always excelled at printing and cursive writing which brought me pure joy over studying academics.
THE QUESTIONS
1. What do you do?
I am a ceramic designer and maker. eikcam.com
2. How long have you been practicing your craft?
I've been at the Mergatroid studio building in Strathcona, Vancouver since 2008 working in clay. Before that, I was a ceramics and tableware designer for 7 years so for almost 16 years I've been involved with ceramics. 
3. How do you define the local art + design aesthetic?
Being based in Vancouver, the local art aesthetic is a huge melting pot of cultures and subcultures including First Nations/Indigenous art which has a powerful presence all across Canada. We really don't have a defined aesthetic in Vancouver or even in canada. it's a muti-faceted model of culturally influenced art and design.
4. What is the biggest project you've worked on?
Well, the most prestigious project was designing and making the VIP tableware for Hawksworth Restaurant when it was just opening as Hotel Georgia was being revamped. The largest project most recently is an ongoing one of thousands of handmade tiles for a design firm in Toronto.
5. What is your favourite local/national gallery/shop that promotes fine handmade craft?
3 Singing Birds in Whistler stands out as its tiny space boasts the finest, handmade wares from local makers to internationally curated pieces. The owner, Paula is a designer herself and she always is a delight to all of her vendors.
6. What is the most favourite step in your process?
My favourite step is forming 3D shapes from 2D slabs. I love watching the transformation of the different planes from a flat surface to creating depth of form.  
7. Do you have advice for someone wanting to pursue a creative maker's path?
I would ask if they were ready to fail at something everyday in order to make progress. If they are willing and open to face heartache and challenge, then commit to put everything of yourself into your practice for many, many years. It doesn't happen overnight nor can anyone give it to you.  
8. Is there anything else you would like to share with us?
Come check out Object+Handmade, starts this Friday at 7pm and runs until Sunday 5pm at the Aviary, 1024 Main St. This show is a group of makers who inspire me and have incredible work to share.