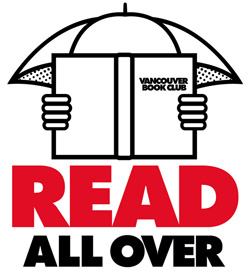 Read All Over celebrates the bookworm in all of us, showcasing readers in Vancouver and the books they love most.
. 
Carol Shaben is the author of Into the Abyss a recently-released book of non-fiction that explores the transfigured lives of four men who survived a 1984 plane crash in northern Alberta: the rookie pilot, a prominent politician, a young RCMP officer, and the accused criminal he was escorting in handcuffs to face sentencing.  She has won two National Magazine Awards including a Gold Medal in Investigative Reporting, and was nominated as Best New Magazine Writer in 2009.
Carol lives in Vancouver with her husband, Riyad, and son, Max.  She's launching Into the Abyss on Thursday October 25 at Monk McQueen's.
Interview by Dina Del Bucchia
What are you currently reading? Your thoughts on it?
I am reading friend and fellow MFA colleague John Vigna's debut story collection, Bull Head, an unflinching exploration into the lives of hard living, rough-edged men trying to find their place in the world. The collection has been a revelation to read, both because John's writing and characters are so compelling and pitch perfect, but also because I had read some of John's stories in their earlier incarnations and they have changed and grown so remarkably.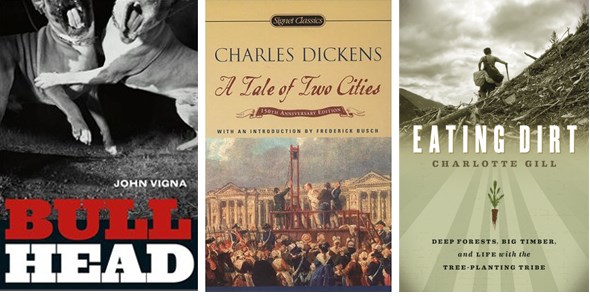 What books have changed your life?
Such a tough question. I think every good book I read changes me just a little, but the books that probably made the greatest impact were Charles Dickens' A Tale of Two Cities and Great Expectations. I read them when I was young and traveling the world. I was both humbled and inspired by the sweep of them, Dickens' mastery of his characters, plot and settings and the resonance of the themes he tackled.
Recently, I've been recommending Eating Dirt by Charlotte Gill. I was incredibly moved by the beauty of her writing, both poetic and deeply human.  In my mind, she deserves every award and accolade she has received for her years-long effort to document the unexplored and very Canadian rite of passage that is tree planting.
How do you like your books served up best - audio books, graphic novels, used paperbacks, library loaner, e-reader...? 
I like my books served up on paper and have not been swayed to deviate until recently as I was racing to read the works of authors I was sharing events with at the Vancouver Writer's Festival. Kim Thúy's Giller-nominated memoir Ru, which I ordered online, arrived in French and out of desperation, I purchased it as an e-book. I was surprised by how little I missed the actual hard copy.  What I don't think I could give up is the kid-in-the-candy-store excitement I get every time I walk into a venerable old bookstore like Shakespeare & Company in Paris, or Munro's Books in Victoria or even Carson's second-hand books in Dunbar.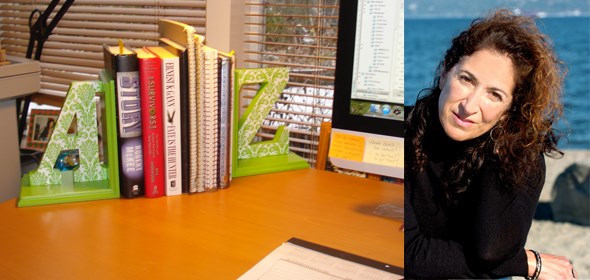 Do you have a favourite story set in Vancouver?
My favourite story set in Vancouver is Stanley Park. When I worked downtown I used to run the trails of the park during my lunch hours. Often, I wondered about this grand old forest in the center of our city. Tim Taylor's book infused that space with life and got me thinking about this precious, iconic swathe of our city in a whole new way. The book had this dark, underworld quality that I loved and that  illuminated what had always seemed a bright, touristy place with a mysterious and otherworldly light.
What books are on your nightstand right now? Are you enjoying them?
Right now my nightstand is piled high with books accumulated over the past three years while immersed in researching and writing my own book.  In the publishing world, three years is a very long time, and my backlog of books reflects that. They include Abraham Verghese 's Cutting for Stone, Richard Stursberg's The Tower of Babble: Sins, Secrets and Successes Inside the CBC, Laura Hillenbrand's Unbroken, Jonathan Franzen's Freedom, Rebecca Skloot's The Immortal Life of Henrietta Lacks, Dave Eggers' What is the What, Lorrie Moore's Anagrams, Annabel Lyon's The Sweet Girl, and Billie Livingston's One Good Hustle.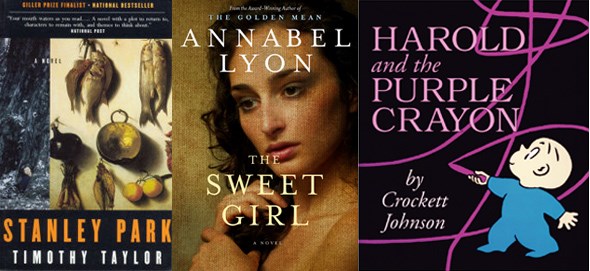 What book or story impressed you as a child?  Were you obsessed with any particular ones?
The book that most captivated me as a child and still captivates me as an adult is Harold and the Purple Crayon by Crockett Johnson. The idea that you can transport yourself into another world and embark on amazing adventures solely through the power of your imagination is so hopeful and enduring. What Johnson achieved in that small but perfect book speaks volumes about the importance of creativity to living life to its fullest.
Your life story is published tomorrow. What's the title?
The story of my life published tomorrow: The More I Know, The More of a Hoot I Have.