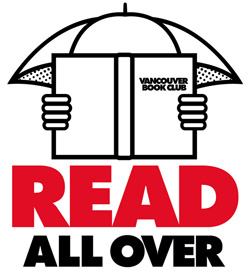 Read All Over celebrates the bookworm in all of us, showcasing readers in Vancouver and the books they love most.
Daniel Zomparelli is the editor of Poetry Is Dead magazine. He writes and works with magazines across Vancouver including Geist, Megaphone Magazine, Sad Mag and formerly Adbusters. His articles and poems have been published and are forthcoming in journals and magazines around the world. His first book of poems Davie Street Translations is forthcoming from Talonbooks in the Spring of 2012.
Books on Daniel's shelf. All photos courtesy of Daniel Zomparelli.
What book makes you feel like a kid again?
I'd probably say the bible, but then I'd revert back to my Sunday School days, which is not a good thing as I used to get kicked out every week.
How do you like your books served up best – audio books, graphic novels, used paperbacks, library loaner, e-reader…
I love chapbooks. The attention to detail makes the chapbook a beautiful collectible item. I'm like an old lady: I really appreciate when things are smaller, hand-made and have ribbons on them.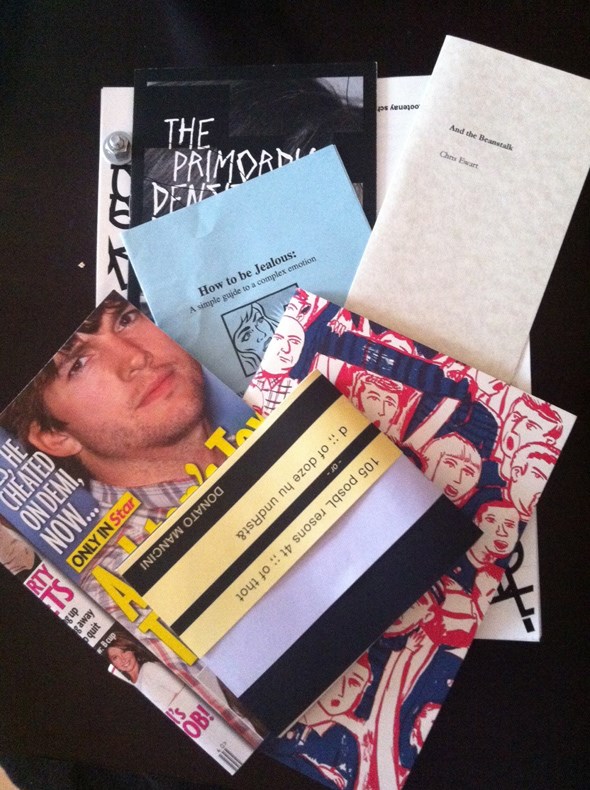 Who is your favourite Vancouver/Lower Mainland writer?
I would probably say Ken Belford, but I also love Nikki Reimer (note: she is not forcing me to say this). [Ed. note: Ken Belford is awesome, but he's from Prince George. Also, stop embarrassing me.]
Do you have a favourite story set in Vancouver?
There's quite a few, but I'd say Death in Vancouver by Garry Thomas Morse is still one of my favourites to date.
Where is your favourite place to crack open a book in Vancouver?
In my bedroom.
What writer would you love to see read their work?
I've already seen my favourite authors read, and in any case, I'm deeply unfocused at readings. I need the written word in front of me to focus. Usually I'm just imaging what beer I could be drinking. That's probably a shitty thing to say as a poet, but I'm kind of a shitty poet.
What's next on your reading list?
I have a pile of books surrounding my bed that includes too many titles to list. Here's a picture: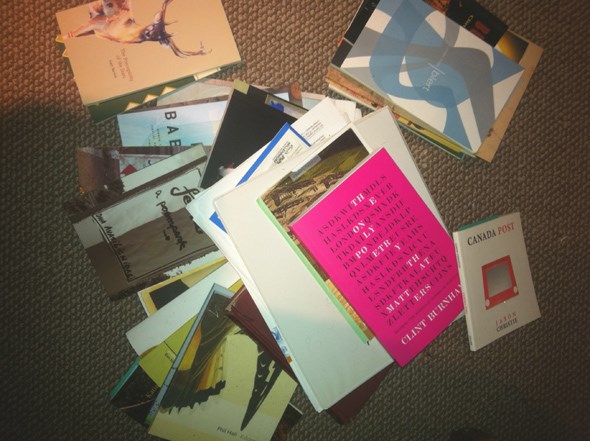 What writer excites you right now?
Michael Nardone. Whenever he does anything I think, "you ass-bag, I totally wanted to do that." Same goes for Sachiko Murakami.
Do you read newspapers and if you do, which one(s), online or print, and why?
I will usually only peruse the online magazine except for Megaphone Magazine, but I volunteer for them so I'm biased. I'm usually on thedependant.ca or the Vancouver Observer.
What magazines/journals can you not live without?
Matrix Magazine, Open Letter and my magazine (Poetry Is Dead) — only because I'm a vain control freak.
If you had to choose, which writer would you consider a mentor?
I've been mentored by Rachel Rose and Billeh Nickerson, who I adore. I also consider the work of Donato Mancini, Nikki Reimer, Jonathon Wilcke, Garry Thomas Morse, Ken Belford, Daphne Marlatt, Stephen Collis, George Stanley, Gillian Jerome, Brad Cran, Wayde Compton and multiple others to have shaped my work considerably. If you smashed all of those people together and put them in a tiny Italian boy's body, I'm pretty sure you'd get me ... or a blasphemous form of a human being with a mutated body and a lazy hipster aesthetic.
Your life story is published tomorrow. The title is?
What's His Face.