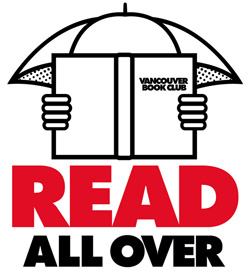 Read All Over celebrates the bookworm in all of us, showcasing readers in Vancouver and the books they love most.
pad
Elizabeth Bachinsky is a poet, teacher and editor. She has written five collections of poetry, with the 4th, I Don't Feel So Good, being launched this Saturday night at W2, and the 5th due out in 2013.
pad
Her collection God of Missed Connections was used as source material for part of the Electric Company Theater-produced Initiation Trilogy, a series of performances that ran during this year's Vancouver Writer's Festival.
What are you currently reading? Your thoughts on it?
I am currently reading my first year creative writing students' poetry at Douglas College. I'm helping them to polish their poems for their year-end portfolios. In November I spend pretty much all of my time working with my students. I love those guys. But I'm also reading Junot Diaz's This is How You Lose Her. I saw him at the Vancouver Writers Fest this year and I'm loving the book.
What books have changed your life?
The ones I've written. Ha!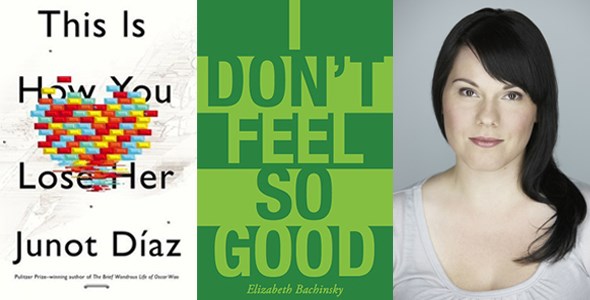 How do you like your books served up best - audio books, graphic novels, used paperbacks, library loaner, e-reader...? 
I prefer straight up trade paperbacks. Good for the bath, the beach, the bedroom (my three favourite places to read). I never have to worry about losing a book or dropping it in the water!
Where is your favourite place to crack open a book in Vancouver?
My bedroom or Phoscao Café on Granville Street (in winter) or Locarno Beach (in the summer).
Favourite Vancouver/Lower Mainland writer?
Michael Turner because I love the punk rock aesthetic of Hard Core Logo; the compassion, bravery and page-turn-i-ness of The Pornographer's Poem, the working class solidarity of Company Town and the experimental nature of 8x10. I like that none of his books repeat themselves.
Do you have a favourite story set in Vancouver?
The Pornographer's Poem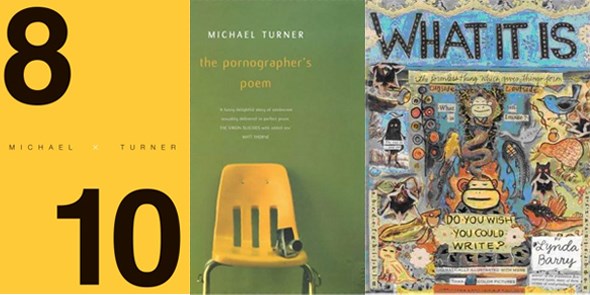 The one book you always recommend is...
Lynda Barry's What It Is
What books have influenced your life the most?
Whatever I am presently reading, especially if I am writing and reading at the same time.
What writer would you love to see read their work?
Gertrude Stein
What book or story impressed you as a child?  Were you obsessed with any particular ones?
I read a lot—a lot— but unfortunately I can't recall the books very well. Pretty much anything with a dragon, unicorn or horse in it got my immediate attention. I remember loving Black Beauty hard. And I remember Shel Silverstein, Steven King and Robert Service very well. And of course Astrid Lingren. I was obsessed with Pippi Longstocking and was devastated when the books ran out and I had to go outside Pippi's world for more stories. I think that's when I realized writers could create more that one world when they wrote. Lingren wrote a book called Ronia the Robber's Daughter that was particularly poignant for me since I was (and am) crazy about my dad. Only I wouldn't have used that word. Poignant. I would have said it was cool, if you'd pressed me.
What book makes you feel like a kid again?
Alligator Pie by Dennis Lee
Which writer excites you right now?
David McGimpsey. His book of poetry Lil' Bastard is as beautiful and layered as The Wasteland or Dreamsongs. But it's also shiny and hard and modern. It's a terrific book.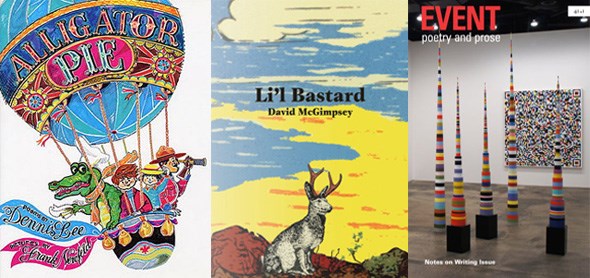 What magazines/journals can you not live without?
Event magazine (because I edit it!) but also Poetry is Dead, PRISM international, The Capilano Review, Matrix, Geist, The Walrus, The Believer. I need to know the cultural mags are out there supporting artists. It's good for my mental health. And also Vogue magazine. I have a bit of an obsession with Vogue. Just ask my editing and publishing students at UBC.
What is the most cherished item in your library?
Super hard to say. I don't want to be snooty here, but it's probably the pamphlet I hand set at the Barbarian Press for Robert Bringhurst in 2007. I set, printed and bound the 2500 word essay for the 25th anniversary of the press. Not long after, I took a copy to a reading for Bringhurst to sign and he promptly opened the pamphlet and corrected my mistakes (there were three of them). It was wonderful to be corrected by the person who wrote The Elements of Typographic Style. But I also really treasure some of the chapbooks from my early days of publishing in Vancouver. Chapbooks by Matt Rader's Mosquito Press are particularly special to me. I can remember sewing the bindings and watching the Grey Cup in Matt's basement apartment years ago.
If you had to choose, which writer would you consider a mentor?
I can't choose. My most influential teachers have been David Zeiroth, Kate Braid, Don McKay, Keith Maillard, George McWhirter, Jan & Crispin Elsted and Lynda Barry.
What's next on your reading list?
Jessica Westhead's And Also Sharks, John Vigna's Bull Head, Marita Dachsel's Glossolalia, Emily Schultz's The Blondes and Spencer Gordon's Cosmo.
Your life story is published tomorrow. What's the title??
Oh My God I Get To Do This?!!!
---
Saturday's launch of I Don't Feel So Good at W2 is also a fundraiser for the Christopher Reimer Legacy Fund, and includes music by Jamie Cullen, Morgan Greenwood, and TOTAL ICE. Admission is $20 and includes a copy of the book. All proceeds from the event, plus the sale of the print run of I Don't Feel So Good go to the fund.