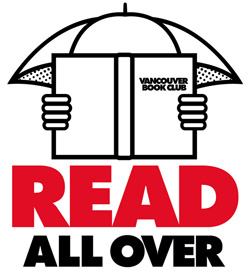 Read All Over celebrates the bookworm in all of us, showcasing readers in Vancouver and the books they love most.
I work as a freelance writer. When I need a break (which is often), you'll find me pursuing VIA's Read All Over column or the Dogtown profiles, usually one after the other. Those sections indulge two loves of mine: books and dogs. I work in journalism mostly, but in my spare time I read fiction almost exclusively. And wherever I go, I can't stop checking out other people's dogs in anticipation of a future, bucolic dog-friendly lifestyle and accompanying dog-friendly apartment building containing many bookshelves. Thanks, VIA, for helping me keep the dream alive. -Jackie Wong
What books have changed your life?
When I was a kid, my mom's friend gave me Enid Blyton's The Folk of the Faraway Tree. I read it more times than I can remember, spending many afternoons admiring and trying to imitate what I thought were marvelous illustrations. As a teenager, Douglas Coupland blew my mind. I had never before read fiction set in my hometown. The way he wrote about being young, lonely, and living in grey, mundane Vancouver resonated very strongly with me at the time, and in a way that couldn't be replicated if I picked up the same books now.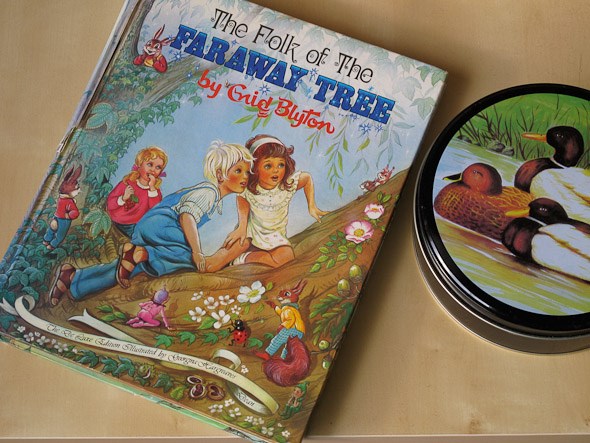 Photos courtesy of Jackie Wong
In my early twenties, Ralph Ellison's Invisible Man, Don Delillo's White Noise, Adrian Tomine's Summer Blonde, Fred Wah's Diamond Grill. Later, Raymond Carver's Would You Please Be Quiet, Please? These days—well, it's hard to know precisely what's changing your life as it happens. But my friend Alison recently lent me Tim O'Brien's The Things They Carried, and it's so good.
The one book you always recommend is...
John Raymond's Livability. It's a collection of short stories set in Portland, and I picked it up at Powell's Books during a summer holiday in 2009. The book will always remind me of that trip, riding bikes fast over the Burnside Bridge and eating burritos from downtown food trucks. I go back to the book frequently, whenever I need inspiration. The characters are rendered so astutely. I love the stories because they are beautifully reflective of how we live right now.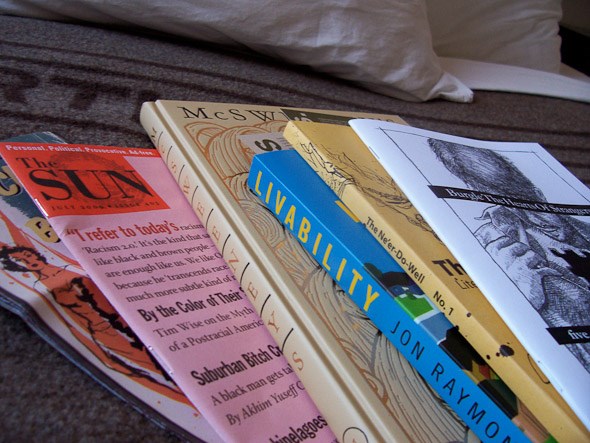 Treasures from Powell's Books in Portland.
What's next on your reading list?
William Trevor's Cheating at Canasta and—I'm trying not to be embarrassed to include this here—Pema Chodron's When Things Fall Apart.
If you had to choose, which writer would you consider a mentor?
I admire my friends. They are a huge, constant source of inspiration and support. Andrea Warner and Mette Bach are two non-fiction writers who I adore as people and whose work I love. I worked in a back-to-back cubicle-desk with Andrea for two years, and she introduced me to Mette. Whenever we can, the three of us meet for pancakes at the Dutch Wooden Shoe Cafe on Cambie Street to talk writing and spawn all manner of crazy ideas. I'm also very grateful for and inspired by the big-hearted compassion, friendship, and hilariousness of Sean Condon and Kevin Hollett of Megaphone Magazine. Megaphone has been one of the favourite publications I've been involved since I started freelancing. We eat pizza and proofread the magazine together every other Wednesday night.
Where is your favourite place to crack open a book in Vancouver?
In the fall and winter: my living room on a Saturday morning over a second pot of coffee and eggs over easy. In the summer: a long Sunday afternoon at Third Beach, or one of those coveted mini-docks in Trout Lake Park with a cube of pilsner.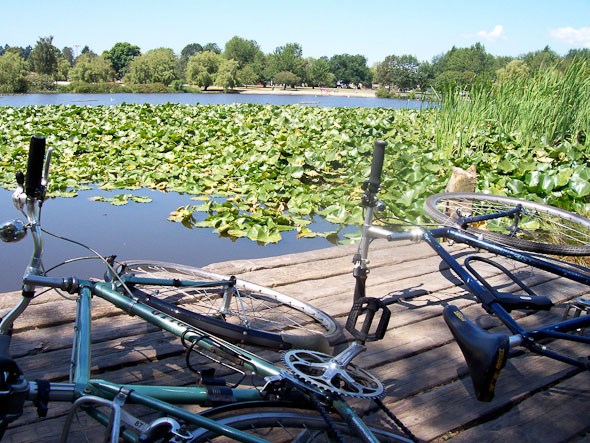 Do you have a favorite story with Vancouver connections?
If I were to mail someone a short story that represents life here, it would probably be Madeline Thien's "A Map of the City" from Simple Recipes, her first short story collection.
How do you like your books served up best – audio books, graphic novels, used paperbacks, library loaner, e-reader…?
Used paperbacks and library books. There is something delicious and satisfying about a brand new book of your own, too.
Who is your favorite Vancouver/Lower Mainland writer?
I can't decide. Maybe that's a Vancouver/Lower Mainland thing in itself: that there are no ultimate champions, just a lot of good people.