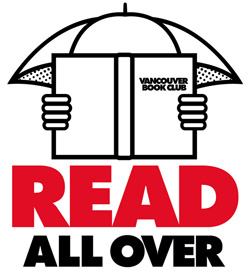 Read All Over celebrates the bookworm in all of us, showcasing readers in Vancouver and the books they love most.
Jen Currin was born and raised in Portland, Oregon, and did her schooling at Bard College (B.A.), Arizona State (M.F.A.) and Simon Fraser University (M.A.) Jen currently lives in Vancouver, B.C., where she teaches writing and literature at Vancouver Community College and creative writing at Kwantlen University and for Simon Fraser University's Writer's Studio.
Jen has published three books of poetry:The Sleep of Four Cites (Anvil Press, 2005); Hagiography (Coach House, 2008); and The Inquisition Yours (Coach House, 2010), was shortlisted for the 2011 Dorothy Livesay Poetry Prize (B.C. Book Prizes), the Lambda Literary Award in Poetry, and won the Audre Lorde Poetry Award.
Jen is one of the writers who will be reading at tomorrow night's Griffin Vancouver event.
Who is your favourite Vancouver/Lower Mainland writer?
I have a number of favorite Vancouver writers: Lisa Robertson, Kim Minkus, Jordan Scott, Mercedes Eng, Nikki Reimer, Christine Leclerc, Ray Hsu, Larissa Lai, Jeff Derksen…to name just a few.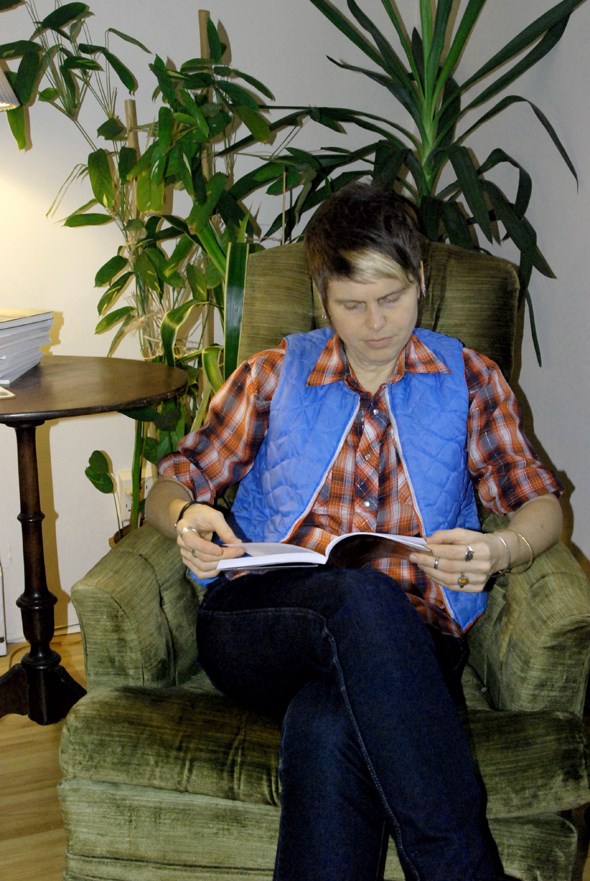 Jen Currin reads in her East Vancouver apartment
Do you have a favourite story set in Vancouver?
I haven't read that many good stories set in Vancouver, but I do remember reading one by Annabel Lyon several years ago that involved a UBC student...the title escapes me, but I remember thinking it was a good story. [Ed Note: Possibly "Summit," published in Vancouver Review and nominated for a 2008 Western Magazine Award.] I like Hiromi Goto's stories (she lives in Vancouver), although I think the urban ones are usually not specific as to which city.
Where is your favourite place to crack open a book in Vancouver?
I usually read in my apartment, on my couch or at the kitchen table. If I'm out and about, I like to read at The Bump and Grind on the Drive or Gene or Our Town in Mt. Pleasant.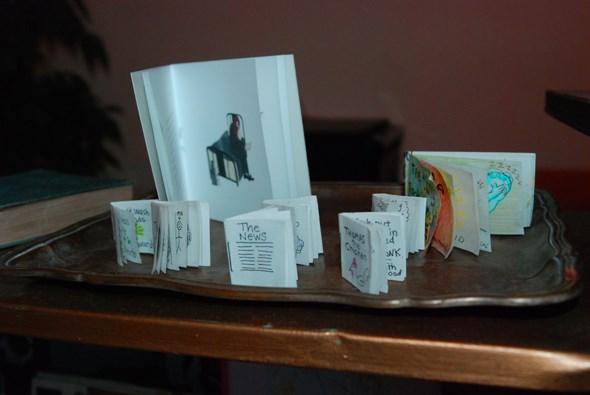 Tiny chapbooks in Jen's apartment
What's next on your reading list? 
On my "to read" reading list: Kevin Young's Dear Darkness, Dawn Lundy Martin's Discipline, Giannina Braschi's Empire of Dreams, Ed Bok Lee's Whorled, Camille Roy's Cold Heaven, Wayne Koestenbaum's Humiliation, Kim Hyesoon's Mommy Must Be a Fountain of Feathers.
I'm in the middle of bell hooks' All About Love: New Visions and Teaching to Transgress, Fanny Howe's Come and See, Srikanth Reddy's Voyager, Joan Didion's Salvador, and Maged Zaher's Portrait of the Poet as an Engineer.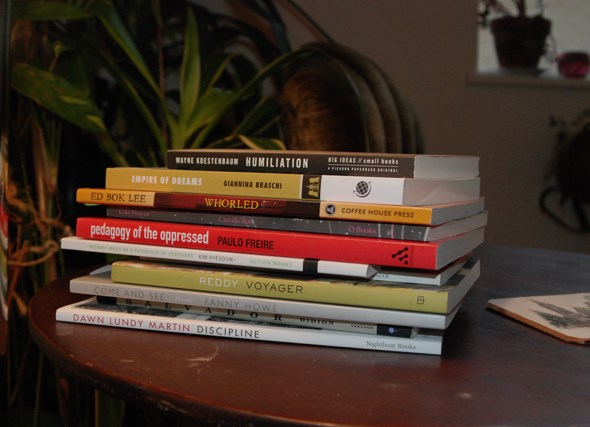 Reading and To Read
What writer excites you right now?
I think Don Mee Choi's work is just amazing. I'm also enjoying the wild and unexpected in Maged Zaher's poems. They are both Seattle-based poets, just over the border.
What writer would you love to see read their work?
I would love to see bell hooks read.
Do you read newspapers and if you do, which one(s), online or print, and why?
Mostly online: The Guardian, Rabble, The Tyee, The Huffington Post, The New York Times. The Georgia Straight in print.
What magazines/journals can you not live without?
There aren't any magazines or journals I can't live without, but I do enjoy Geist, EVENT, PRISM, Fence, 42opus, subTerrain, The Capilano Review, and others…
If you had to choose, which writer would you consider a mentor?
Mentors: I'm picking the dead here. Elizabeth Bishop, Max Jacob, Rumi.
Jen Currin will be joining Evelyn Lau, Matt Radar, Marita Dachsel, Zaccheus Jackson Nyce, and Gillian Jerome tomorrow night as part of  Griffin Vancouver: A Celebration of Poetry, 6 pm at the W2 Media Cafe. Admission is by donation, with no one turned away for lack of funds.
You can read more about Jen and her work at http://jencurrin.com/