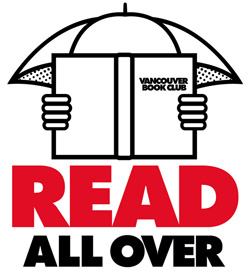 Read All Over celebrates the bookworm in all of us, showcasing readers in Vancouver and the books they love most.
.
I'm a Professor in the Creative Writing Program at UBC and write fiction and television.  Sussex Drive (Random House Canada), just published this fall, explores what happens when a Canadian Prime Minister's wife and an African-born Governor General find they can no longer play "Follow the Conservative Leader."
.
My television writing credits include the Peabody Award-winning miniseries Human Cargo and Murder Unveiled, both with Brian McKeown (Howe Sound Films) and also Margaret Laurence's The Diviners and At the End of the Day: The Sue Rodriguez Story. Marine Life (HarperCollinsCanada), a linked fiction collection, has become a Vancouver classic, and the stories have been anthologized in Canadian anthologies as well as O. Henry Prize Stories. I've been the recipient of the Bunting Fellowship at Radcliffe, the Stegner Fellowship at Stanford, and a John Simon Guggenheim Fellowship.  I feel very fortunate to teach in the UBC Creative Writing Program and love my students and their passion for craft and story.
What are you currently reading? 
NW by Zadie Smith.  I was a huge fan of White Teeth and I'm enjoying this very much.  I'd had the impression she was tired of fiction but she's obviously not and she's back in fine form.  I'm a literary tourist and find entering London from her characters' point of view really stimulating—in the same way that, oddly, one can find versions of Oslo in Jo Nesbo or Istanbul in Orhan Pamuk.
And the new fall issues of PRISM international and The Fiddlehead.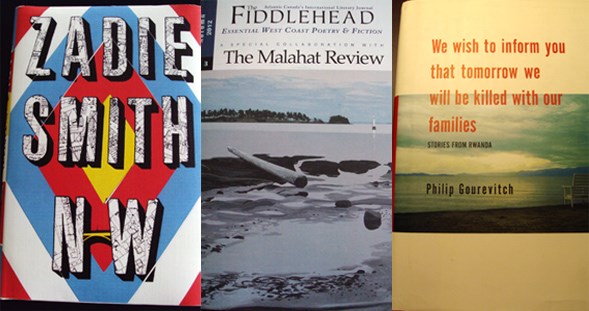 What book has changed your life?
We wish to inform you that tomorrow we will be killed with our families:  Stories from Rwanda by Philip Gourevitch (Farrar Straus and Giroux, 1998) made a huge impact.  I'd followed the Rwanda genocide in Canadian news coverage in 1994 and I'd also been researching immigration and refugee issues for a TV project.  Gourevitch's account--of something so horrific--was beautifully written and felt politically accurate and very human.  This book, and Senator Romeo Dallaire's experience, inspired my husband and I to move the world of our miniseries Human Cargo to Africa and explore Canada's involvement in the resource sector.
How do you like your books served up best?
I love bookstores and libraries.  I think most writers do.  I remember the days when packing to go away on a trip meant planning the reading list and whittling down a stack of twelve books to the final three or four choices and throwing out shoes, sweaters, hat, to shove them into the suitcase.  Now I can take Wolf Hall on a Kobo, which I'm hinting at for a birthday (the Kobo).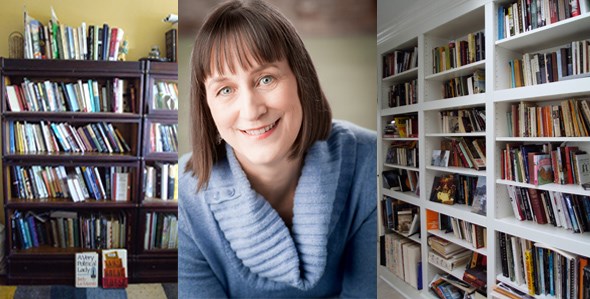 Favourite stories set in Vancouver?
Alice Munro's story, "Fiction," is initially set up the coast and back in the sixties.  The narrator's marriage breaks down when her husband takes on an odd female carpentry apprentice, an AA member raising a young daughter.  A couple of decades later, the narrator ends up remarried and reinvented in North Vancouver.  At a party she hosts for her new-ish husband, she meets a young writer, a UBC MFA grad, who turns out to be the daughter of her ex-husband's spouse.  And the daughter's published a book…The story's brilliant, very West Coast, and the neurotic acrobatics of the protagonist are achingly telling.  Also, Annabel Lyon wrote a short story about law students involved in the APEC riot--published in Vancouver Review (I think)--and that has stuck with me.
The one book you always recommend is?
13 Ways of Looking at the Novel by Jane Smiley.  It's a master class in long-form and she's such a solid-prose-citizen companion.  The last section is her response to one hundred classic novels.  And:  The Lost Journals of Mocha Chien Volume 8:  Constantinople, 1912 by my colleague Peggy Thompson.  She signed it, "Woof!"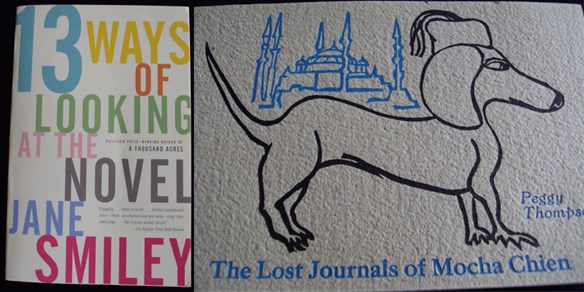 What is the most cherished item in your library?
Lady Cook's Essays On Social and Other Topics Vol. I  by Lady Cook (née Tennessee Claflin).  My father gave me this book when I was in my twenties.  It had belonged to his grandfather, Oscar Moore, who gave it to his eldest child, my grandmother, Alice Constance Moore.  When she married, she left her artistic family in London and moved with my grandfather to Calgary around 1910.  They divorced and she relocated to a homestead near Portland with her three sons and joined the Communist party—quite a gal!  My father and grandmother had a strained relationship but he included a typed letter in the book, and in the text I sense a lot of pride.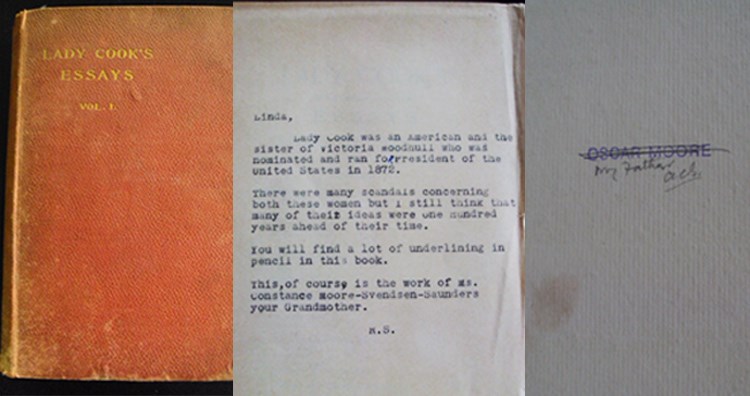 What writer would you love to see read their work?
Oh, George Orwell, please!  My respect for his writing has increased over the ages and whenever I think I've stumbled upon some new truth, whoops, Orwell and many others were there long before.
Your life story is published tomorrow.  What's the title?
(       )