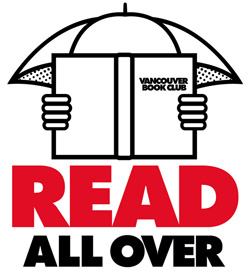 Read All Over celebrates the bookworm in all of us, showcasing readers in Vancouver and the books they love most.
Sarah is talented as hell. She acts, writes, directs, improvs, and improves (through some kind of indiscernable magic) any environment or role she's thrust into (hire her!) You might recognize her from the ever-popular Rapp Battlez stage, where she regularly dominates through various hilarious manifestations like Powder, Guy Fieri, and Wilson (from Home Improvement. This summer she opened for TJ and Dave in Detroit, is headlining in Albuquerque and taking part in the All Jane and No Dick festival in Portland - always spreading the Vancouver love. Check her out tonight at The Dugout and Saturday's Rapp Battlez where she'll perform as Rudy (from the popular 1993 football movie). You won't be sorry. 
What's on your nightstand right now? Are you enjoying it?
Of Human Bondage by Somerset Maugham, second read.  It's a favourite/doozy.  Maugham does orphan-hood better than Dickens, but that might be a terrible selling point.
Is this the genre you usually prefer?
I gravitate towards the personal essay or first-person narrative fiction: strange environments, human dilemmas, coming of age in an unfamiliar place, etc.  Maybe I'm a bit of a voyeur.  I relate to the hunger to go somewhere else to find what you might be, and it's one of the few styles that manages to have me in on a discovery about myself during the read.  The non-fiction I read has similar qualities, not surprisingly.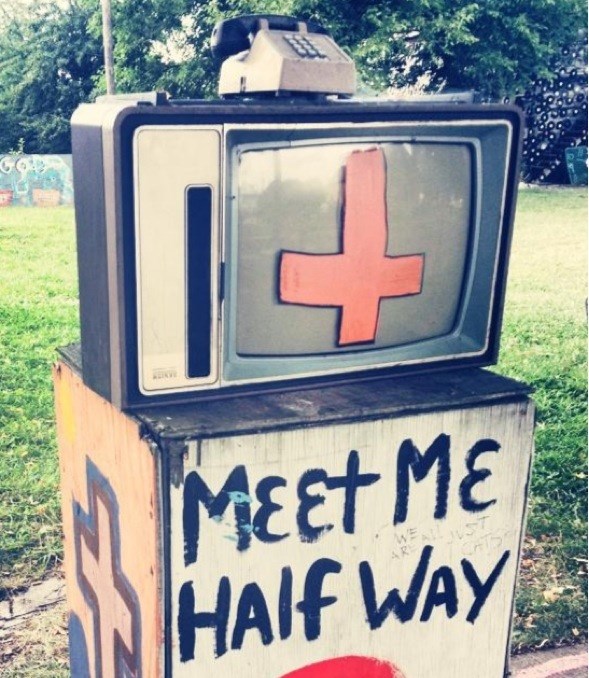 In Detroit, photo courtesy Sarah
What's next on your list?
Searching for Zion: The Quest for Home in the African Diaspora, by Emily Raboteau.   Basically a non-fiction exploration of displacement and the search for home, and I hear it's great.
Who is your favourite Vancouver author?
Charles Demers could make you laugh, cry, and question everything within 140 characters.  He is also an essayist, published author, and consistently has one of the best stand-up sets you'll ever see.
What magazines/journals can you not live without?
I do a lot of online reading: The New Yorker, McSweeney's, NY Times, AV Club, Guardian, Videogum, The Walrus.
Do you read mostly online or print, and why?
I am on some sort of computer over 50 hours a week on average with work, and as a result my source of content is usually articles, essays, or linkable copy.  Something I can read in 5 minutes, or come back to while on the go.  Getting my New Yorker or McSweeney's in the mail is a very nice event, though.
Where is your favourite place to crack open a book in the city?
My bed.  It's great there.  Second favourite is crab park...water, grass, and not too far from home.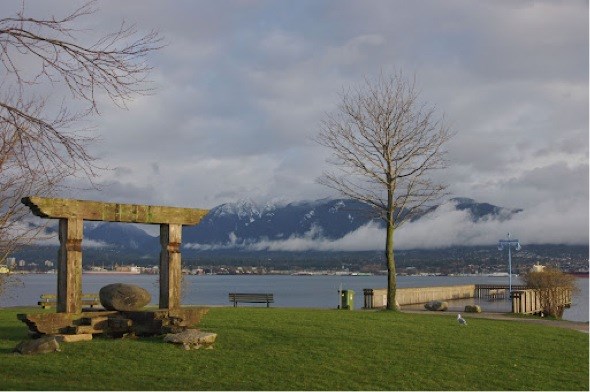 Crab Park, photo courtesy Sarah
What is your reading style, in five words or less?
Find time then hide out.
Which books/authors have influenced you the most?
Joan Didion. Kafka. Sedaris.  Kerouac's life more than his fiction.  Shakespeare.  Hamlet is my favourite piece of writing.  Early Hemingway and how he romanticized travel for me.  I still get wanderlust when I brush past one of his books.  Plus as a writer, the man does the perfect sentence...very clear, direct, and inevitably emotionally taxing.
Is there a memorable quote or excerpt from something you've read that you'd like to share?
"When spring came, even the false spring, there were no problems except where to be happiest. The only thing that could spoil a day was people and if you could keep from making engagements, each day had no limits. People were always the limiters of happiness except for the very few that were as good as spring itself." -  Hemingway, A Moveable Feast
What were your favourites growing up?
To Kill a Mockingbird (by Harper Lee), still a favourite; The Phantom Tollbooth (by Norton Juster), which was pun heavy and perfect;  and secretly a whole lot more R.L Stine, and Cosmo Girls than I cared to admit.
Was there any individual in particular that shaped your development as a reader? How?
My grandma could read a book a day if you let her, and being her biggest fan made it easy for me to share that love early. When I was 5 she got me one of those personalized adventure books where they replace the kid protagonist's name with yours, and it was the first time I thought I could be part of a story or have one of my own.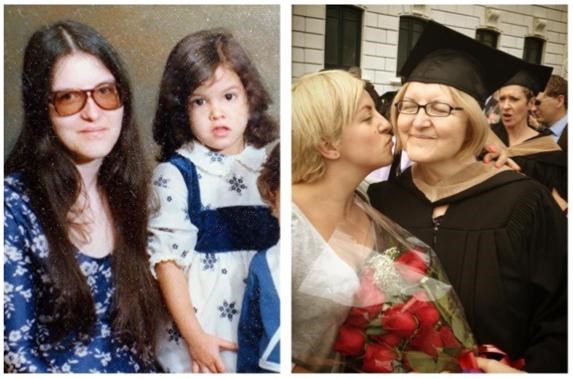 G-ma Mary Springer then & now: fresh new Bachelor of Commerce at 60 who HASN'T AGED A DAY
The one book you always recommend is...?
Born Standing Up: A Comic's Life, by Steve Martin.   You'll like it!
Are you a hoarder or a give-away-er with books?
I'll keep buying shelves if I have to.
What's the last book you lent/gave away?
I lend a lot of plays out.  Last thing I lent was my copy of The Vic, by Canadian playwright Leanna Brodie...probably not getting that one back.
Your life story is published tomorrow; the title is...?
Is Your Friend Single? And Other Reasons to Jump
Links: