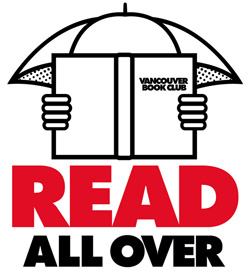 Read All Over celebrates the bookworm in all of us, showcasing readers in Vancouver and the books they love most.
Sasha Krieger is an interdisciplinary artist based in Vancouver. She completed a BFA in Photography from Emily Carr University in 2005 and received her MFA from California College of the Arts in 2010. Her recent works explore the role of references and referencing in the creation and practice of art, while maintaining an intentional transparency of her subjective relationship to philosophical and scientific concepts as she would encounter them (through elaborate follow-that-reference processes of chain-reading). Needless to say, I am a big fan of her work. Click through to share in Sasha's keen interest in text, science, philosophy, their representations and meanings!
What's on your nightstand right now? Are you enjoying it?
I'm currently reading The Universe Within, by Neil Turok. It is a book about trying to understand the universe. Turok focuses on how discoveries in the world of physics have influenced our understanding and perception of the universe. It is an interesting book but I've been struggling to get through it because I'm not used to reading scientific texts.
What genre do you usually prefer?
I generally read fiction but in the last year I have been trying to broaden my interests and read more non-fiction. By reading books on topics like the universe I think that I can learn things that will actually influence my outlook on life and ways of thinking.
What's next on your list?
A friend just gave me a copy of Going Clear: Scientology, Hollywood, and the Prison of Belief, by Lawrence Wright. I was told it is a real page-turner about the structure and influence of the Church of Scientology. I'm excited to read something that is a little sensational.
Who is your favourite Vancouver author?
I have to admit that I don't read enough books by Vancouver authors. I remember really enjoying Michael Turner's Pornographer's Poem. It's set in a lot of the same areas that I grew up in.
What magazines or journals can you not live without?
I read a lot more books than periodicals. The only magazine that I purchase on a regular basis is Lapham's Quarterly. The quarterly, which is basically a collection of texts on a selected theme, is a good source for reference material when doing research for projects. I also like the way it looks on my bookshelf.
Do you read mostly online or print?
I really appreciate the materiality of books. While I understand the convenience of reading online, for me sitting in front of a screen is not the same as curling up with a book, magazine, or newspaper.
Where is your favourite place to crack open a book in the city?
I'm a private reader. I generally tend to read in bed or on my patio.
What is your reading style (in five words or less)?
Eclectic and voracious
Which books/authors have influenced you the most?
I have been very influenced by Italo Calvino's collection of essays on reading and literature titled, Six Memos For the Next Millennium. The book, which explores particular qualities in literature, such as quickness, has served as a model for my own creative work. By thinking about how literature is structured and influenced by other writing, I have been able to figure out how to structure and channel my own creativity.
Do you have a favourite quote you'd like to share?
"I would rather die on my feet than live on my knees."
A quote from Camus that's always been a bit of a motto for me.
Were you obsessed with any particular book or story as a child?
As a young child I liked to read mythology, fairy tales, and poetry. I loved "Bony Legs", a russian fairy tale about a witch that lived in a hut on chicken feet. She tries to trap and eat a little girl named Sasha who escapes with the help of a cat and dog.
Was there any individual in particular that shaped your development as a reader?
My father used to read books aloud to me and my sister. One summer, when I was around 10 years old, he read us Voltaire's Candide. He would read us passages and ask us questions, encouraging us to think critically about what we were reading.
What is the most cherished item in your library?
A book called Shared Lives by Lyndall Gordon that I bought from a Martha Rosler garage sale. It's about Jewish girls growing up in South Africa in the sixties. I like to imagine that Martha Rosler actually read this totally random book.
The one book you always recommend is...?
The Invention of Morel by Adolfo Bioy Casares. It is a metaphysical novel about a man who falls in love with women only to realize that she is really just a projected image.
Are you a hoarder or a give-away-er with books?
I cherish my books and my library. Every time I move, I have to lug boxes and boxes of books with me. I try to get rid of books but feel as though my identity is somehow contained within my library.
What's the last book you lent or gave away?
I had a friend visiting from San Francisco and I gave her a book called Jakob von Gunten, by Swiss author Robert Walser for her plane ride home. I realize it was a really weird choice. It is the story of a young nobleman who runs off to pursue a life as a servant.
Your life story is published tomorrow; the title is...?
Anything and Everything