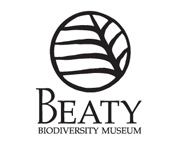 The Beaty Biodiversity Museum is Vancouver's natural history museum, dedicated to creating a shared sense of community and wonder. The museum puts UBC's natural history collections, with more than two million specimens, on public view for the first time. Among our treasures are a 26-metre-long blue whale skeleton suspended in the Djavad Mowafaghian Atrium, the third-largest fish collection in the nation, and myriad fossils, shells, insects, fungi, mammals, birds, reptiles, amphibians, and plants from around British Columbia and the world.Come visit us - we're located at 2212 Main Mall, Vancouver, BC. You can find more info at beatymuseum.ubc.ca

The popular Extreme Adaptations programming at the Beaty is getting renewed for the last half of our theme year. Join us every day until May 2014 for these exiting programs – we hope to show you that biodiversity and biodiversity research is amazing and extreme!
In our Discovery Lab, uncover the extreme research done by Andrew Trites and Colin Brauner's teams. Andrew's team studies the Steller sea lion in treacherous locations, collecting scat to unravel the sea lions' population decline. Colin and his team study adaptations to acidity in fishes, allowing certain species to thrive in fluctuating environments. Both scientists have incredible stories and equipment to share with you at the museum.
Can you jump higher than a flea? Throw a seed as far as a dwarf mistletoe? Recreate a pathway similar to the Tokyo commuter transit line like a slime mold? It's not as easy as it sounds! Compare yourself against amazing organisms, while learning about these extreme adaptations. Bring a friend and see who stacks up as the top competitor in the X-Games.
Extreme Adaptations
As humans, we are drawn to the extreme – the grotesque, exciting, adorable, implausible and incredible. Organisms on this earth are equipped with extreme adaptations, capable of achieving amazing feats, while inhabiting and surviving in the seemingly impossible.
The diversity of life encompass the unfathomably small and incredibly giant, along with everything in between. Size isn't the only extreme: every organism on our planet is adapted to survive and exploit the world around it. There are extreme and fascinating examples from every branch on the tree of life. What are these extreme adaptations? How do they arise? How do we study them in extreme parts of the earth? At the museum, we will help satiate your extreme curiosity about the world around you.
For more information on Extreme Adaptations at the Beaty Biodiversity Museum, click here.