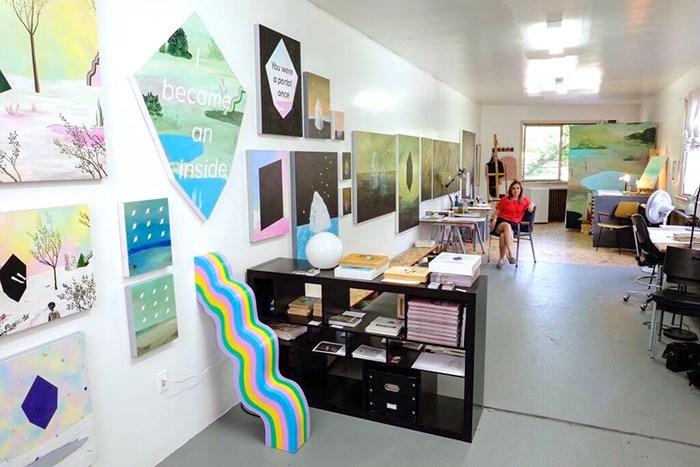 In the lead up to ROVE the Mount Pleasant art walk coming up on May 25, we are going to introduce to you to some of the artists, galleries and curated spaces that will be taking part!
One of the most iconic Mount Pleasant buildings is the beautiful wedge building between Main Street and Kingsway right by the historic clock… did you know there are artist studios above the local shops? Well, there are and they are home to some Vancouver treasures like the lovely Rebecca Chaperon.
Rebecca is opening up her studio to show rovers her latest eerie and wonderful paintings. She will be joined by ceramic artist Kristine Aguilar of Lupa Ceramics showcasing her beautiful work. Just down the hall from Rebecca is artist Mira Song and you can rove over to have a look at her newest work and see where she creates!
We wanted to know more about Rebecca's work and get some inside information. Have a look at what she said:
ROVE: Describe your work in a few sentences?
Rebecca Chaperon: I am a storyteller and love to create a mood that is dreamy or a little spooky. My work ranges from really narrative subjects to a little more abstract and ethereal.  In my work you'll find symbolic moments like caves, floating geometric shapes, odd figures and many mysterious elements of the natural world.
ROVE: What can Rovers expect when visiting your location?
RC: Dreamy works created with the intention of waking up your spirit to something a little mysterious and strange. I will have work for sale and be available to say hi : )
ROVE: What's the best thing about being an artist?
RC: What I like most about being an artist is that I've had the chance to choose what I want to make over and over again. Being my own boss creatively has let me make some very strange works of art!
ROVE: What work of art do you wish you owned?
RC: That's a tough question. I really love the painter Sofia Arnold. I think she is absolutely brilliant. So one of her pieces would make my day.
ROVE: She has one called "Lukewarm's Hangout" that I really like. I'd take that one. Where's your favourite place to see art?
RC: In reality I look at most art on instagram because I hardly ever have real leisure time! I really love to see art in people's homes. I think that's really lovely and it can tell you a lot about a person.
ROVE: What's the weirdest thing you ever saw happen in a museum or gallery?
RC: A marching band.
Sadly there will be no marching bands at ROVE this year but come see Rebecca's work in person at ROVE on May 25th or check her out online at rebeccachaperon.com and @rebeccachaperon on Instagram.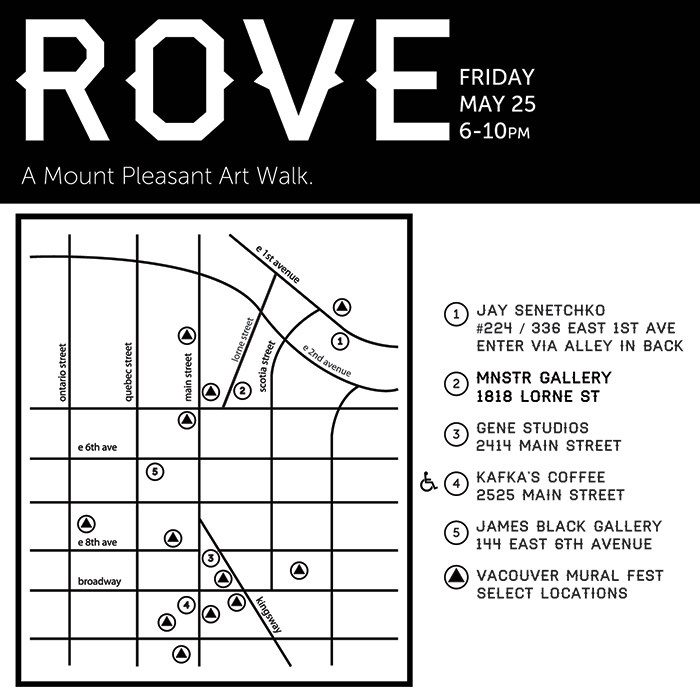 Vancouver is Awesome is a proud sponsor of ROVE . Stay connected by finding ROVE on Instagram and Facebook.
ROVE is run by artist, Jamie Smith founder of THRIVE Art Studio.THRIVE is a community of local female artists who support each other on their journeys to become the artists and people they most want to be. Located at The Profile on thurlow, THRIVE is home to THRIVE Mastermind, THRIVE Talks and the THRIVE Network.