The 2016 Vancouver International Wine Festival wrapped up on Sunday, February 28th after a week long event that saw 155 wineries from around the world pour over 40,000 bottles of wine. In salute to this year's theme country, Italy, find our fun guide to wines showcased at the festival paired with the spring season's coveted Italian designer shoes.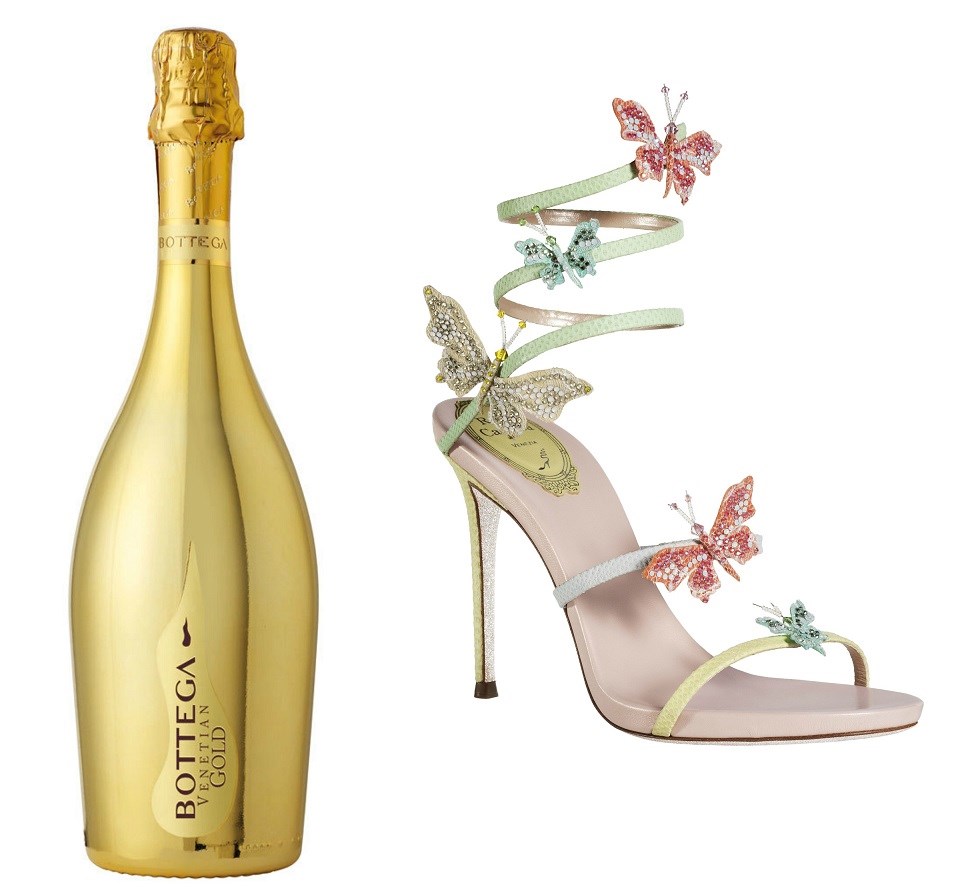 Pop the cork and celebrate la dolce vita. This fabulous Prosecco comes wrapped in a glamourous gold bottle, sure to add style to any soiree. Bring on the bubbles.
Bottega Prosecco Gold Brut ($27.49)
"Clear, characteristic, fruity and flowery with scents of apple, pear, acacia flowers and lily of the valley."
Rene Caovilla Butterfly Ankle Wrap Snakeskin Leather Sandals. ($1480.00)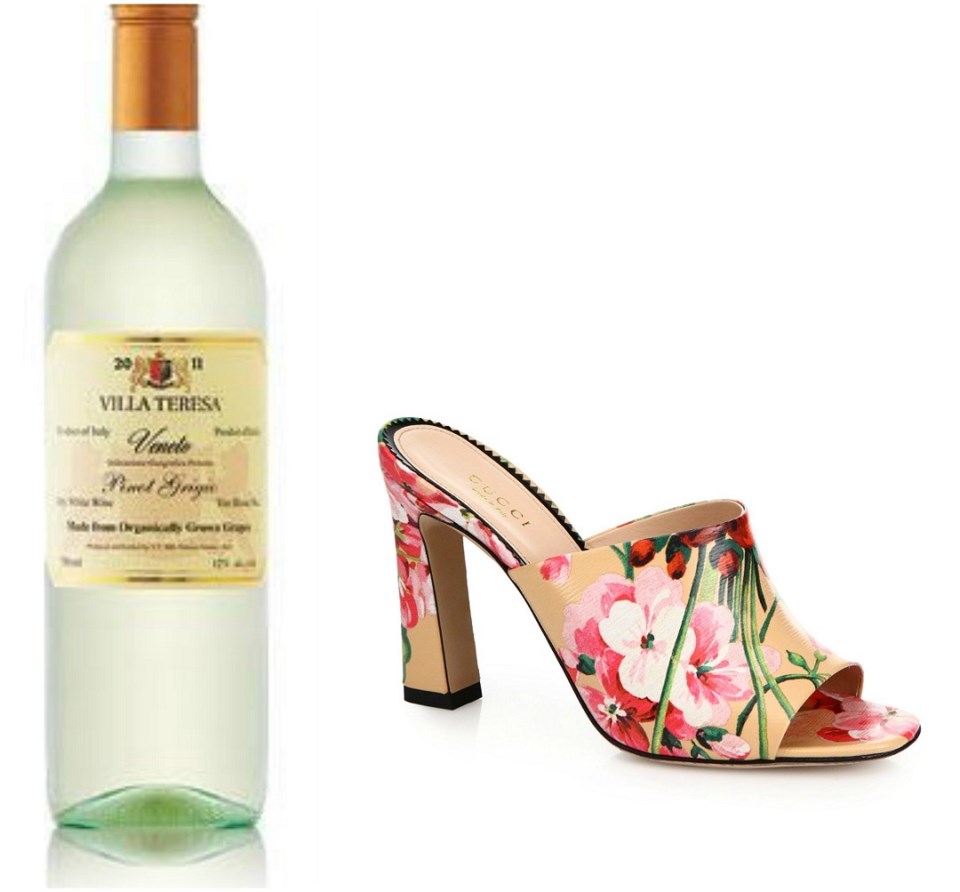 Pinot Grigio is the perfect summer sipper. This surprising affordable Pinot Grigio provides excellent value and is a must for the patio.
Veneto Pinot Grigio Villa Teresa Organic ($14.49)
"Pale straw yellow colour with greenish nuances. Intense delicate aroma and fine flavour."
Gucci Multicolor Floral-print leather mules. ($755.00)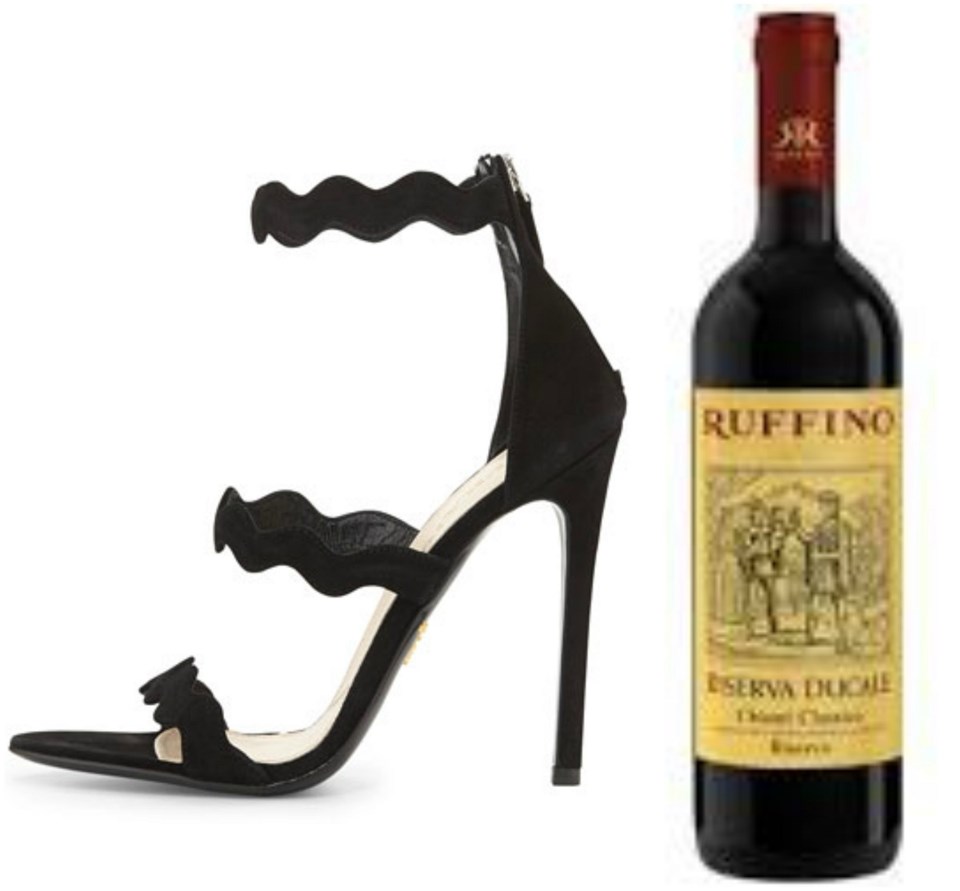 One of the most recognized wine labels in the world, Ruffino's Riserva Ducale was first released in 1927 and is widely acknowledged as a benchmark for Chianti Classico Riserva. Ducale means 'duke' in Italian and honors the Duke of Aosta who braved the Alps to try the famed Ruffino wines. He was so impressed that in 1890, Ruffino was appointed as the official wine supplier for the Italian royal family.
A timeless Italian wine.
Ruffino Chianti Classico Riserva Ducale 2011 DOCG ($26.49)
"Sweet cherry and red berry fruit notes with delicately spiced hints of tobacco, leather, cedar, white pepper and a touch of flint. It's well balanced on the palate, with velvety tannins, firm acidity and a lingering finish of rosemary and figs."
Prada Triple-Strap Wavy Sandal. ($995.00)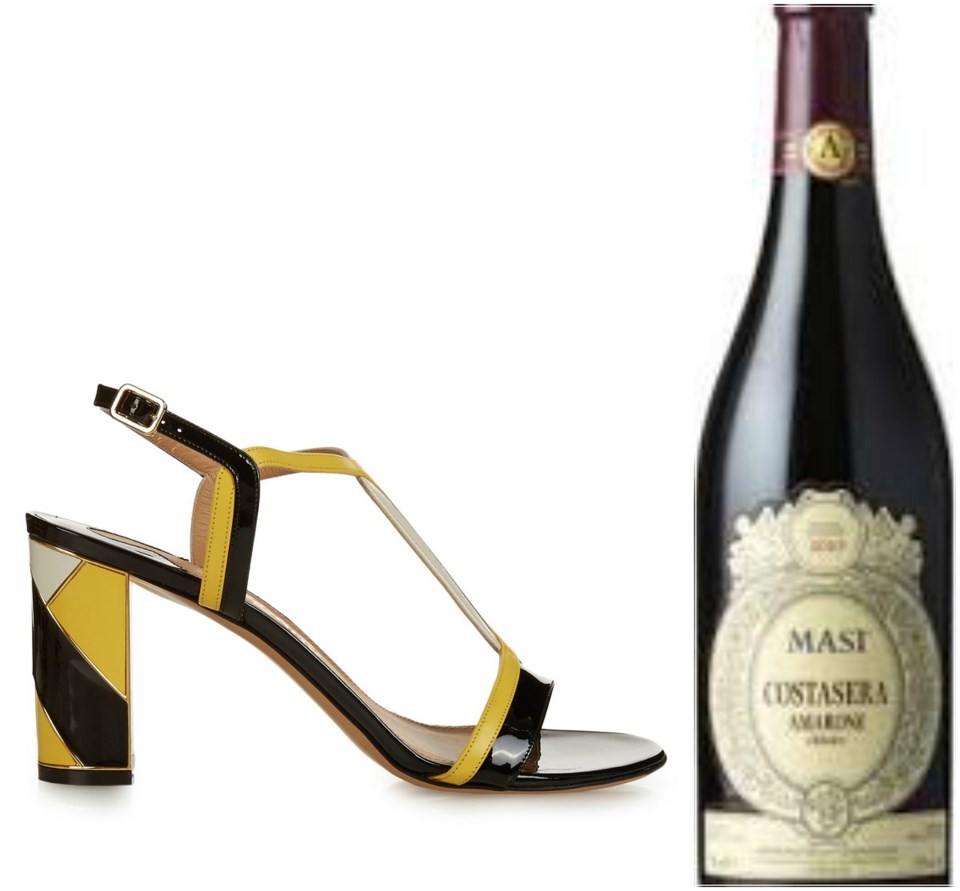 Masi is recognized around the world as one of the top producers of Amarone, one of Italy's most cherished red wines. Masi has been run by the Boscaini family for the past six generations, and their wines are rooted in tradition, representing the classic Venetian styles. Outstanding value.
2011 Masi Costasera Amarone Classico ($49.99)
"Dark ruby red with fruity tastes and delicate hint of coffee and cocoa."
Salvatore Ferragamo Yellow Block Heels. ($885.00)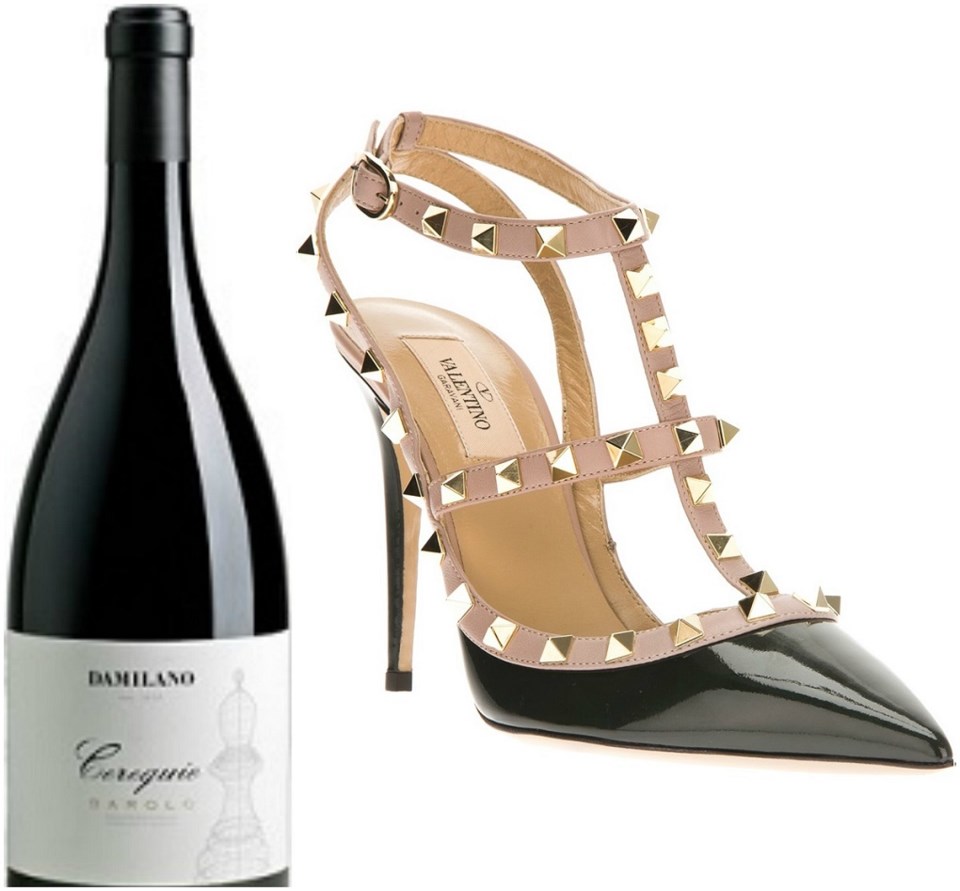 Barolo is known as "the King of Wines" and is made exclusively from Italy's Nebbiolo grape. A big wine, Barolo by Italian law must contain a minimum of 12% alcohol and must be aged three years of which at least 18 months must be in wood before it can be released. Wines that have been aged for at least five years, can be labeled a Riserva. One of Italy's most celebrated Barolo producers, the Damilano winery was founded in 1890 and has been family-run for the past four generations. The 2011 Barolo Cererquio was selected by Vancouver wine critic, Anthony Gismondi as one of the six very best wines at this year's festival.
2011 Damilano Barolo Cerequio ($109.95)
"Intense, elegant and persistant with notes of red fruit and with aging, tobacco and leather. The bouquet brings notes of violet, cherry and balsamic nuances of vanilla and liquorice."
Valentino Rockstud Pumps.($1075.00)
*Shoes depending on style and designer can be found in Vancouver at selected retailers including Boboli, Holt Renfrew, Nordstrom Canada, Salvatore Ferragamo and Prada's soon to open stand-alone flagship store at Alberni & Thurlow streets. Prices may vary.