It may not be a life or death situation, but there will always be a time when risk is a factor. Risk provides people with choices around how they live their life, and what they can achieve with it. Christine Germano, a photojournalist, came to CreativeMornings/Vancouver to talk about her work and how Risk has taken her down a path she never could have imagined.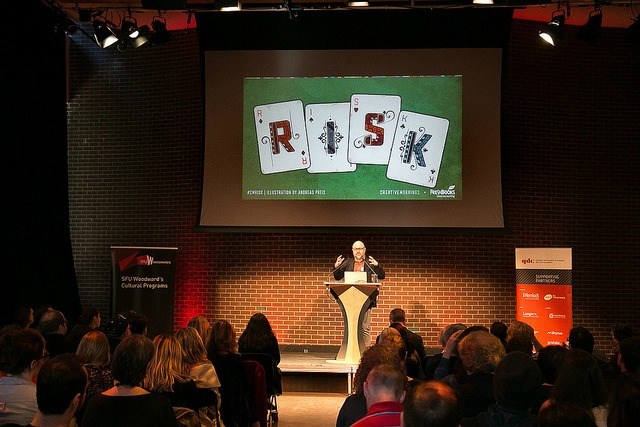 For Christine, risk began on Aug. 30, 1993 when her 14 year old brother died from a suicide attempt five days prior. From that point on, her camera and the darkroom were her refuge.
Many times during her career, Christine got herself into situations where the choice was to take the safe road or to say yes to risk. And as always, with her trusty camera in hand, she said yes to whatever life would bring her, even if it was potentially life-threatening. Throughout her talk with CreativeMornings/Vancouver, she took us through several situations during her career where a question came up: What are you putting at risk?
Christine doesn't just take ethereal photos of people, she gets right down to the stark reality of her situation, no matter how dangerous it could be. And with parting words such as…"Creating art in general is a huge risk; it's about constant failure"...why wouldn't you want to see what risk could bring your life?
To watch her entire talk on Risk, check out the video below:
[embed]https://www.youtube.com/watch?v=PGgZya6bakA[/embed]
CreativeMornings/Vancouver is a free breakfast series held the first Friday of every month. Head over here to sign up for the lottery to attend. Our next talk is this Friday with Shachi Kurl on the topic of 'Reality'.