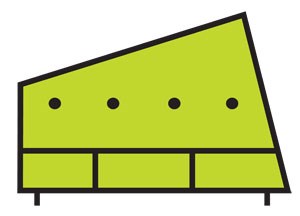 SCENE AND HEARD showcases the independent music scene here in Vancouver.
Green Couch Sessions is a live music video series - experiments in which GCS attempt to marry the artist with the environment.
The music fills the space and the various locations, inevitably producing a sound unique to the session, never to be reproduced, only to be enjoyed by you, the viewers.
VIAindie is excited to partner up with Green Couch to show YOU their latest and greatest videos of musicians and locations from all over the city!
Stay tuned! 
Artist: Buckman Coe.
Song: 'Eyes That Say I Love You' Beck Song Reader
Rick Buckman and his bandmates met us in downtown Vancouver at "The Fall" tattoo studio and gallery on Seymour St. They loaded the couch into the shop and up the stairs with ease and set up to play 'Eyes that Say I Love You' a song from Beck's most recent release, 'Song Reader'.
We were honored to capture Buckman Coe.'s interpretation of Beck's song. This track was released on sheet music earlier this year.
The band has been busy this summer playing festivals all over the west coast. We look forward to filming their original material on the Green Couch in the future.
The song was great the venue was vibing and the guy getting a tattoo was happy to have a little distraction.
Hosted by: The Fall