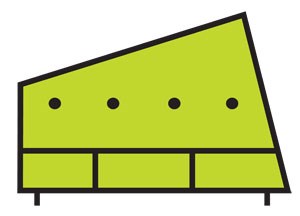 SCENE AND HEARD showcases the independent music scene here in Vancouver.
Green Couch Sessions is a live music video series - experiments in which GCS attempt to marry the artist with the environment.
The music fills the space and the various locations, inevitably producing a sound unique to the session, never to be reproduced, only to be enjoyed by you, the viewers.
VIAindie is excited to partner up with Green Couch to show YOU their latest and greatest videos of musicians and locations from all over the city!
Stay tuned! 
Artist: The Wooden Sky
Song: Untitled
As part of our collaboration with the Vancouver Folk Music Festival we connected with Gavin Gardiner of Ontario indie rock band The Wooden Sky. We met under a willow tree in Jericho Beach Park on a hot summer day. Gavin borrowed a guitar from BC artist Aidan Knight and was kind enough to play us an unreleased and at the time of filming untitled song.
The vocals are raw and the tune wraps gently around the festival chatter in the background.
Hosted by: A Willow Tree
Filmed and Edited by: Jonathan Krauth
Produced by: Michy Al
Audio Recorded and Mixed by: Tim Creviston, Sam Woywitka and Adam Johnson at Nimbus School of Recording Arts