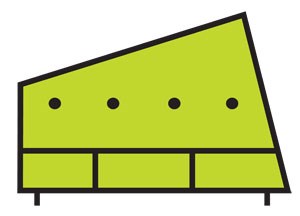 SCENE AND HEARD showcases the independent music scene here in Vancouver.
Green Couch Sessions is a live music video series - experiments in which GCS attempt to marry the artist with the environment.
The music fills the space and the various locations, inevitably producing a sound unique to the session, never to be reproduced, only to be enjoyed by you, the viewers.
VIAindie is excited to partner up with Green Couch to show YOU their latest and greatest videos of musicians and locations from all over the city!
Stay tuned! 
Artist: Whitehorse
Song: Devil's Got A Gun
We met up with Whitehorse behind the main stage at the Vancouver Folk Music Festival in July of this year. Luke Doucet in his white fedora and Melissa McClelland in her breezy sundress were the embodiment of the laid back vibe that is so characteristic of the festival. We strolled towards the water of Jericho Beach just as the sun was beginning to set. The couples voices harmonized perfectly, calling the sun downwards with each verse. Beachgoers packing up for the day stood still as the two strummed their guitars, listening as the macabre tale unfolded with beautiful urgency.
Hosted by: Jericho Beach and the Vancouver Folk Music Festival
Video by: Jonathan Krauth
Audio Recorded and Mixed by: Adam Johnson at Nimbus School of Recording Arts