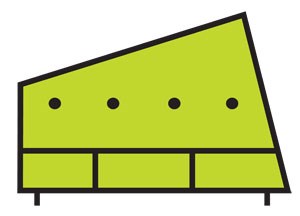 SCENE AND HEARD showcases the independent music scene here in Vancouver.
Green Couch Sessions is a live music video series - experiments in which GCS attempt to marry the artist with the environment.
The music fills the space and the various locations, inevitably producing a sound unique to the session, never to be reproduced, only to be enjoyed by you, the viewers.
VIAindie is excited to partner up with Green Couch to show YOU their latest and greatest videos of musicians and locations from all over the city!
Stay tuned! 
Artist: Jordan Klassen
Song: You Are The Branches
The Green Couch battled its way through heavy traffic to make it to Habitat Studios in Langley, BC but the ride turned out to be well worth it.
Jordan was joined by fellow musicians Jocelyn Price on vocals and tambourine and Andrew Paul Koole on keys. They played a broken down version of Jordan's song "You Are The Branches" to a captivated audience consisting of our film crew, Paul McLellan of Shaw TV, and Habitat owners and operators Will Watson and Andrew Spindor.
The movement of the music and the Jordan's powerful lyrics put us all in a very good place for the long journey back to Vancouver.
It was an absolute treat to have this rising star play us a tune on the Green Couch.
Hosted by: Habitat Studios