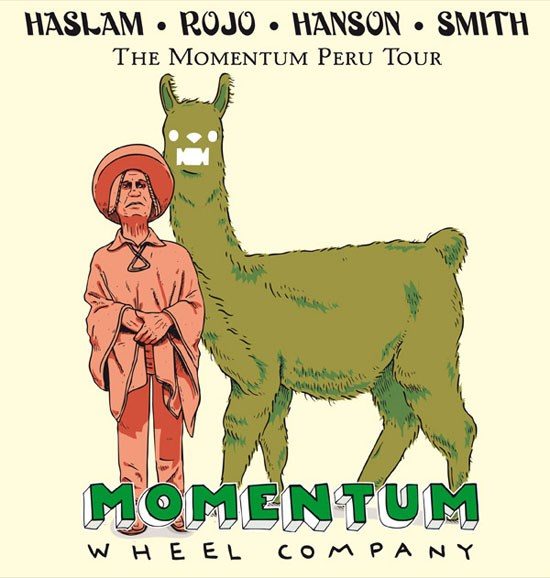 Local skateboard wheel company Momentum brought team riders Chris Haslam (Richmond), Magnus Hanson (Surrey), Morgan Smith (Toronto) and Jose Rojo (San Jose) to Peru for the next 2 weeks on a skate trip dubbed the "Yo Llama! Llama! Tour". Follow them on Facebook and Twitter, and enjoy this tour poster by Vancouver's Andrew Pommier.
•I highly recommend you spend the next 9 minutes watching the following skateboard destruction on the www: The new RDS commercial featuring Vancouver's Paul Trep; Magnus Hanson's raw footy madness, and North Delta's Scott Decenzo in Plan B skateboards' Vamdalism.
•Vancouver's Paul Machnau is behind the relaunch of RedStar skateboards, and you can learn all about that right here.
•Red Bull's Manny Mania Canadian Final goes down tomorrow at the downtown skate plaza (1:00-3:30) to determine which well-balanced roller gets to compete at the big show in NYC.
•Underworld Vancouver's Chad Dickson and Dustin Montie are good buds and were recently hooked up with "bro-model" boards. Learn more here.
•On Tuesday, July 20th, the RVCA team will be skating at RailSide skatepark in PoCo at 3pm. Get there to check out Leo Romero, Keegan Sauder, Cory Kennedy, Austin Stephens, Julian Davidson, Nestor Judkins, David Reyes and James Hardy.