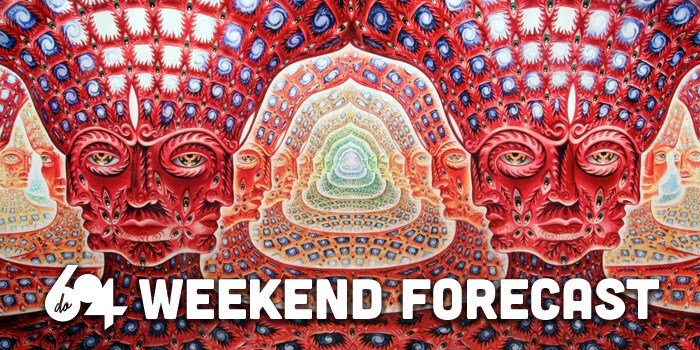 This is something that comes along… well, never. World renowned artists Alex Grey & Allyson Grey, whose mystic work reveals universal themes from spirit and soul to love and consciousness, are here this weekend.
One of the do-not-miss events happening this weekend, as picked by our city's #knowfun Selectors at Do604.
Thursday April 27
An aesthetic response to the relationships and exchanges between Native and non-Native communities.

Close Talker with Yes We Mystic at Biltmore
We had happy question time with the headliner of this wicked night of music.

Citizen Jane: Battle For The City at Vancity Theatre
In 1960 Jane Jacobs's book The Death and Life of Great American Cities sent shockwaves through the architecture and planning worlds.

plus more on Thursday:
Daniel Moir, Jeff Gladstone & The Bad Ideas at The Emerald
Friday April 28
The Visionary Art & Life of Alex Grey & Allyson Grey at the Vogue
World renowned artists Alex Grey & Allyson Grey joined by musician Phaeleh and visuals by Onbeyond.

Since the early 2000's, this Brooklyn-based Norwegian singer/songwriter has been wow-ing the world.

House On Fire Comedy at Fortune
Shit Harper Did. Proud of You. If these troupes don't ring your bells, then don't you dare miss House On Fire this Friday night.

plus more on Friday:
Vancouver Tattoo & Culture Show
Bil: Vancouver at Creative Coworkers
Saturday April 29
A program of free events across the city.

GRAMMY nominated Best Dance Recording NYC duo SOFI TUKKER bring their headlining tour to Vancouver.

Elle Wolf at Blue Light Studio
Up n coming local indie rock group lead by female powerhouse, Elle Burston.

plus more on Saturday:
Pond with Kirin J Callinan at Biltmore
Laurence Juber at Kay Meek Centre
Sunday April 30
A series of short films that feature predominately fighting created by members of Vancouver's stunt community.

The Marriage of Figaro at the Vancouver Opera Festival at Vancouver Playhouse
The beloved story of mistaken identities is as deliciously hilarious now as it was in Mozart's time.

Horse Trainer by day, singer-songwriter by night, Chelsea Charlton "Is a Country Song."

plus more on Sunday:
Hair of the Dog Cocktail Competition at The Charles Bar
Lowell Frisen at Cafe Deux Soleils
Wes Barker, Simon King, Ivan Decker at the Biltmore
Have a great weekend checking out these events! You can always head to our Vancouver Events calendar, powered by Do604, for a full list of our recommended things to see and do in Vancouver.