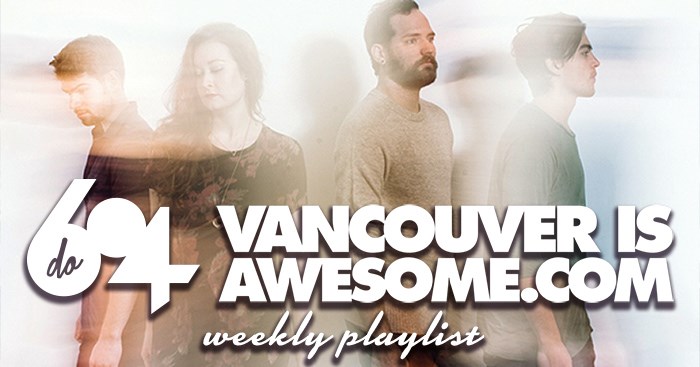 This week, our city is treated to local talent like Tourist Company and X Presidents, and international. Like hip hop? Drum n bass? Soul? Folk? Outdoor concerts? You'll be happy to hear, you can have it all this week.
Here are 20 songs by 20 bands playing our favourite concerts this week, presented as always by our city's #KnowFun champions, Do604.
https://open.spotify.com/user/do604/playlist/3JZh1e5yI2WQI5zTZPLZ9s
Macklemore & Ryan Lewis "Buckshot"
Quality hip hop in an era of questionable hip hop, accentuated by the presence of legend KRS-One.

Nothing But Thieves "If I Get High (II)"
So what if this is a Bends-era Radiohead ripoff, this is beautiful music.

Tanika Charles "Soul Run"
Last week Vancouver was blessed with the soul of Charles Bradley, this week Tanika Charles plays the Fox.

Grum "Under Your Skin"
With tracks like this, he'll get deep at M.I.A.

Matt Corby "Monday"
Get soulful. Absolutely gorgeous, if every Monday was like this, we'd welcome the start of the week.

The Tourist Company "Budget Meeting"
Be patient, visitor, the best is yet to come.

La Luz "Black Hole, Weirdo Shrine"
Poppy lo fi fun.
Mac Demarco "Just To Put Me Down"
Transported from another time and place, Demarco's sound is a breath of fresh air. Catching him at Malkin Bowl will be grand.

Raeliss "Lit"
Currently Vancouver based, Raeliss hails from New Orleans, and raised New York, he brings a rooted vibe to his sound that is both current but stands out from the current noise.

Rudimental "I Will For Love"
Vocally driven drum n bass, yeah!

Savages "The Answer"
Psychedelic rock n roll

Young Benjamins "Young Argument"
There's a charming nod to country and folk in this prairie band's sound. Experience them live this Friday.

Alabama Shakes "Don't Wanna Fight"
Whatta talented band. They set a high bar with their debut, in their sophomore outing, they raised that bar, especially in this hair-raising single.

Autolux "Hamster Suite"
Yep, another comparison to Radiohead, but when a Kid A-era sound is this alluring, we say borrow freely!

Breakbot "Wet Dream"
Distant street summer light people life breath pulse.

Ian Howie "You're Not Real"
Amazing production. Go on a deep house Howie journey.

Titus Andronicus "A Pair Of Brown Eyes"
There's an epic approach remniscint of Fucked Up or that one Cory likes

X Presidents "The Fury"
Get psyched. The vibe is gonna be positive and energized, as X Presidents will be spittin' from their soon to be released EP.

Chelsea Wolfe "Flame"
Wolfe holds a barely flickering flame closely in her echoing chamber of emotion.

The So So Glos "Dancing Industry"
Clever commentary on the music industry. Hint: they're not singing "Dancing In The Streets."

Have an awesome time listening, and an awesome week seeing these bands live! Come back next Monday for another Do604 x Vancouver Is Awesome Weekly Playlist, the best way to get a sneak peek into the hottest bands coming to our city.
And at any time, check out our Vancouver Events calendar to see the best of what's coming to our city. Never miss another great show!