The deadline for submitting your $5,000 photos to the Marine Gateway photo contest is coming up this Monday, March 5th! The entries so far have been top notch and we've got a panel of judges waiting to dig into the submissions to draw a first place winner for the $5,000 gift card to Future Shop, as well as images to be awarded $500 and $250 gift cards for second and third place.

Above is a sampling of some of the photos received in the contest so far. Visit the Marine Gateway Facebook page to see all of the entries and to submit yours before the deadline.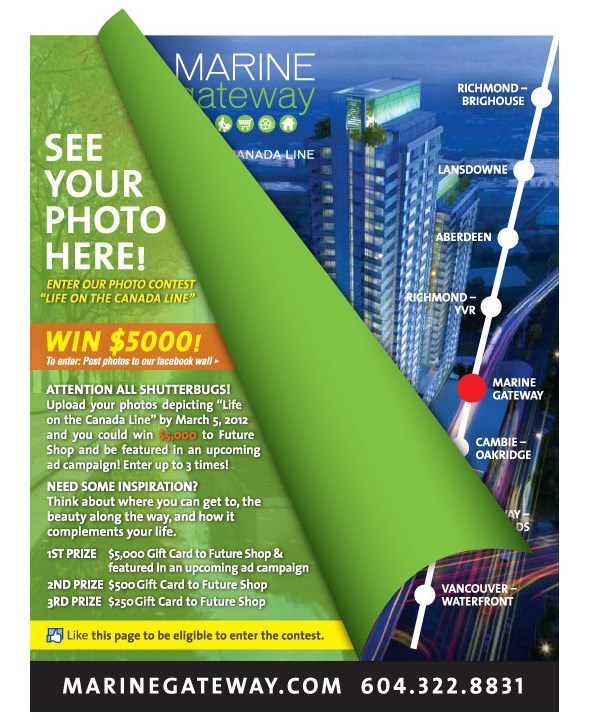 Without further ado, here are your judges!:
Ron Burnett who has been the President of Emily Carr University for 16 years. In 2010 he received the "Chevalier de l'ordre des Art et des Lettres" a knighthood from the French Government in recognition of 40 years of work in culture. In 2005, he published How Images Think, MIT Press. Former Director of the Graduate Program in Communications at McGill University, Designer in Residence at the New Media Innovation Centre, Adjunct Professor in the Graduate Film Program at York University, author of 150 published articles and book chapters, Educator of the Year in Canada and recipient of the Queen's Jubilee Medal for service to Canada. Dr. Burnett was Chair of Knowledge Network for four years. Dr. Burnett is one of the founders of Film Studies in Canada. Previous books published by Dr. Burnett, include, Cultures of Vision and Explorations in Film Theory.
Andrew Grant who is the president of PCI, the developer behind the Marine Gateway project. Andrew is past President and currently a Director of the Urban Development Institute (UDI); Director of Great Northern Way Campus – a collaboration of UBC, SFU, BCIT and Emily Carr on transforming 20 acres in Central Vancouver into a mixed-use education based campus; member of the Kitsilano Neighbourhood House building committee – a project to create affordable rental housing for seniors integrated with a new neighbourhood house; past Chairman and past long time Board Member of St. George's School; and a supporter of the University of British Columbia baseball team.
Bob Rennie who is the founder of Rennie Marketing Systems and the Rennie Collection at Wing Sang. I'll keep it short and sweet for Bob and encourage you to read THIS feature interview we published where May Globus sat down with him to talk about his art collection, being the chair of the North American Acquisitions Committee for the Tate Modern and more.
Wendy Chang who has been the director of the Rennie Collection and Museum since 2006. With more than twenty years of experience in international contemporary art, Wendy has produced projects in various mediums including photography, sculpture and video with artists like Peter Doig, Rodney Graham, Richard Prince, Edward Ruscha, Jeff Wall, Christopher Wool and others. She was the managing director of a high profile Los Angeles based gallery, representing Glenn Brown, Mike Kelley, Paul McCarthy, Shirin Neshat, Albert Oehlen and others and has worked with museums worldwide including MOCA (LA), MOMA (NY), Metropolitan Museum of Art (NY), Tate (London), Centre Pompidou (Paris), Stedelik (Amsterdam).
Oh, and me. Bob Kronbauer of Vancouver Is Awesome. Most of you know me as the founder and the editor-in-chief of this blog but what you might be surprised to learn is that I worked for a decade as a professional photographer for magazines such as Giant Robot, Anthem, Mass Appeal, NUVO and many others. In 2004 a book of my photography, entitled Beach Glass, was published by Holy Water of London. I've worked as an arts mentor in conjunction with Nike 6.0 and have sat on judging panels for various competitions.