Every Wednesday our friends at The Georgia Straight provide us with a preview of what you'll see on - and in – their paper the next day. They are the source for lifestyle and entertainment in our city and along with their robust online presence they've always released a print edition, distributed everywhere each Thursday.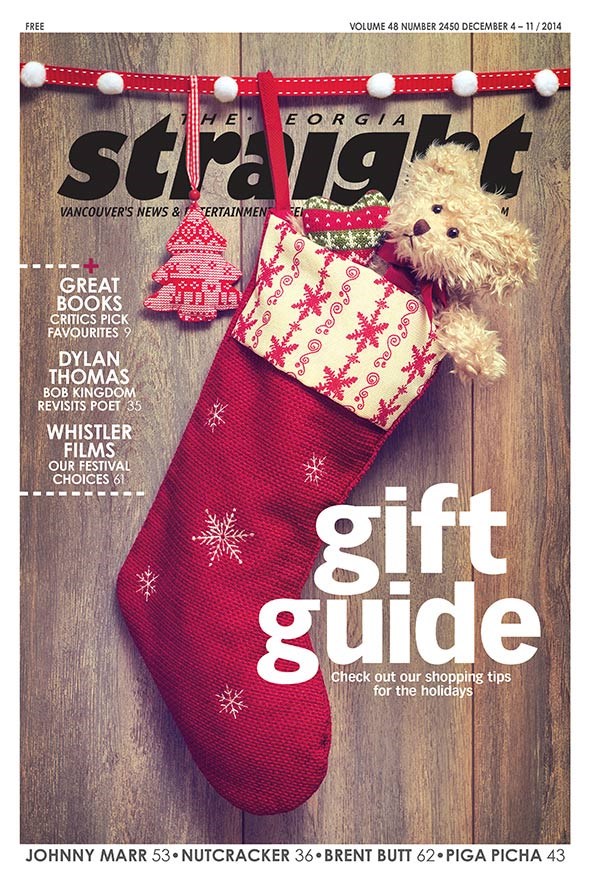 This issue is their 2,450th and on cover this week is their Gift Guide!
Here are links to stories highlighted on the cover:
- Holiday gift guide: shopping tips for the holidays in Vancouver coverstory
- Resurrecting Dylan Thomas by Tony Montague
- Book picks from a good year by Brian Lynch, Alexander Varty, Jennifer Croll, Charlie Smith and David Chau
- Johnny Marr still has faith in the power of music by Alexander Varty
- Young dancers leap at Royal Winnipeg Ballet's Nutcracker offer by Janet Smith
- Piga Picha! offers a snapshot of Kenyan studios by Robin Laurence
- Corner Gas hits the big screen by Steve newton
- Whistler Film Festival 2014: News, reviews, and more
And a couple other reads from this issue:
- Mike Fraser chooses rock over bust with AC/DC by Steve Newton
- B.C. Supreme Court dismisses petition against Rize development in Mount Pleasant by Charlie Smith
Pick up a copy of the Straight when you see it tomorrow!