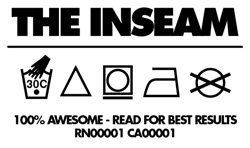 Vancouver is home to a thriving fashion industry made up of individuals committed to its growth and success. Get to know these personalities in The Inseam and discover what makes the Vancouver Fashion scene so awesome. Every month, The Inseam's Eco Edition focuses on the innovators that shape the green movement in local fashion.
You often find that fashion shows are being paired with another type of event, or having an added dimension to make it more exciting and inviting. There is really no better way than to make any event more interesting than by adding food and drinks!
On Wednesday evening, September 26th, Fraiche Restaurant hosted a wonderful mix of local fall food and fashion.  Kim Cathers, of Project Runway Canada notoriety and upcoming Eco Fashion Week participant, released her Fall/Winter kdon clothing line in a gorgeous setting up in the British Properties while guests dined on comfort food canapés and cocktails.
Jessica McIlroy: How did you get connected to Fraiche and where did the idea for the event originate?
Kim Cathers: I met Phil Reigh, the General Manager of Fraiche a while back and we started dating. Through that I came here and met the chef, Jefferson, and we came up with the idea of doing something at Fraiche.  Jefferson and I were coming up with the creative ideas and Phil was the one to make it happen.  And there was no other reason really than to have a good time and to be able to showcase the collection to people who maybe wouldn't normally see it.
JM: Were you already planning a fall line or did the ideas around the event inspire you?
KC: I didn't have an inspiration for the collection really. My usual way of creating a collection is to give myself a deadline and then I can think of what I have to work towards.  Plus, I don't want to have all these people here and have a big party and not have the clothes!
JM: Was there any creative or singular inspiration for the collection then?
KC: I design clothes not out of an inspiration, but because designing a collection is what I do, it just comes.  So what I find is that whatever is happening in my life is where I design from.  So if I'm in a dark place, then the clothes are darker and moody.
JM: Really, like a musician or any other artist.
KC: Exactly.  So I'm feeling hopefully about the future and I've gotten rid of all the negativity in my life and have done a purging of things that aren't useful to me or serving me well.  So my mantra for 2012 is "beautiful, useful and intentional".  So creating things that are beautifully though out; and useful so that you can actually wear it.  I named the collection nUMANA, which is the name of a mythical place.  The Queen was a giant figure, half woman and half snake with wings on her back.  She threw fire balls onto the seashore, burning the whole thing to the ground, and then out of that place humans came to inhabit.  The mythical name was originally Humana, and over time was renamed to Numana.
JM: So like rebirth, or a Phoenix rising from the ashes.
KC: Like a Phoenix, but not that dramatic. It has been a process and a lot of work, not quite the feeling of suddenly being a whole new person.  So my inspiration is whatever is happening in my life, that's the way it has always been.  I named the collection after it was made, I figured out what it meant to me after it was done.  I don't often do it before hand, I kind of go opposite.
JM: Do you have any preference or fondness for Fall/Winter fashion?
KC: Yes, because my personal style is more towards layering, lengths, and textures.  I love the knits and having lots of well thought out moving parts.  Fall/Winter works better for my own asthetic.  I also love to do summer dresses, but you can do that in Fall/Winter because people still need dresses.  I find that Fall/Winter is definitely more my season.
You can find information on Kim Cather's and her kdon clothing line on her website, and by following her on twitter (@kdon).  Fraiche is an award winning restaurant located in West Vancouver.