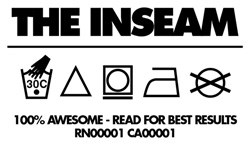 Vancouver is home to a thriving fashion industry made up of individuals committed to its growth and success. Get to know these personalities in The Inseam and discover what makes the Vancouver Fashion scene so awesome.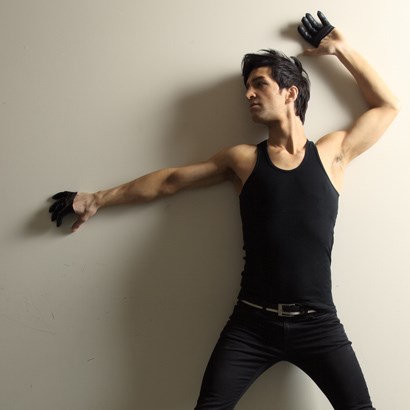 I meet with Jason Matlo at his Yaletown studio, which is just as one would imagine a designer's space to be. A close knit production staff is bent over low tables cutting fabric, long spools of patterned silk peek out from here and there, half dressed mannequins stand at attention and pieces of the latest collection crowd the rolling racks. I had the chance to peruse the new clothes and by the looks of things Matlo is only getting better. A muted colour palette and easy simplicity lends the Spring/Summer 2011 collection an effortless cool, with one standout print and a few white sequin pieces infusing the season with Matlo's trademark glamour.
Matlo has established himself as a serious player in the Canadian fashion game, yet there has always remained something elusive and enigmatic about Jason Matlo the person. As we sit down to chat, behind me hangs a photo of the designer sporting nothing but a pair of black jeans (and a set of rippling abs, I might add) pointing a gun, both hands on the trigger. For all the obvious power and sex appeal an image like this embodies, the Jason I chat with is also disarmingly funny, honest and smart.
Chloe Berge: How did you get your start in design? Was there a specific moment in time when you knew that was what you wanted to do?
Jason Matlo: I was doing a degree in Fine Arts and I just remember there were always images of fashion cropping up in my work and my profs started telling me to do something fashion related. I took a brief hiatus from my Fine Arts schooling and decided I wanted to go pursue a career in fashion design. I went to Helen Lefeaux, which was a ten month program at the time and did that. I entered the Smirnoff Fashion Awards that was for student designers and got short listed from five hundred candidates down to fifteen to go compete in Toronto, won that, then represented Canada in Berlin and that's what started the whole segue into designing. Then I moved to Vancouver Island to finish my Fine Arts degree and ended up working in retail merchandising and that's what sort of led me into it. It was something I always sort of thought I would do and it was just a bit of a long journey to get to it. It was one of those things that sort of found me instead of me finding it.
CB: What is the best piece of career advice you've received over the years or that you would share with others?
JM: I don't think I'm here because of talent. I have a lot of ambition, I've been very good at articulating my goals, I have a clear idea of what I want to do and I kind of forged forth even when it sucked and did it, so I think that that's what's been the successful formula for me. I've always tried to surround myself with people who know a little bit more about what I'm doing than I do. I think that's good career advice.
CB: What is it about Vancouver that keeps your business here? Does it play into your design aesthetic?
JM: I'm very affected by my environment. I like Vancouver because I basically live my life in a fifteen block radius. I don't like sprawling cities. I stay here basically because I'm a total wimp about the weather, I'm a very casual person and I like the laid-back quality of West Coast living and I've built a team of people here that make it possible to do what I do. I can't imagine trying to start this over somewhere else.
CB: How does Canadian fashion differ from what's going on in Europe?
JM: It's completely different. I feel like I keep dogging on Canadian fashion because there's a lot of Canadian fashion that is just very, very bad. It's very "Canadian", it doesn't look refined. Having said that, there are a lot of Canadian brands out there right now that I'm a huge supporter of.
CB: How about any emerging young designers that have caught your eye?
JM: I just found out about Blake Hyland and Drew William. I must say, I go to the fashion weeks in the city and I'm usually underwhelmed, and I was completely blown away by both their shows, like quite blown away. For different reasons, they're very different designers, but both really, really strong. Strong points of view, beautiful craftsmanship, and I'm just not used to seeing that in Canada.
CB: As a designer yourself, are there any designers who have acted as a source of inspiration for you?
JM: I'm really inspired by designers that don't look anything like what I do. Like Gareth Pugh and the really strong, directional, forward thinking designers because I really feel like these are the designers that propel fashion forward in a way that's significant and important, even though I don't really do directional clothing. I'm a huge fan of Karl Lagerfeld. I like how diverse he is, I like the breadth of his work in all his collections. I love the Japanese designers, like Comme des Garçons. I don't really look at a lot of fashion design though to be honest, I don't watch collections very much. I spend more time reading newspapers and we research music videos and look at different kinds of imagery.
CB: So are those the kind of things you draw on for inspiration to keep things fresh? Where do all your ideas come from?
JM: Yes, I mean, we have a million discussions here in the studio. We were talking about Autumn/Winter this morning. We have conversations about what feels current. The girls will talk to me about trending. But I don't look at a lot of fashion myself.
CB: Is there anyone in particular you would love to see wearing your clothes? Someone that embodies what your line is about?
JM: I'm really interested in the women in Hollywood with a strong sense of style. I like Cate Blanchett, Sarah Jessica Parker. I'm not all that interested in these new, young Hollywood starlets. I like the more elegant Hollywood women, iconic women like Cher and Madonna. Madonna has affected so many layers of fashion over the years. I love Julianne Moore, she's very aristocratic…Anyone who embodies Old Hollywood. I'm more interested in dressing the more mature women in Hollywood because I think there's something that happens to a woman over 40, they know who they are, they're more experienced, there's this quiet elegance about them that you're just not getting out of Paris Hilton.
CB: You work in an industry that exalts beauty and glamour. What do you think defines those ideals?
JM: It's a sense of self. We work in an industry where beauty and perfection are Olympic ideals and I try to make sure that within myself and what we do that we personify those ideals. However, I don't think that clothing is the sexiest thing a woman can put on. I think confidence is. Which is probably why I like women over 40.
CB: Can you tell us one thing that people would be surprised to learn about you?
JM: I'm actually very nerdy. I think that I've crafted a very specific brand image, which is an aspect of my personality, but I'm a very casual person. I'm just a small town boy, basically, that's doing this and it surprises me every day. I have to pinch myself every day. People would probably be surprised to know that we play musicals in here a lot, and bad musicals. I also obsessively compulsively wipe things down with windex (laughs). I windex surfaces, I like the smell of it, it's like going to confession.