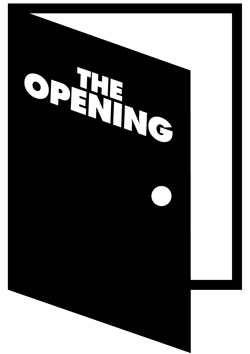 THE OPENING is all about delving into the fascinating, quirky and wonderful visual arts in Vancouver. Each week we'll feature an artist, cover an exhibition, discuss a lecture and everything else in-between to delve deep into who and what makes art happen!
This week's article is by guest contributor, Elliat Albrecht.
WORDS: ELLIAT ALBRECHT
The subjects of Vancouver artist Andy Dixon's paintings are mysterious counts, reclining women, hunting dogs and lords departing on horses. The extravagant settings are as if Gatsby's garden were crossed with the estates of Italian royalty: an imaginary mixture of new American money and old European wealth. One imagines that the girls in his recent works on canvas are driven to parties in stretch limousines, that the rich men's wives and daughters are always pretty and that the help cleans the pool while tigers sun themselves in the yard. Someone is inside sleepily smoking on a plush chaise lounge and a peacock wanders towards the fountain. However, his regal subjects are not treated in the classical way that they're used to; there is no illusionistic blending of colour, no romantic shadows, rich drapery or peachy skin tones.  Dixon depicts such lavishness of lifestyle with a similar abundance of colour and paint; his images are composed of highly saturated candy-coloured hues and erratic line. Olympia, After Manet, 2012 depicts the iconic woman lounging on a couch with skin a rainbow of colours against an Easter egg blue background. The viewer is awash in the disparate combination of art history and kinetic bright colour. His aesthetic vocabulary is intuitive and quickly executed with an urgency that he attributes to his early history in punk music, while the work is rooted in a devotion to excess: of money, of mark, of gesture, of colour. Dixon denies any shyness with his medium; where his subjects come forward to flaunt their luxury with an unapologetic boldness, the artist meets them with paint.
An exhibition of Andy Dixon's new work, The Luxury of Observing Luxury, is opening tonight at No Remorse Studios, 55 Water Street, Vancouver, from 6-9:30pm. RSVP.