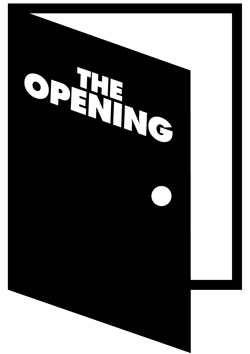 THE OPENING is all about introducing the fascinating, quirky and wonderful people working in and around the visual arts in Vancouver. Each week, we'll feature an artist, collective, curator or administrator to delve deep into who and what makes art happen!
It's a damp Sunday evening in February when I arrive at 147 Main street to interview Nicole Ondre and Vanessa Disler, two friends and graduates of Emily Carr who partnered together to open Exercise in the fall of last year.
The entrance near the corner of Powell and Main is unassuming to say the very least - there is no signage, no special sandwich board or window treatment to indicate the arrival of this fresh and bold new artist run space straddling the edges of Chinatown, Gastown and the DTES.
The Opening at Exercise, photo by Jennifer Kim
Nicole greets me at the door and we're immediately in the storefront portion of Exercise that serves as the gallery and exhibition space. There is tarp on the floor and paint on the walls and my rods and cones are instantly juiced in anticipation for Yunhee Min's exhibit, "Spectra: fixtures, attachments, and ornamentals" that is being set up.  But more on that later.
Further in from the gallery we pass through the middle section reserved for artists' studios.  After interrupting and being introduced to a painter at work I follow Nicole and Vanessa into the back and we settle ourselves in the inviting candle-lit, wood-paneled lounge comme salon. Just back from a trip to LA, I can feel the inspiration and excitement buzzing from the two partners who'd spent much of their time visiting the small, unique artist run centres there. A number of paintings surround us. I am particularly taken by the one dominating the eastern wall with its large swaths of black.  It is Vanessa's work, and it is energetic, ambitious, and spirited – much like Exercise itself.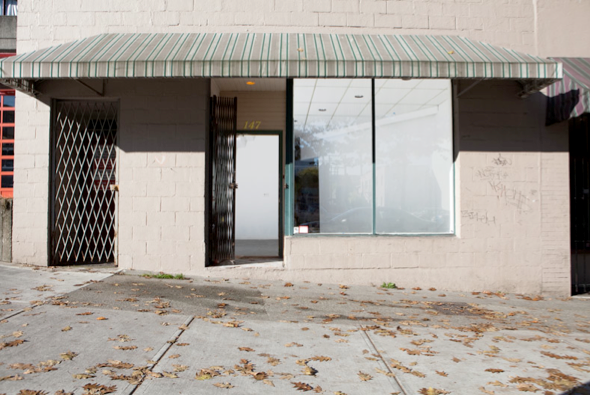 Photo by Graham Dalik for ExerciseCanada.com
The story of how this project space came to be is an all too familiar one in Vancouver: After receiving a notice of eviction from their former studio landlord for condo development, Nicole and Vanessa, painters both, scoured the neighbourhood for affordable options. After several fruitless days pounding the pavement, the duo offered a heartfelt prayer on Powell street pleading for a lead or call back. Within 24 hours, the property manager of 147 Main called and they jumped at the chance to take over the kind of space that would open up the possibilities for what they could do as artists and curators. They had discussed the possibility of a multi-purpose space in the past. Being evicted was a blessing in disguise and just the catalyst they needed.  They set to work right away renovating the space through September 2011, with help from Nicole's father who is a builder – putting in hot water and setting up a bathroom, as well as creating a small enclosed green space out  in the alley side surrounded by neat sheets of corrugated metal.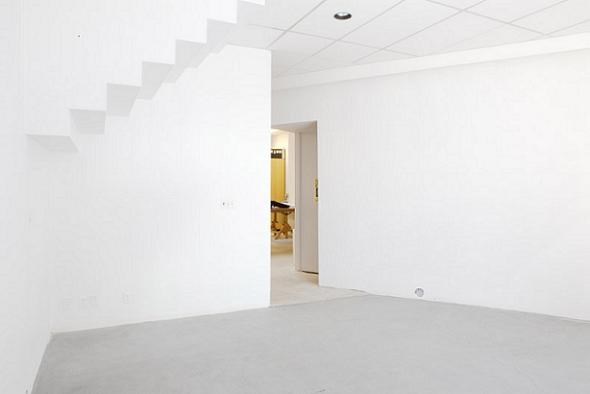 Photo by Graham Dalik for ExerciseCanada.com
The two had collaborated together at ECUAD with another student, Alex Turgeon, creating the Vancouver School of Art (VSA), a curatorial project undertaken in reference to the original name of their alma mater. As VSA they showcased the works of their peers as well as collaborating with local artists. And despite their youth and inexperience they paid meticulous attention to their exhibits and promotionary materials, presenting themselves and VSA as one would expect of any established art brand. Taking themselves seriously and in earnest while maintaining a tongue in cheek attitude towards the slick commercialization of the art world has paid off in obvious ways when you look at what they are doing now with Exercise: It is as straight-forward and as pretension-free as you'll get in Vancouver, their website too a clean, minimal digital space void of the typical art jargon so commonly found in that ether.
JK: Was it intentional for you to focus on female artists? Your first exhibit was Elizabeth Macintosh's work, and now Yunhee Min… and your resident studio artists are all female.

NO: You know, if someone was running a gallery and they showed all male artists, nobody would really say anything.  But to answer your question, I'd say no. We're just showing people we like - work we are interested in, work we relate to or feel influenced by, and that can be any sort of work made by any type of person. Our next show is a collaborative show with three men. We do relate to the projects of some female artists of course, but I don't think it's interesting to be essentialist about it. That would go against the freedom of how we want to run this space. We have an interest [in women artists and feminism], but there's really no mandate. We really want to keep it non-institutional, keep it open. We are not an artist run centre that has a board, or has a lot of people we have to answer to. We like how it is. It's pretty efficient – it's just us and the artists.  I mean there are other places like CSA, they're self-funded, and they just select artists they like, they don't take submissions. So, we'll see how it goes. We're hoping to show people who haven't shown in Vancouver before, that's one ambition.

VD: And we also want to show work that we feel is important to see in person. Often so much of the work you see is through the internet, through a computer screen, and it's so different to actually experience the work.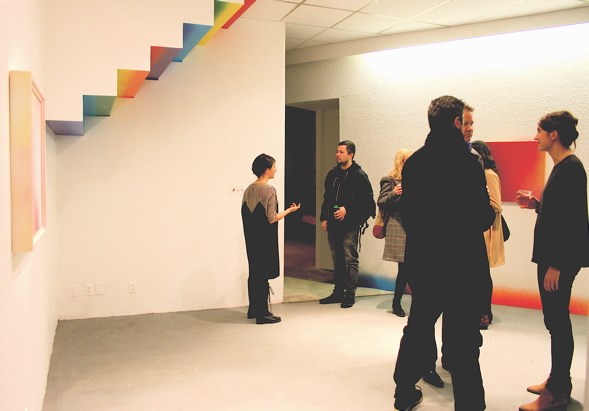 Exercise Gallery, photo by Jennifer Kim
This is Yunhee Min's first solo show in Vancouver, having shown once here before in 1997 at the Or Gallery with Lise Soskaline. She's shown extensively throughout the US since then, dividing most of her time between Los Angeles and Vancouver. Min is now teaching at Emily Carr. Vanessa and Nicole, apart from admiring her work, knew it would be an amazing opportunity to have Min create pieces specific to their space, while providing her students and Vancouverites alike the chance to see her work in person.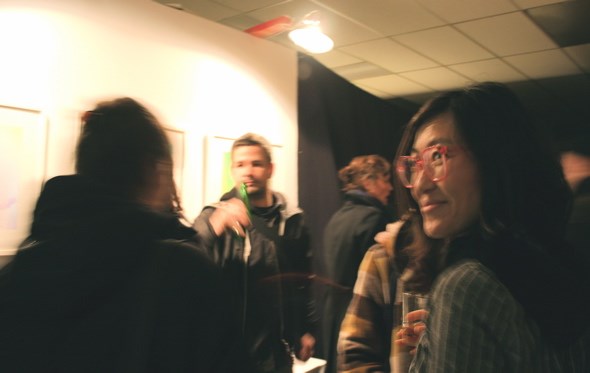 Yunhee Min, photo by Jennifer Kim
The opening of Min's Spectra: fixtures, attachments and ornamentals was a festive affair. The interior of the gallery was given over completely to the artist, and Min fashioned it into a bright, soft space, with splashes of colour accenting the various features of the gallery – a strip 17ft long mimicking the refraction of light runs along the base of the northern white-stuccoed wall and all over the distinctive exposed staircase in the southwest corner of the space.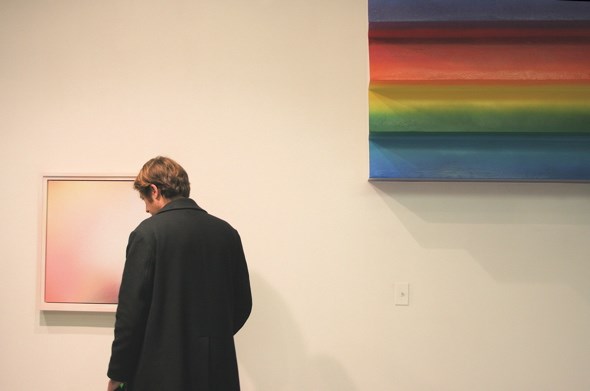 A viewer, photo by Jennifer Kim
In recent years her paintings have moved more along an inward tangent, drawing the viewer into their contents rather than presenting the painted canvas as art-objects in themselves. The exhibit features three paintings and three limited edition inkjet prints, all created by Min specifically for her exhibition at Exercise. The pieces are a further departure from her previous works, which often featured large painted canvases that worked as art objects as wholes.
JK: Up until 2009 with the Attraction series, it seemed more like the canvas itself served as the art object, and now, at least from 2009 on, it feels like it's more about drawing people inside to the colours, textures, the atmosphere within the paintings.

YHM: There definitely was a moment for me. A reconfiguring of my work, that mainly had to do with painting and architecture, so yeah I think your observation is very... I wish I said what you just said! [With the prints] I kind of went fumbling along, looking for an interesting effect. I was trying to get to something that looked good to me in an interesting way. Daniel Buren was really important to me for a very long time. And so… now the prints are growing on me. I just printed them. It's a fine line to not get sucked into the technology aspect of things.
Min was mysterious, one could even say evasive, when pressed further about her relationship to colour and the reason behind her shift. Like Exercise, the project space itself, Min seemed reluctant to frame or confine her vision with words and labels choosing to allow her work to interact with the viewer in subjective ways. The effect is refreshing, instinctive, light, happy – recommended for these last cold days of winter.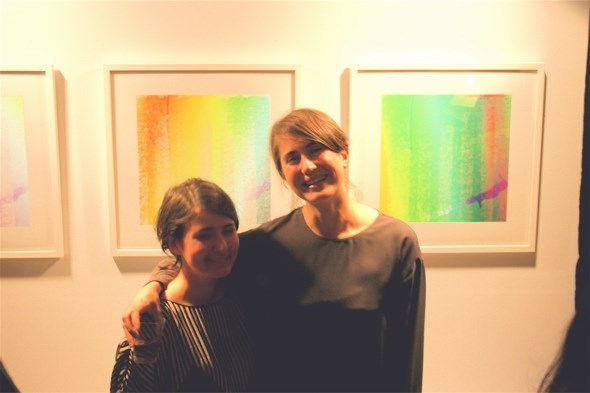 Vanessa Disler and Nicole Ondre at Exercise, photo by Jennifer Kim
Yunhee Min's Spectra: fixtures, attachments and ornamentals is on view at Exercise until March 4th.
How Many of Us Have Them, featuring Erik Lavesson, Nik Geene and Timothy Furey, opens Friday March 9th at 7pm.
For more information about Exercise, visit their website at exercisecanada.com. For more information about Yunhee Min, visit her website at yunheemin.com.