| | | |
| --- | --- | --- |
| | | THE OPENING is all about introducing the fascinating, quirky and wonderful people working in and around the visual arts in Vancouver. Each week, we'll feature an artist, collective, curator or administrator to delve deep into who and what makes art happen! |
This week's profile is a little bit different. Florian Berktold is the Director of Hauser & Wirth, one of the largest international commercial galleries, located in London, Zurich and New York. Hauser represents a who's who of modern and contemporary artists, like Louise Bourgeois, Paul McCarthy, Pipilotti Rist, the Henry Moore Family Collection... to name only a few. You are probably wondering what Berktold has to do with Vancouver. Not only does Hauser represent Vancouver artists Rodney Graham and Ian Wallace, but Berktold has long been a champion of art in Vancouver to the greater international art community. In addition to having a different perspective from those who've lived here all their lives, I think it is important to know and recognize those who support a community from afar.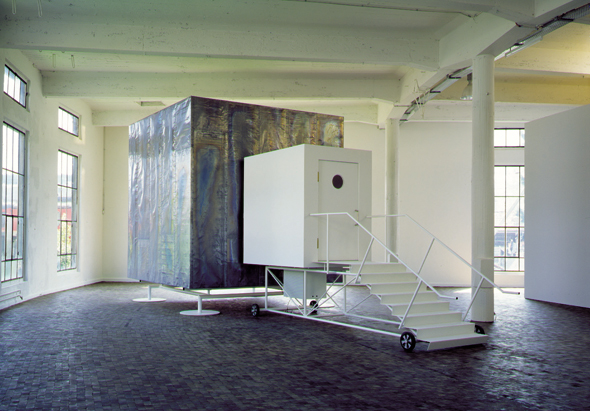 Rodney Graham "The King's Part", 1999
How did you get involved in art?
Out of need of money. When my scholarship ran out while studying in Vienna, I picked up freelance jobs, installing at museums and trade-fairs. This developed into arthandling and after a few years I got a job as exhibition organizer at Vienna Kunsthalle. Back in 1999 this is how I met Rodney Graham and his posse: he had a major show there, and I helped to coordinate with his architect to build the huge piece "The King's Part", an anechoic chamber clad in lead.
What does being Director of a major international commercial gallery entail?
It's all about people: artists, collectors, curators, writers, staff, shippers, manufacturers. The art part comes from being very close to artists, their needs, ideas, anxieties - I never studied art. The job requires first of all a lot of social skills. I do not have the entrepreneurial risk as an employee - that's the tough part of being a commercial gallerist.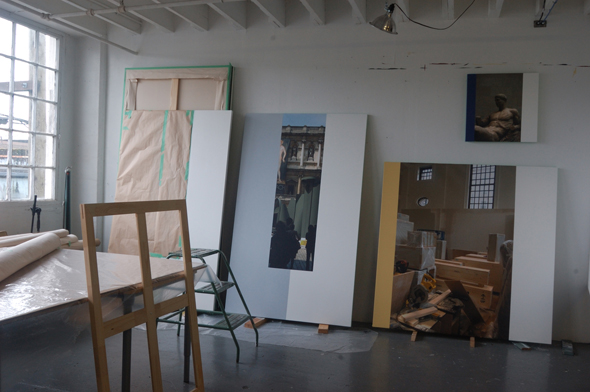 Ian Wallace "Work in progress (29 August 2008)", 2008
When did you first come to Vancouver?
In 2001.
What made you keep coming back?
Working with Rodney Graham in our gallery. But then also I like the city a lot, and came back for our honeymoon trip with my wife. Over the years I have made friends here, met artists, gallerists, museum people, clients, and Hauser & Wirth is now also showing Ian Wallace, an exhibition coming up for late summer in Zurich.
Is there something special about Vancouver artists? Why do you think Vancouver is such a haven for them?
The eternal question. Not sure if there is something special about Vancouver artists. The city is probably the place as remote as you can get in the Western hemisphere, and still have all the good things about a cosmopolitan city. There is a lot of creative industry infrastructure to produce work. The time difference gives you a break from all the phone calls from Europe. Someone visiting Vancouver does so for a specific purpose, not just because you happened to be in town, like, say for the Oscars...
What advice would you give to emerging Vancouver artists looking to develop an international career?
Do not send your portfolio to galleries. Develop and cultivate relationships with influential collectors and curators. Hang on to an established artist for advice. If, for example, Paul McCarthy tells me to look at the work of a young artist, I do.
For more information on Hauser & Wirth, visit their website at hauserwirth.com.
All images courtesy Florian Berktold and Hauser & Wirth.