| | | |
| --- | --- | --- |
| | | THE OPENING is all about introducing the fascinating, quirky and wonderful people working in and around the visual arts in Vancouver. Each week, we'll feature an artist, collective, curator or administrator to delve deep into who and what makes art happen! |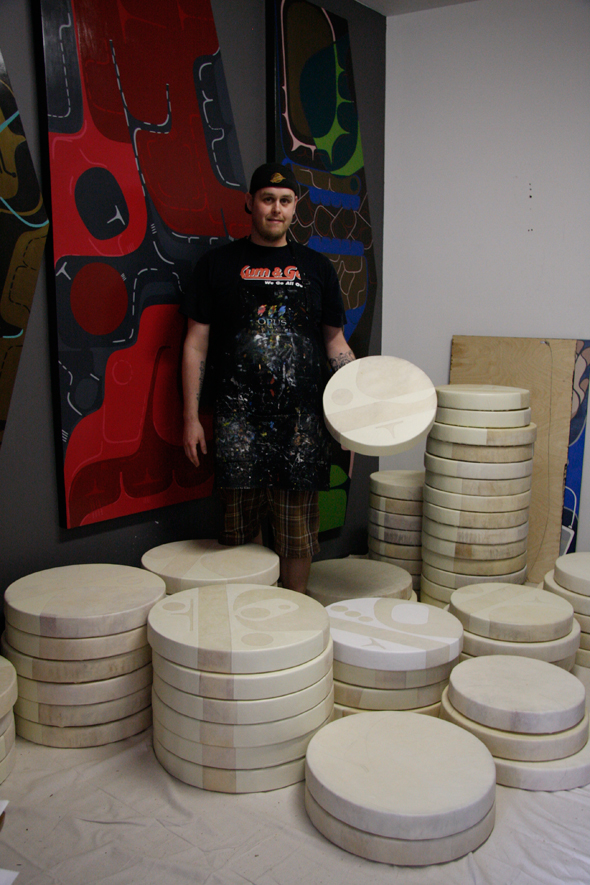 Sonny Assu in his studio with a recent drum installation work (Photo by Anne Cottingham)
I'll be the first to admit that my understanding of Aboriginal art and culture is limited, particularly of the West Coast nations. My historical understanding of the native peoples of Canada is based on the East Coast, having grown up in Nova Scotia and later living in Ontario. I've known about people like Bill Reid all my life, but to be honest, you must have been living under a rock in Canada if you'd never heard of him. So it was with great interest (and maybe a tiny bit of embarrassment at my lack of knowledge) that I interviewed Sonny Assu (b. 1975), who is half Aboriginal and half Caucasian.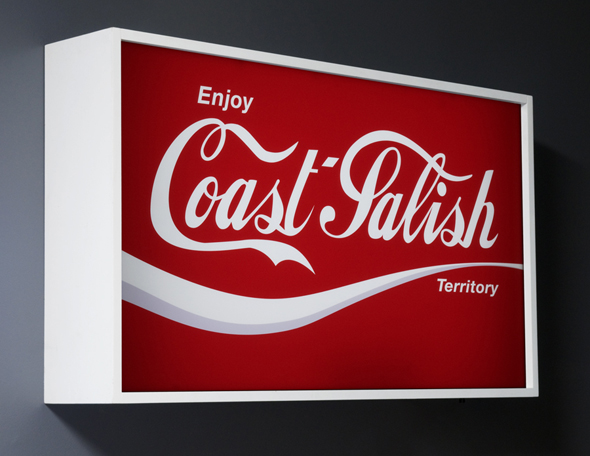 Coke Salish
Assu is not interested in being considered an 'Aboriginal artist' in the traditional sense, but instead an artist who happens to be Aboriginal. That said, he is very interested in taking the traditional narrative and re-interpreting it into a contemporary one. After all, art tends to come from what the artist knows and has experienced most. A lot of his work deals with brands – a popular topic amongst emerging artists right now, perhaps because we are children of advertising. When we reminisce about days gone by, it is as much about our individual experience in general as it is about that experience in relation to our favourite sugary cereal brand at breakfast or candy in our lunchbox. For Assu, it was a matter of using these products that were so much a part of his childhood for his own means, using "humour to bring people into the issues." These issues vary from unresolved land treaties to the invisibility of Aboriginal history in the greater Canadian history. Though these issues tend to spark anger in those who have been historically and continually wronged, he doesn't feel he has "the right to be angry. I have every right to be angry as an Aboriginal person, but I don't feel I have the right to own the angry Indian. That's not me. That's not my agenda. I understand where those people are coming from and I understand what they're getting at and I sympathize with them. But for me I want to be able to bring the viewer into those issues in a more appealing way. When you're angry with someone and you're just yelling at them, they're just turning you off."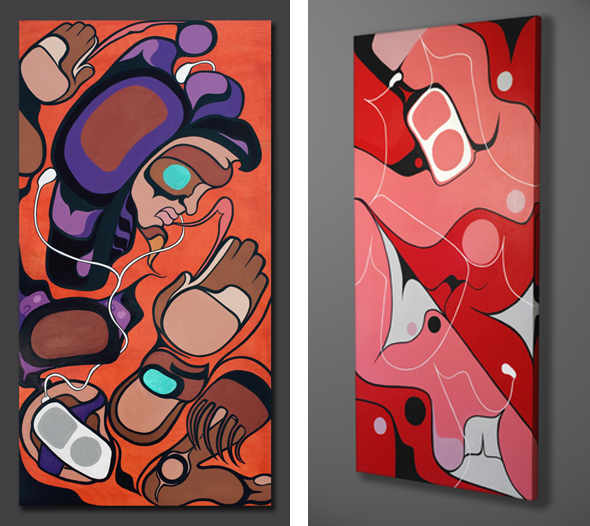 iHamasta Dancer and iPotlatch: 10000 Ancestors in your pocket
Assu uses easily recognizable pop culture icons humourously to point out issues and cause viewers to think twice about what they are looking at. One of his most easily recognizable works, 'Coke Salish' was created following the announcement that Vancouver would host the 2010 Winter Olympics. Coca Cola is a huge Olympic sponsor, and so Assu used their typeface to re-imagine their logo, replacing "Enjoy Coca-Cola" with "Enjoy Coast Salish Territory." Much of the land in Vancouver is un-seceded land, and he "wanted people to be aware that they were coming into Coast Salish Territory. They're not coming into Vancouver, they're not coming into Canada." The simplest idea is often the one that packs the greatest visual punch, and this is a great example of that. Assu has also made use of the image of the iPod in a number of his painted works in reference to personal identity and how we define it. For many people, having an iPod or iPhone on them at all times signifies who they are – hip and with it, supposedly. He considers it akin to totemic representation and the use of totems on poles and masks to signify what family or nation you come from as an Aboriginal person, though in the former instance you can choose your identity rather than simply continue tradition.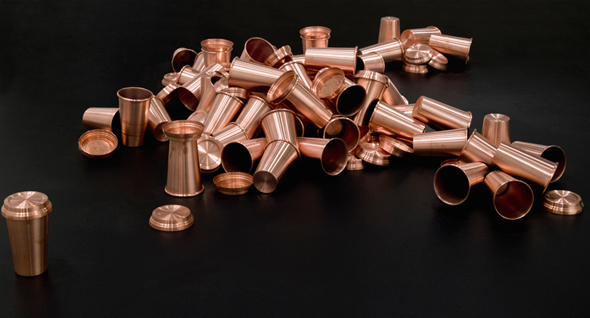 1884/1951 (Photo by the Vancouver Art Gallery)
I think this is an important distinction in Assu's art: he is choosing to use his identity to forward a conversation rather than just being his identity. Though he sees benefit in the traditional styles of Aboriginal art making and respects those who do it, it is not for him. He is taking cues from other Aboriginal artists like Reid (who was considered a radical in his time), Brian Jungen, Rebecca Belmore and Lawrence Paul Yuxweluptan, "trying to understand how we can place ourselves in a greater context of art instead of the context of aboriginal art which is a very small bubble." More recently he has turned to sculpture to do this, starting with '1884/1951', a work he created for 'How Soon is Now' at the Vancouver Art Gallery in 2009. Consisting of 67 copper coffee cups and lids, it highlights the 67 year long potlatch ban in Canada from 1884-1951, when it was illegal to practice native culture. If caught, Aboriginal people were arrested, their regalia confiscated and sold, and you could be fined. For Assu, it was "a big discovery piece for me. It really opened up my perceptions of what I could do conceptually as an artist." When he spoke to people during it's installation at the VAG, many said they didn't know that the ban had lasted that long, or even that it had happened so recently.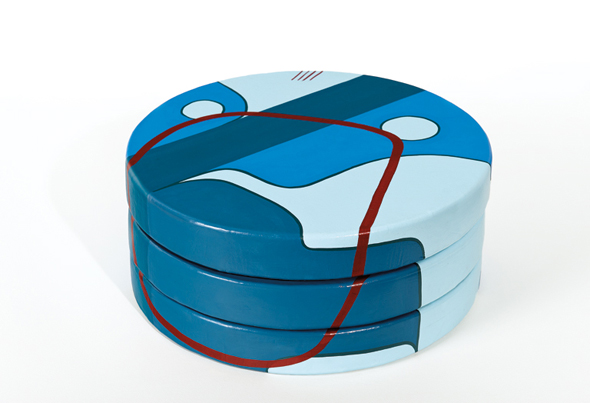 Silenced: The Harbinger #1 (Photo by Scott Massey)
At present, he is taking a visual representation of that history one step further, using the iconography of the Hudson's Bay blanket and painting it on drums for a series of works called 'Silenced'. For most people, the Hudson's Bay blanket is representational of the cottage and simple Canadian living. But that is only part of it's story, and Assu uses it to reference its use as "a tool of trade, which then became a tool of oppression which then became a tool of genocide." Again like '1884/1951' he is hoping to draw attention to the history of the Aboriginal people in the greater Canadian history, that colonization of this land was not just a battle between the English and French, but resulted in the oppression of the people who already occupied this territory. And what better history can there be but a visual one, by someone who wants to find unity in two cultures and two ancestries.
Sonny Assu currently lives and works in Vancouver. He received a fine arts diploma from Kwantlan College in 1999 and obtained his BFA from Emily Carr Institute in 2002. He has shown at Equinox Gallery, Vancouver; Belkin Satellite Gallery, Vancouver; Art Gallery of South Western Manitoba, Brandon; Grunt Gallery, Vancouver; The Lab, San Francisco; SAM, Seattle; Institute of American Indian Arts Museum, Sante Fe; SAW, Ottawa; and the National Gallery of Canada, Ottawa. Currently his work can be see at the National Gallery of Canada, Ottawa; Upcoming he will be exhibiting at The Works Art and Design Festival, Edmonton; Ottawa Art Gallery; the VAG; Art Gallery of Greater Victoria; and he will have a solo show at the West Vancouver Museum in Fall 2011. He is represented by Equinox Gallery in Vancouver.
For more information about Sonny Assu, please visit his website at sonnyassu.com or follow him on Twitter @SonnyAssu.
All images courtesy Sonny Assu unless otherwise noted.